Unlike the atmosphere earlier this year, the expectations for inter-Korean unification have dipped, and the latest discourse on unification leans toward a more neutral perspective. Between a series of North Korea-related colloquiums, exhibitions and events, the Junglim Awards 2020 titled 'The Age of Peace and Cooperation, Vision of the Han River' was held on 27 September at Kim Jungchul Hall on the ninth floor of the JUNGLIM Architecture Co. The Jeonglim Foundation, which had conducted the 'Borders Project', a research project on the border area between North Korea and China, has prepared this event in the pre-programing before the contest to envision the future of the Han River, which will be transformed in the peaceful Korean Peninsula. The event consists of a group discussion between Ahn Changmo, a professor at Kyonggi University, and Jang Kyoungchul, the director of the urban design GONGJANG, and a group talk on the Han River.
Ahn Changmo summed up seven major changes to the Han River from the Joseon Dynasty to the present. 'The coinage "Miracle on the Han River" is misleading that as the Han River has contributed greatly to the Korean economy', he said, pointing to the fact that there are no industrial facilities in the Han River. Jang Kyoungchul then introduced guidelines that apply to 27 districts in the Han River, which are separated by regions. He mentioned the transportation system and pedestrian access, and explained newly installed tourist routes which utilise riverside resources.
Cho Minsuk, a panel member for the group discussion in the second portion of the event, stressed to prospective participants the importance of understanding the situation of division, which is a prerequisite for the competition. The winner of the Bamseom Ecological Observation Deck and Danginri Comprehensive Cultural Space project said the key agenda is how to come up with a scenario for no ecology limitation in the future Han River. Koo Jahoon, a Professor at Hanyang University, pointed out that "There is no use of debating the timing of the future cooperation system which cannot be prepared, but we would rather have to anticipate structural changes and prepare for them", and expressed the importance of the site and programmes by explaining the direction of Seoul's recent development (high density, division of programmes between regions, combined transfer systems, etc.).
Despite the severity of the topic, many architecture students attended the event. To help us understand the contest smoothly, a presentation will be delivered on 23 November, with entries due 13 January 2020. Among the submitted works, only the 15 of the best teams will be invited to conduct the final public presentation on 21 March 2020.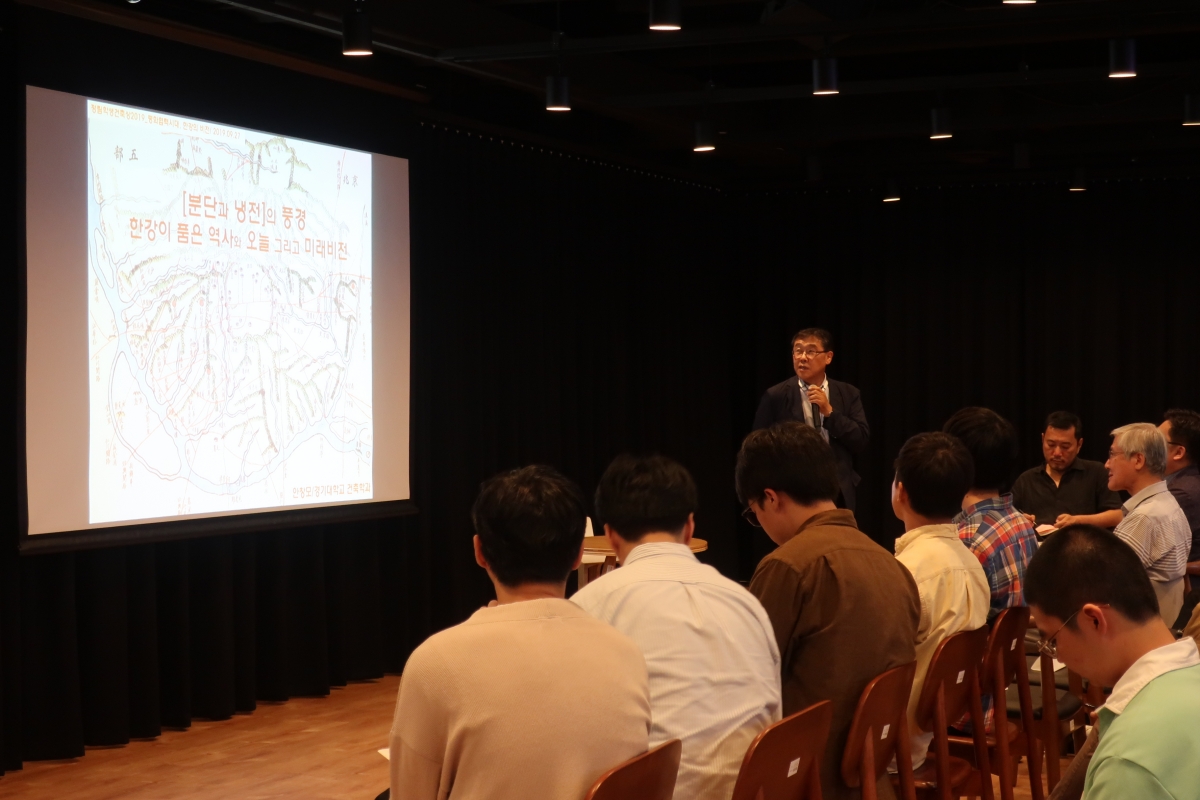 View of Symposium ⓒJunglim Foundation​