On Oct. 7, the Seoul Village Architect Symposium, 'The Future of Villages Made Together', was held at the Seoul Archives of Seoul Hall of Urbanism and Architecture. The symposium, organised by All:about place and SPACE Magazine, was designed to share the results of operating Seoul's first village architects network and to explore future directions. Village architects, self-governing district administrators, and community activities experts attended the lectures and discussions.
Unlike the public architect network, where architects participate to improve the quality of public architecture, the village architect network pursues a bottom-up method in which architects explore the improvement of village space with residents based on information gathered from the region. At present, 128 village architects are in charge of connecting residents and administrations, and Master Planners (MPs) assigned to each district are reviewing and supporting the activities of village architects.
In the first part of the symposium, Song Star (Chairman, Foundation Maeul) explained the guiding concepts and support policy of the village community in Seoul and presented ways in which village architects should actively participate. Emphasising the ways in which the village community policy should develop under the premise of daily coordination, he said, '"The solution to the most pressing problems of our society lies not with a particular subject but with all of us.'" He also added that the parties relating these problems should come together to formulate solutions.
In the second part, Lee Soon-seok (MP, Jungnang-gu Village Architects) introduced the Myeonmokcheon-ro Village Mapping projects as an example and presented his method of collecting autonomous district issues through field surveys. He explained the process of identifying the spaces that need improvement in the area or those that are used less frequently, and suggested appropriate spatial improvement projects through the village map.
In the following discussions, Jin Choopyung (Director, Urban Environment Bureau, Jungnang-gu), Kim JeongIm (MP of Seocho-gu Village Architect), Kim Taehyung (Director-General, Urban Space Improvement Bureau in Seoul), and Lee Sanghoon (Councillor, Seoul Metropolitan Council) exchanged opinions on the operation of the system.
Kim Jeongim said that village architects should have an attachment to local communities and to residential communities, and proposed a policy to Seoul to give them public work for the smooth collaboration with existing active parties in the borough.
In response to a question from the moderator about the difficulty of establishing the system, Lee Sanghoon mentioned that there is little space for architects and residents to meet, and said that a plan should be made for the village architects to create an environment in which residents can congregate. He also argued that for projects related to village architecture to be proposed as a permanent agenda items supporting cooperation, they should be accompanied by a motivating device such as a bonus-point system.​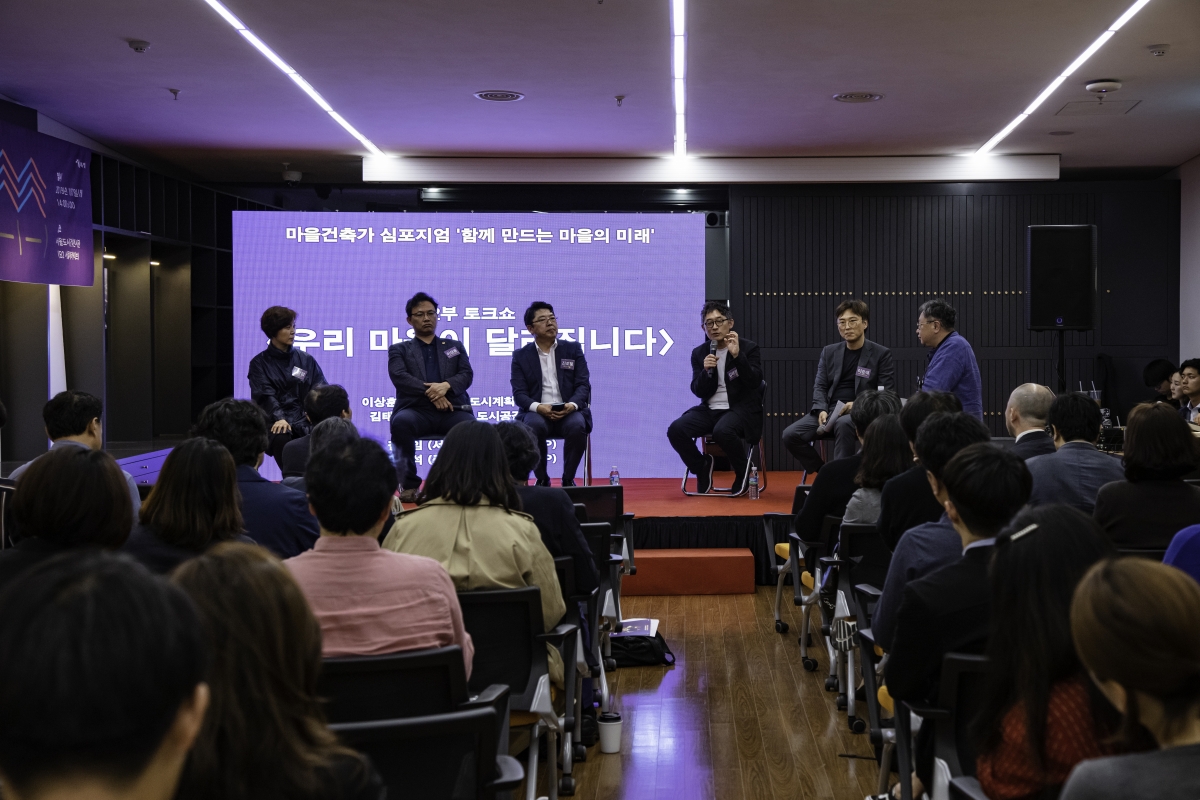 ©Chin Hyosook​