The exhibition 'Busan: It exists now as it was then', which explores Busan's original city centre(Wondoshim), is on show from Aug. 3 Sep. 15 at Busan F1963. From the perspective of viewing the dynamic history of Wondoshim and the lives enshrined within it as Busan's foundation of strength, this exhibit explores this theme through the photographs, paintings, installations, and video works of 16 local artists that total up to 100 works.
The first section, 'Surging, Rolling Power', focuses on the sea. Upon entering the exhibit hall, one faces a ship propeller lying about on the floor and hears the sound of clanking metal making contact reverberating throughout. This is Jung Manyoung's GgangKangKungPungKwang. It exhibits a recording taken in GgangGgangyi town where continuous racket produced by hammers striking and scraping off the seashells and rust on the ships that come in. Behind the propeller, there are several watercolour landscape paintings hung on the walls. Kim Minjung collected the seascape that can be viewed through the narrow alleys of Bong-san town. Lee Jihun expresses the sea, mountains, apartment complexes, and the urban landscape marked by large structures with inkstick and colour.
The second section, 'This Place Which Inevitably Had to Exist Somewhere' is reminiscent of the numerous unforgettable urban spaces. Lim Bongho's When you go to Yongdusan Park is a large box installation which invites its audience inside. Upon stepping inside the installation, one not only encounters an interior that resembles a karaoke room but is also exposed to a mechanical voice reading out a list of Korean and English texts in a given rhythm. Using texts employed in advertising the park as his theme, Lim twists the meanings of these words and signs by using a translator to alternate languages. Kim Jigon's Grandma delivers recorded dialogues between these grannies as they chat about rice wine, ramen, and soju. Lee Inmi's digital prints and Lee Suyeon's drawings on the photograph draw attention as well.
The last section 'Organic Inter-Relationships' focuses various layers that constitute the urban structure. Kim Deungyong collected scraps of masking tape from all over Busan and connected them together on a large canvas and Kim Su collected a real-sized door from a redevelopment region.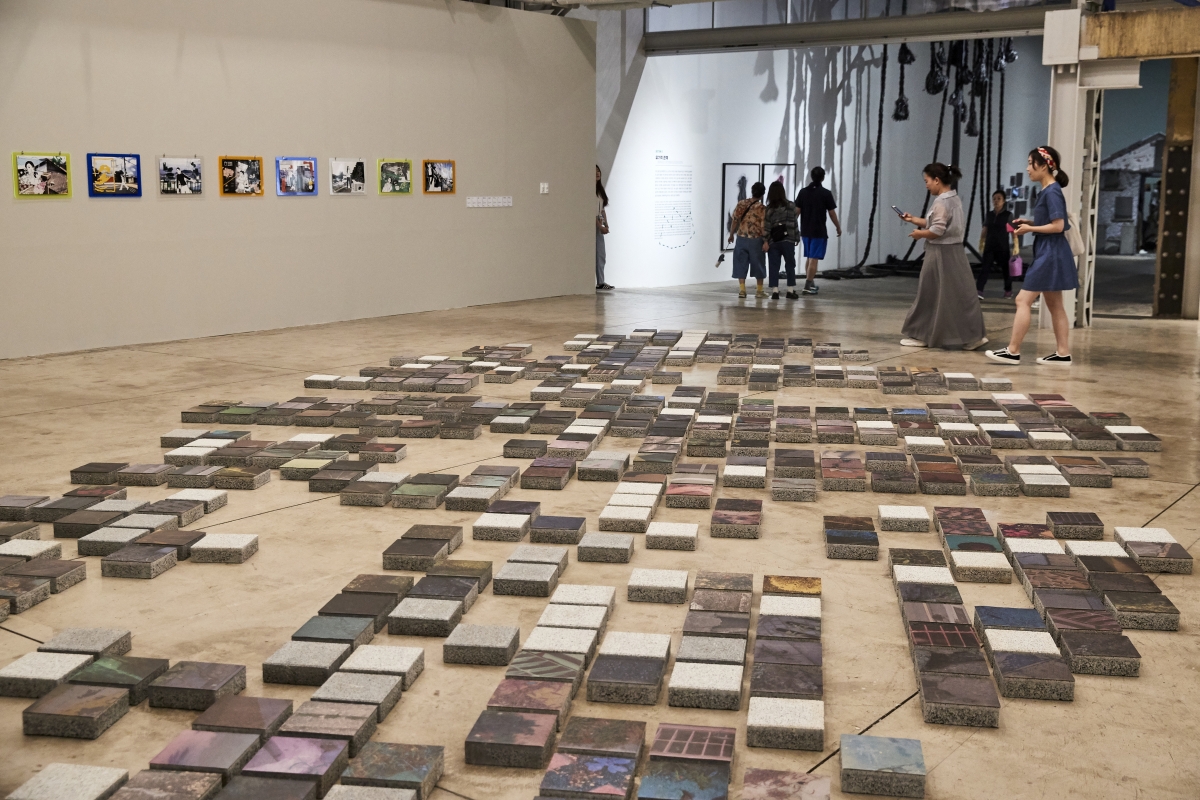 Images courtesy of Busan Culture Foundation​​