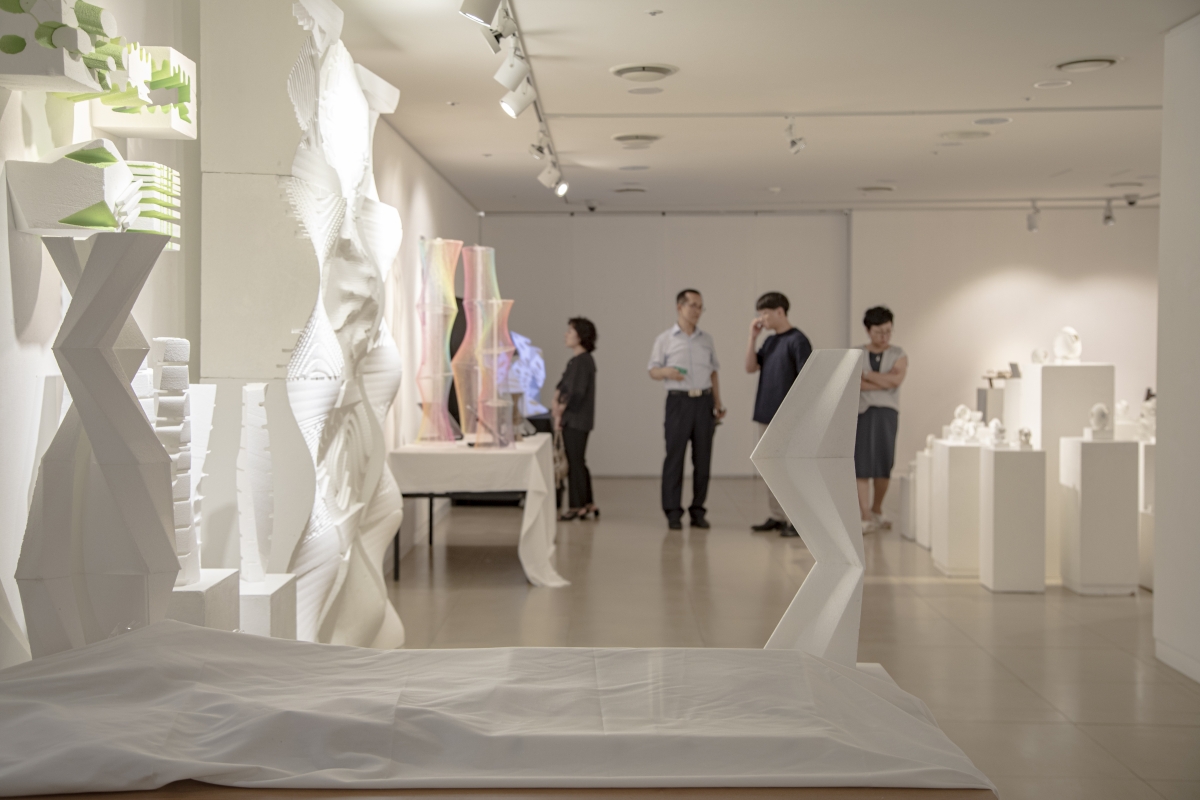 Images courtesy of Haenglim Architecture​​
How will the progress of digital technology affect architecture in the future? How will a new logic of form and construction change architecture? It is not easy to predict, but many architects and architectural firms are already active in applying digital technologies to establish new paradigms in architecture. Sometimes they run their own modelmaking team, including Foster + Partners, Zaha Hadid Architects, and Morphosis.
Haenglim Architecture & Engineering Co., Ltd. (hereinafter Haenglim Architecture) is also operating their own modelmaking team, 'Haenglim Shop'. Haenglim Architecture recently held the 'Agitecture' exhibition about architectural designs and models using digital technology at Myungdong Church Gallery 1898 from July 17 to 29. The title of the exhibition 'Agitecture' is a compound word of 'Agitpunkt' plus 'Architecture', which means that in-house architects gathered in a hideout to carry out various architectural experiments. The exhibition presented various works including architectural designs, architectural models, living props, furniture, and other objects based on digital algorithms, BIM, 3D printer, CNC, and projection mapping. In the video footage of the production process, Haenglim Architects explained, 'We have prepared this exhibition as a place in which to share not only the results of the work but also the design processes that produce the result'.
A group of white polystyrene hangings on the wall catch the eye at the entrance to the exhibition. Multi-joint Robot Design is a cluster of 60cm x 60cm cubes with all different three-dimensional surfaces. The work was produced by CNC, which cuts several times with three, five, and seven axes. Rhinoceros and Grasshoppers were used to create geometric patterns and curved surfaces, and they were input to CNC which can cut the cubes following the points and lines to realise them.
String Mobile is a work that visualises a ballerina's movement. A structure of a simplified human skeleton with twisted colourful lines expresses dynamics and a rotational force. In Projection Mapping, a projector screens images onto organic volumes created by combining triangle modules at various angles. In Egg Design, a collection of egg-shaped objects were recreated according to a unique formative language, and in Furniture Design, recycled objects such as stools, pencil holders, and a bookshelf, with the remaining materials from the Hanglim Shop, also capture the imagination.