SOAP (Soonyeob Kwon)'s 'Reflective SPACE' was selected as the winner of the Baeknyeondari (Hangang Sky Walkway) Design Competition. It is a design that draws its guiding concept from a pontoon bridge, which is the original form of Hangan Bridge. As a form made up of the repetitions in a floating boat-shaped structure, the architect divided the bridge into two functions ? that is, the upper deck part and the lower structural part ? and developed an effective system that will accommodate various spaces. This was decided upon with consideration for the structural limitations, as the original bridge post must support the new walkway. Unlike the lower part, which was developed with the bridge post of Hangang Bridge in mind, the upper deck part transitions into a different level where activities such as walking, viewing, resting, and so on can be accommodated.
SOAP noted that 'Baeknyeondari not only plays the role of a "flowing connection" that leads to Nodeulseom, but it also acts as a new "resting place" for citizens to use as they experience Hangang'. In addition, SOAP explained, \we wanted to approach the contradictory relationship between a river as a natural element and a bridge as an artificial element as a certain potential and decided to propose a new landscape that fills up this ambivalent gap between city and nature'.
In relation to the awarded project, the reviewing committee said, 'using its eye-catching unique shape of a floating ship, this work interprets conceptually the experience of crossing the river, and this leaves behind a lasting impression', and that 'the project employs a simple formative concept as its design, and it is anticipated that this design of curved lines will fit harmoniously with the original Hangang bridge'.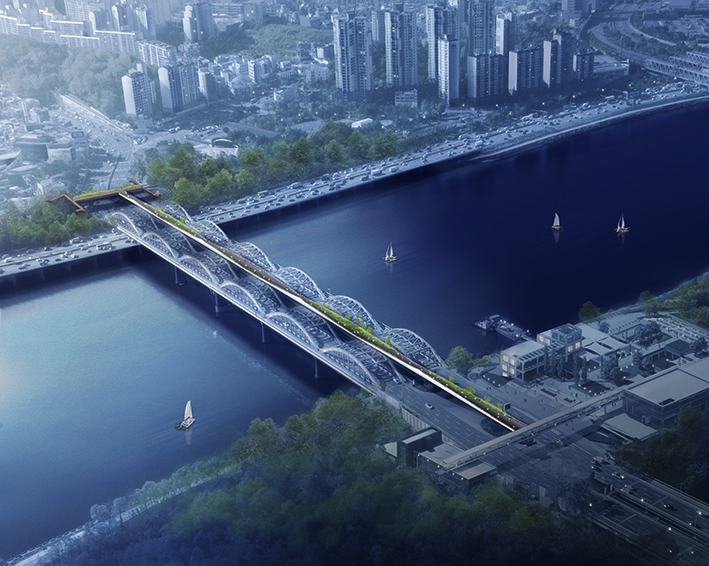 SOAP, Reflective SPACE ​ⓒSOAP​​