The exhibition 'Flow Project: Building Movements' opened on May 11 at the Space of Design and Architecture (SODA) in Hwaseong, Gyeonggi-do. The project exhibition, which marks its third anniversary this year, invites architects to reinterpret the space at Roofless Gallery, an exhibition hall outside the SODA. This year, under the theme of movement, three teams of architects present works that shape various kinds of movement in a stationary space using immovable building materials.
First, Son Joohui has constructed a wall in the Roofless Gallery using colour chips. Scale, comprised of 8,000 colour chips, is a structure that opens and closes in the wind, and when the wind blows, it connects the inside and outside of the boundary and turns into a large window. The sound of colour chips coming into contact with the wind and its rhythmic swing provides visitors with a life-like experience of dynamic space. 'The colour chip, which helps select and deliver the right material quality and colours, is an easy tool to reach from within the architectural office', Son Joohui explained. 'I tried to harness the power of nature in this unusually windy region and to create a structure that would blur architectural boundaries.'
Lee Yongju (principal, Yong Ju Lee Architecture) created Wind Shape to embody the light and free movement of the wind by using hard and dense metal plates. Lee captures the image of fabric when wind blows through it in a simulation, and then meticulously combines and recreates the 269 triangular metal plates that cut across it through laser cutting. Wind Shape, which contrasts with the museum's outdoor concrete walls, varies in appearance depending on the angle and location of the view, presenting visitors with an object of visual interest and inducing a particular sequence of movements through the space, Lee explained.
AnLstudio (Shin Minjae, Ahn Keehyun) filled, emptied, and emptied again the Loofless Gallery with the extruded polystyrene foam, an insulator, creating floors and gaps. Their Layer Void reveals deep space through the gap between the layers, closely obscuring the view with a horizontal layer. Visitors who used to experience space divided vertically by walls and columns will experience space being explored by moving up and down in the space of the horizontally divided Layered Void. AnLstudio noted that 'unlike the existing vertical space, which is geared towards bodily dimensions and eye level, low-level space and deep-formed gaps create various movements, such as inflow, extraction, and lowering, and stimulate an unusual sense of space.' The exhibition is on show until Nov. 24.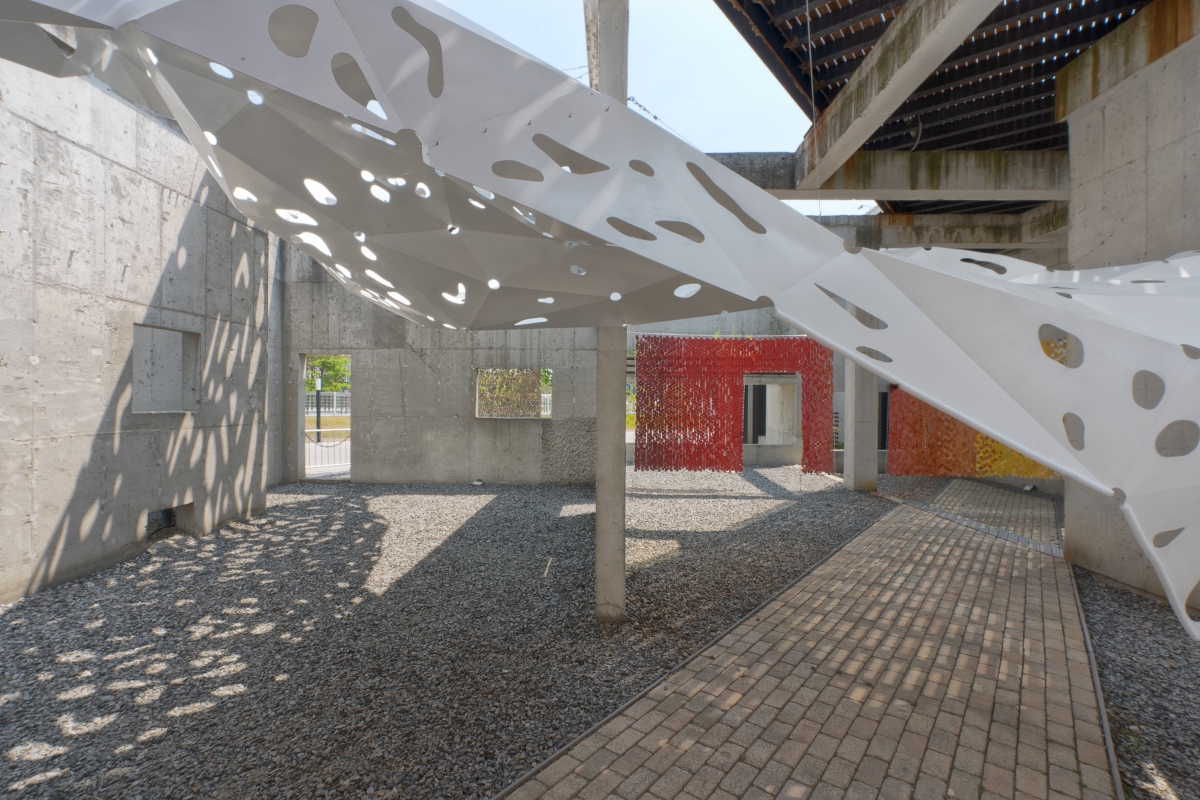 Exhibition views of 'Flow Project: Building Movements'