The apartment house has become representative of residential types in Korea. The space of the apartment house, with a kitchen on the kitchen, which has come to define my house when the door is closed and to reveal the neighbour's house when the door is closed, has become a familiar scene in Korea. Today, the apartment house has various meanings; it is home to many people, but sometimes the background to one living out one's days and dying alone; a resting place for family or for individuals, and for others the prize of real estate speculation.
'Post APT' a performance work asking questions of this situation from various angles was put on at the Doosan Art Center Space 1111 from June 18 to July 6. In the exhibition, it was categorised as a genre known as Interdisciplinary Art. It is difficult to pin down this field as it combines various genres such as drama, dance, exhibitions, lectures, and video work. This performance was co-produced by four creators after a year of preparation. The performance was directed and choreographed by Jung Youngdoo (director, Korea Doo Dance Theater), stage and space design by Chung Isak (professor, Dongyang University), sound by Kayip, and video work by PAIK Jongkwan.
A vehicle control barrier gate installed at the entrance of the performance hall makes visitors feel as if are passing through the entrance of the apartment complex. Inside Space 1111, visitors become confused as to whether they are in an art gallery and exhibition space or a theatre. The space is surrounded by a three-tier staircase, with a low wooden bench covered with yellow linoleum, a porch, and a shower booth. One wall displays statistical data about the apartments. There is no fixed stage or seats here. The audience can sit anywhere and the actors perform movement around the venue. Following the movements of the lighting, sound and actors, the audience keep moving to enjoy the performance.
'Post APT' enacts several stories sporadically without a clear narrative structure. Two actors greet each other on the low wooden bench and porch, insurance products tailored towards dying alone are introduced, Prometheus appears to argue that people began to live together as they began to use fire. The Saemaeul Movement is mentioned, and the Annals of the Joseon Dynasty are recited, claiming that the issue of rising house prices can be dated back to the Joseon Dynasty. In the middle of the performance, Chung Isak delivers a lecture on the origins of the apartment from the Roman times to Le Corbusier through to the Korea of today.
The performance does not determine right from wrong with regards to the contemporary apartment, nor imagine its future. It only raises questions, and so the process of finding answers stays in the hands of the audience. What does the apartment mean to us?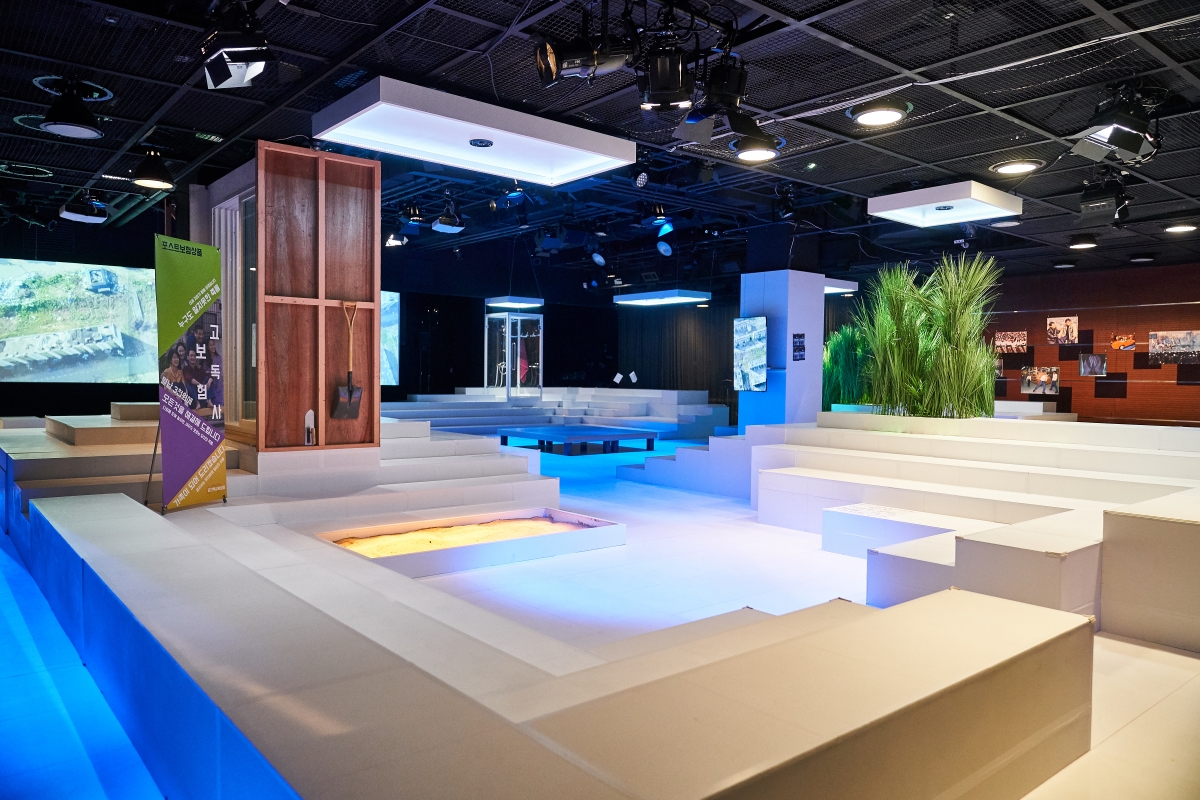 Performance stage of Post APT​ / ​Images courtesy of Doosan Art Center