While the paradigm of Seoul's urban management has shifted from development to conservation, following the inauguration of Park Wonsoon as Seoul Metropolitan Government (SMG) Mayor in 2011, the SMG organised an event that would review the results of Seoul Urban Regeneration and to reestablish its future directions. Hosted by the SMG and organised by Korea Urban Regeneration Association (KURA), it took place at the Korea Press Center on July 5 with topic presentations and a group discussion.
Lee Myeonghun (president, KURA) gave the first presentation on the 'Global Trend of Urban Regeneration'. He argued that 'Like major cities around the world, Seoul requires a bigger picture concerning urban regeneration based on the fourth industrial revolution and an innovative economy, with key themes of jobs, culture, and health'. Then, Kim Leetak (leader, Ministry of Land, Infrastructure and Transport) introduced the Living SOC, Smart City, renewable energy and culture regeneration related to urban regeneration under the theme of 'Urban Regeneration New Deal'. Next, Yang Yongtaek (policy planner, SMG) summarised the result of eight years of Seoul Urban Regeneration. He noted that neglected and underdeveloped urban space has been 'transformed into industrial space, bases of innovation growth power, and local attractions and characteristic residential areas', through 164 regeneration projects. He also said that 'beyond the improvement of space, a detailed plan is being modified to improve citizen's experience and satisfaction'.
The presentations were followed by a group discussion. First, Park Youngshin (editor, The Korea Economic Daily), insisted upon 'the issue of citizens' experience of urban regeneration should be improved', expressing his sympathy with the previous theme. He added that 'conservation and regeneration are applied as solutions to areas which should be redeveloped and reconstructed'. 'Urban management requires a two-track approach', pointed out Shin Jungho (lawmaker, Seoul Metropolitan Council), 'When the regeneration is carried out in areas that need reconstruction and redevelopment, the project budget is wasted as sunk costs'. He claimed that 'budgeting should not be uniform, and the estimate of the costs and duration of the project should be flexible, in order to reflect local characteristics and citizen participation'.
Lee Yonggeon (director, Seoul Housing & Communities Corporation) suggested, 'Let's use vacant houses scattered all over Seoul and the underdeveloped areas as residential areas to make Seoul a city of job-housing proximity'. Jang Namjong (director, The Seoul Institute Urban Regeneration Center) asked, 'Is the meaning of urban regeneration which first appeared in the age of growth still valid today?', and said, 'Now, urban regeneration should be human-oriented'. Agreeing with the previous argument, Lee Jeasun (professor, Yonsei University) stressed the importance of reconsidering 'Which generation is the target of the present urban regeneration project, and whether we have concerns about future generations'. Furthermore, he insisted on the need for a 'specialised institution dedicated to urban regeneration project'.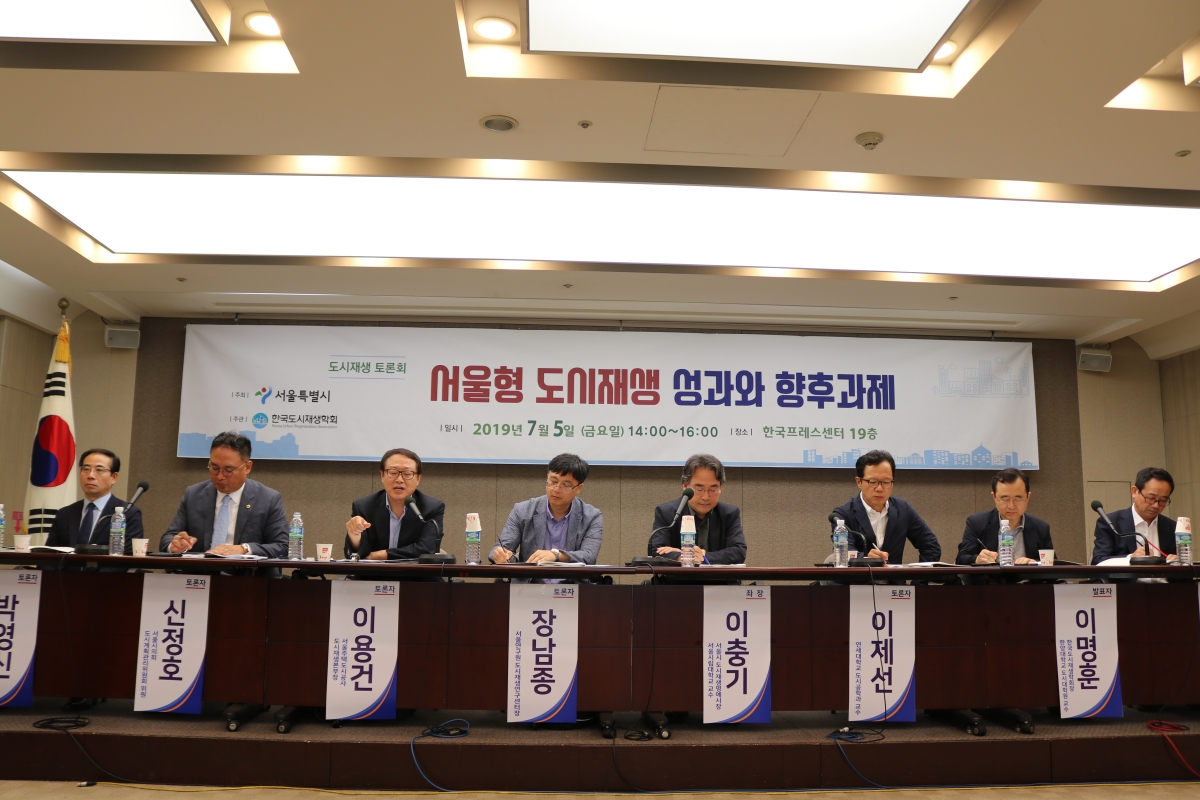 Image courtesy of KURA