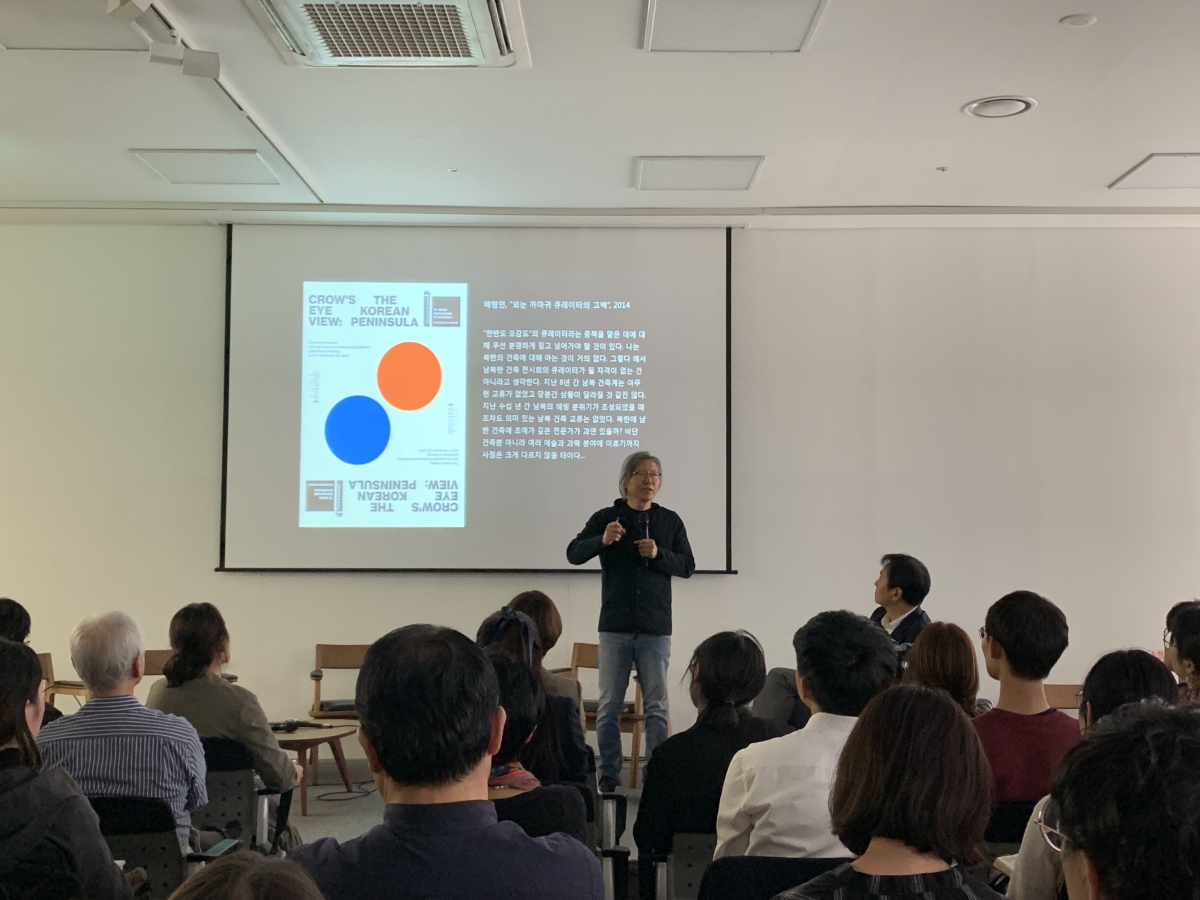 ©Choi Eunhwa
On May 2, a seminar titled 'By-Product/ Power' on digital archive data by Choi Moongyu (professor, Yonsei University), a collection of the National Museum of Modern and Contemporary Art (MMCA), was held at the Digital Archive Lounge (DAL) of MMCA. As part of the MMCA's Crafts, Designs and Architecture Division Research Seminar and the Contemporary Architecture Project of the Mokchon Architecture Archive, the event was designed to observe an architect's thinking process, how it is developed, and its by-products, and explore the process of archiving such data.
As well as Choi Moongyu, the architectural historian and curator Pai Hyungmin (professor, University of Seoul), the artist Moon Kyungwon (professor, Ewha Women's University), the graphic designer Choi Sungmin (professor, University of Seoul), and the architect Kang Yerin (professor, Seoul National University) participated in the seminar.
First, Pai Hyungmin carried out the presentation under the title 'Rebellious Archive'. Referring to his conversation book with Choi Moongyu, Power of Doubt, Pai said he paid attention to by-products such as drawing, thinking and dialogue that take place throughout the construction process, unlike ordinary architectural books that only reveal the results. He also mentioned, the 'results of others can be one's by-products, and by-products can become results'. He stressed the need and importance of architectural archiving, as interpretations of architecture vary depending on the times and perspectives.
In the following order, Choi Moongyu introduced three by-products he created through the presentation titled 'I Would Walk Today'. First of all, Choi showed drawings of food, trees, alleys, and landscapes that recorded everyday experience as a 'by-product of time'. 'The by-product of thinking' blends many paintings of loach, octopus, people, and architecture, and short writings to demonstrate his thoughts. Finally, through 'the by-product of labour', he shared photographic records of architectural models that produce as few as 100 or as many as 300 pieces for a single building.
A discussion on architectural archiving followed. Kang Yerin recalled the fact that the Mokcheon Architecture Archive applies oral statements in archiving the work of modern architects and uses dialogue with contemporary architects. Moreover, Pai Hyungmin agrees with Kang's argument and said the format of recording history changes. Choi Sungmin expressed regret that most of the records in architecture and design had not been kept and had disappeared. He also said that while Western graphic design embraces the past and uses it in today's design, it is even more valuable in South Korea throughout the course of archiving. In the meantime, Moon Kyungwon mentioned the use of archives. She pointed out that many recent exhibitions in the archive format often fatigue visitors, and make archives meaningful to individuals as well as information levels. And yet one has to think about what to use and how to reconstruct a narrative from the vast amount of data.
by Choi Eunhwa​