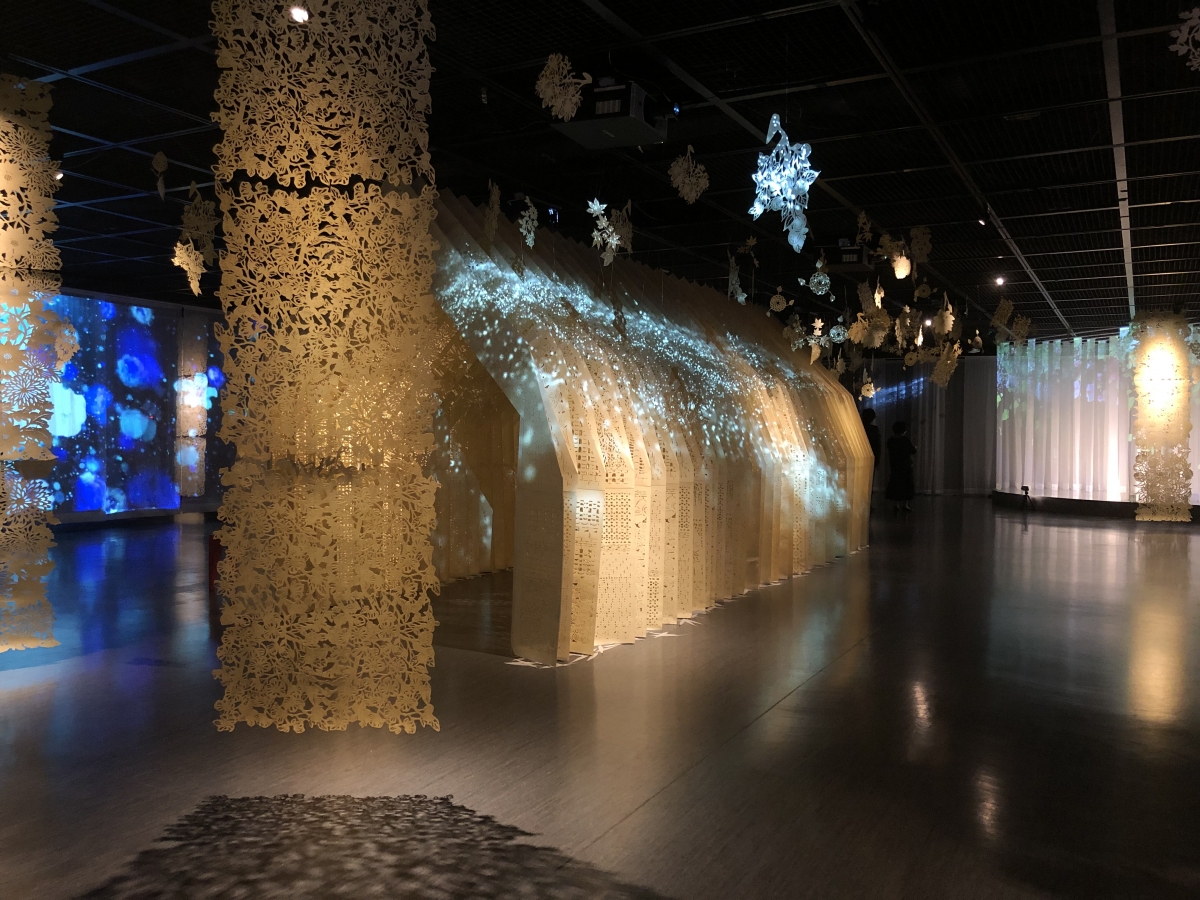 ⓒLee Sungje​
A light hits the canvases in the corner of the dark gallery, and black-and-white scenery appears. On those two canvases stands a tall tree, a split rock, and a stream that flows quietly through it - ink depicting Sosaewon, a typical Korean garden of the Joseon Dynasty. Just as the moonlight sheds light on the objects, Park Hansame captures them with a brush. His Poetry of the Sun and the Moon resonates emotionally with his distinctive illumination.
An exhibition featuring Sosaewon, 'Korean Gardens: Soswaewon, A Mystic Promenade' was held at Hangaram Arts Center Museum in Seoul Arts Center until May 19 - in order to 'promote cultural pride by inducing interest in Korean gardens and by accurately understanding our own', said All That Garden, a voluntarily assembled group of 20 team artists who have desire to raise the identity, beauty, and philosophical meanings of Korean garden culture among general public. In the four sections of exhibition, their works in a variety of media - ink paintings, paper art, textile crafts, video art, book art, photography - were displayed.
The first section, 'Escape from Daily Life: The Bamboo Forest' is an introduction that provides a basic description to visitors who are unfamiliar with the Sosaewon, featuring the founder Yangsanbo and the establishment background as well as the literature of the Joseon Dynasty: a poem on the theme of the Sosaewon, and a sentences once mentioned its aesthetic in the ancient text. On the other side, a sample and the image of indigenous vegetation in the garden by Korea National Arboretum Service are also displayed.
The following sections represent Sosaewon in an inventive or sensuous way: Biophilia depicts bamboo forests with paper; Inside the Garden reveals its beauty through interactive design and motion graphic techniques; The Garden House of Illusion portrays the history by folding structure and lighting - all representations were inspired by this 500-year-old garden, attracting audiences' attention; regrettably, it is difficult to fully appreciate them. With limited display space, crowded with visitors and packed with works, the audience's mind is easily distracted and their appreciation is often interrupted. The exhibition tried to recreate the experience of Sosaewon, but it seems remote from the leisurely experience of listening to the sound of the water, feeling the wind, and enjoying the lush green forest while walking down the promenade.