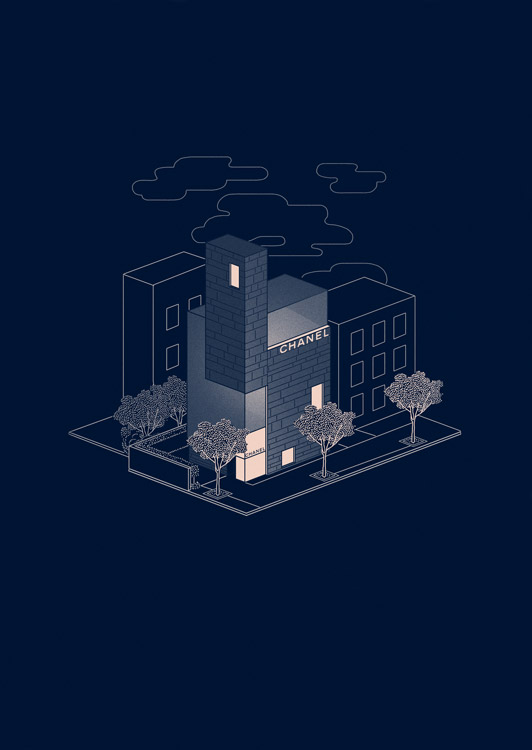 Image courtesy of Chanel​
On 22 March, CHANEL's Seoul flagship store opened. It is the 10th store in the world and has set up in Cheongdam-dong, where many luxury brand stores are located. The building was built on a seven-storey scale, and Chanel's products were displayed from the first to the third floor, while private reception rooms are on the fourth, and the fifth, sixth floors and terraces were prepared for special events.
The design was performed by Peter Marino, who has collaborated many times with Chanel. The flagship stores located in Tokyo, Istanbul, New York and Hong Kong, are also his work. He is known as the 'palace maker' because he mainly works with luxury brands and high-class houses. In Korea, Marino announced its name as the interior designer of the 'House of Dior' project designed by Christian de Portzamparc in 2014 and the new-built BOONTHESHOP building in Chungdam-dong.
The facade of the flagship store in Seoul is decorated with black-coloured lava stones and reflective glass. The entire facade is decorated with dark colours, different from that of other Chanel stores because it usually uses white as a signature colour. The interior was illuminated by a glass window to contrast with its dark appearance. The floor was finished with a dark grey stone to connect it to the colour of the outer material, but other interior elements use white.
The interior design uses the Paris apartment of brand founder Gabrielle Bonheur Chanel as a motif. The hall is divided into folding screens to make visitors feel as if they are entering the private space of Chanel. Peter Marino displayed artworks by famous foreign artists such as Agnes Martin, Martin Kline and Gregor Hildebrandt, and the Korean artists Lee Bul, Kang Ikjoong and Lee Ufan on every floor, as he said: 'art increases brand reputation and asset value'.
Chanel Flagship Seoul's first collection is 2019 spring/summer Ready-to-wear. The collection, which was presented on a runway that projected a beachside view inside the Grand Palais in Paris, mainly expressed the concept of 'perfect days and nights spent on the beach' through sparkling colours. Also, the reinterpretation of Chanel's code, such as tweed suits and little black dresses, is also worth paying attention. Meanwhile, the collection is also the legacy of Chanel's creative director Karl Lagerfeld, who passed away on 19 February.
​