Working across seemingly different geographies and social contexts, the design research of architects Alfredo Brillembourg and Minsuk Cho converged in their award winning exhibitions at the Venice Biennale in 2012 and 2014. Both sought to redefine mainstream discourse on architecture: Alfredo debunked preconceptions surrounding informal settlements through carefully examining social and spatial commons within the 'vertical slum' known as Torre David in Caracas. Minsuk disassembled our totalizing understanding of the divide between North and South Koreas through the 'Crow's Eye' of diverse viewpoints. Expanding upon this important dialogue, Alfredo Brillembourg and Minsuk Cho will present recent work exploring the possibility of transforming architecture into a multivalent, community-based mode of practice. Their presentations will be followed by in a roundtable discussion moderated by John Hong.​
Date And Time: April 3, 2019 4:00 PM – 7:00 PM
Location: SongEun ArtSpace B2 Atrium
Hosted by the Swiss Embassy in Korea and SongEun ArtSpace. The lectures are in English with simultaneous Korean Translator. The event is free, but registration is required.
Register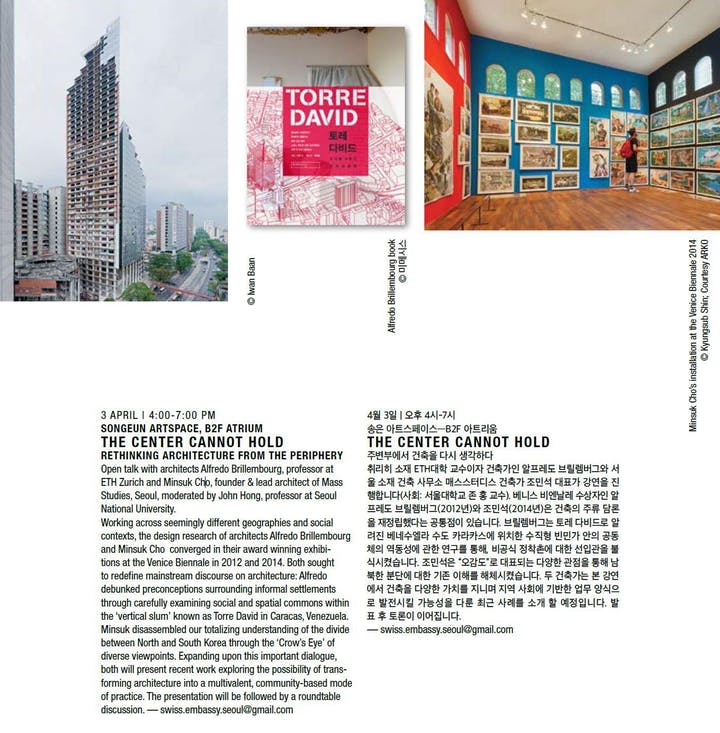 ​