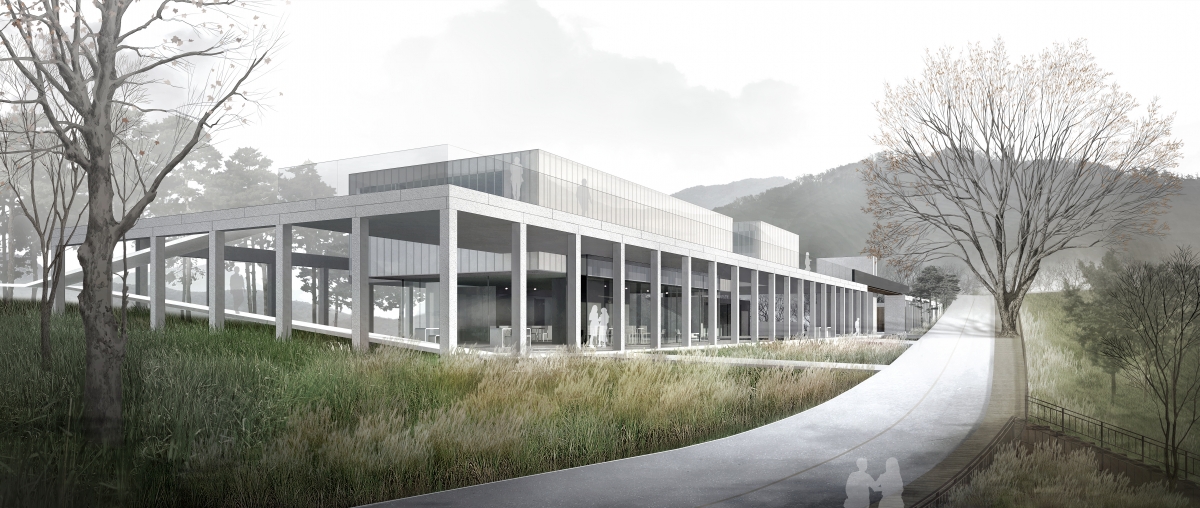 On 22 January, Seoul Metropolitan Government announced that the winning proposal in the tentatively named Mangwoori Park Welcome Center is 'Merry Cemetery' by Jeong Jaeheon (Professor, Kyunghee University) and MONO Architects. Located in between Jungnang-gu, Seoul, and Guri, Gyeonggi-do, Mangwoori Park there is a modern historic site that was used as a cemetery during Japanese colonial rule. The site was repurposed as a public park, a project that began in the 1990s. The design competition was part of that continuing effort. The Welcome Center will take charge of cemetery management, information on cemetery grounds, and convenience facility support.
Five domestic teams who applied to the contest were screened by six judges including architect Yoo Kerl (principal, iarc) and other architecture and landscape experts. The judges praised the winning proposal's harmony with the surrounding environment, potential for expansion, and space utilization. 'Merry Cemetery' is comprised of two masses. The size of each mass is controlled by the movement path of visitors, thereby alleviating visual burden. A corridor is placed in the ground level to allow a more flexible use of the space.
The invited competition involved four teams: Kim Yongmi (Principal, G.S Architects & Associates), Son Jean (Principal, ISON architects), Kwon Moonsung (Principal, ATELIER 17), and Kim Jongkyu (Principal, M.A.R.U), who won 2nd ? 5th place in the order listed. Kim Taehyung (Director, Seoul city's urban regeneration headquarters) stated that 'through the construction of the Mangwoori Park Welcome Center, we hope to improve the negative image inherent to a public cemetery and provide a space of rest and healing for the citizens who visit Seoul Trail and Mangwoori Park'.