On Jan. 8, a public hearing was held at the Architecture Center of Architectural Institute of Korea to collect opinions on how to improve the architect qualification system. This event was arranged by the Korea Institute of Registered Architects (KIRA) and Korea Architectural Accrediting Board (KAAB) following the rising criticism of the presently unreasonable architect qualification system, despite the significant recent modifications to architectural education, the certification system, and the practical training system made in 2012. In April 2018, a national petition was raised to call for an increase in the architect license.
The hearing began with the presentation of research conducted since June 1 in 2018 on the operation of the architect qualification system, followed by a Q & A session with audience. The research team gave presentations on their research regarding architectural accreditation, the practical training system, the architect qualification examination, and the registered architect license system.
The main thrust of these presentations was the low effectiveness of the '5-year curriculum of architecture (KAAB)', the poor acceptance rate of 'architect qualification examination (KIRA)', and irrationality of ignoring architectural practice. Many pointed out that the Korean architectural circle will inevitably risk aging and becoming more isolated as it will take too long time for the architect to be qualified after graduation, as the exam is held just once a year.
As research has focused on the status quo, substantive discussions were conducted in the Q & A session. Many practical issues not addressed in the presented research were pointed out the narrow working scope confining the role of architects to the field of architectural design, despite of complicated architectural accrediting system (Yi Yangjae, principal of Studio Elephants).
The discussion moved to the issue of a holistic review to be made of the architects' role. It was feared that discussing only the issue of the architect qualification process would cause the same problem again. The public hearing ended with the conclusion that the 'architectural circle' must have a unified voice instead of being divided into profit groups, in order to solve a situation in which the number of experts is decreasing and architectural projects are being carried out by non-specialists due to such a complicated accreditation system. <by Choe Nowk>​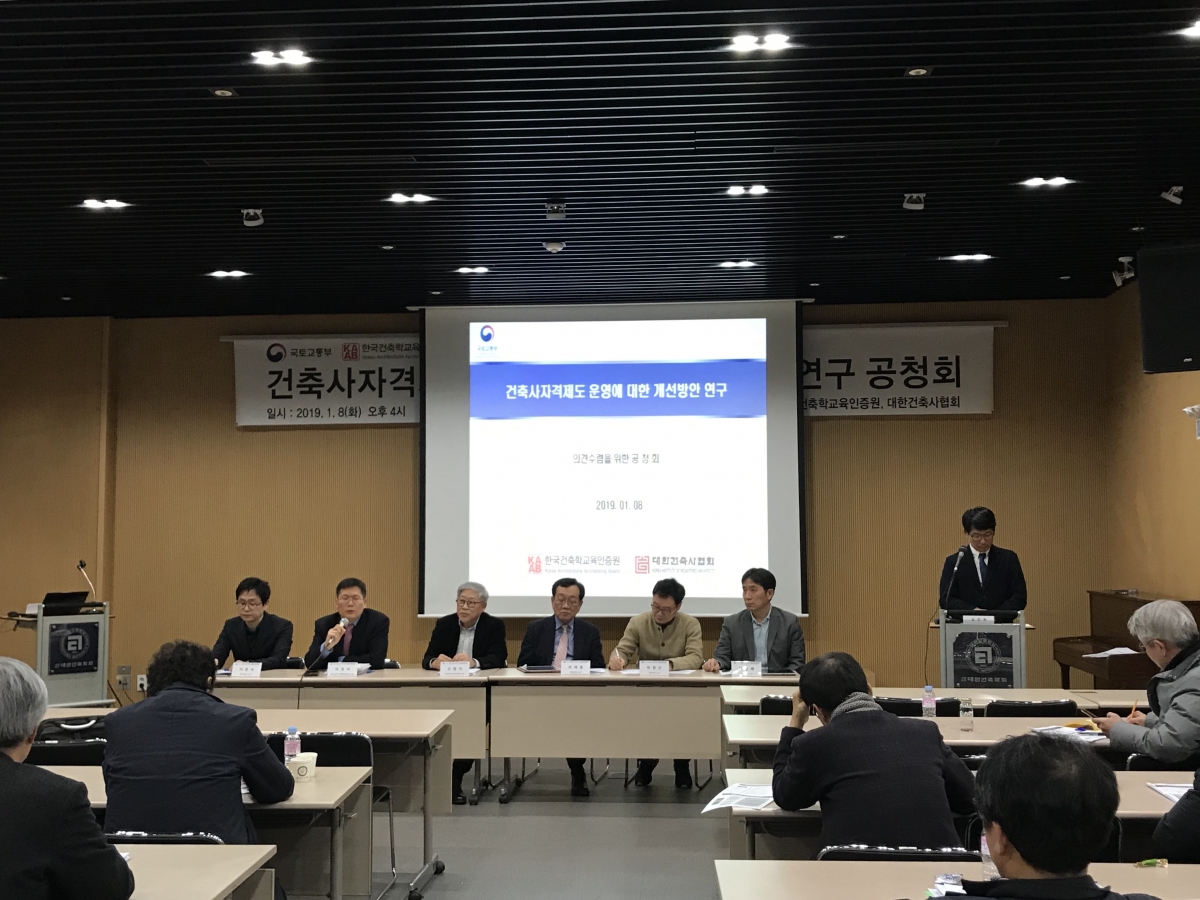 ©Korea Architectural Accrediting Board​