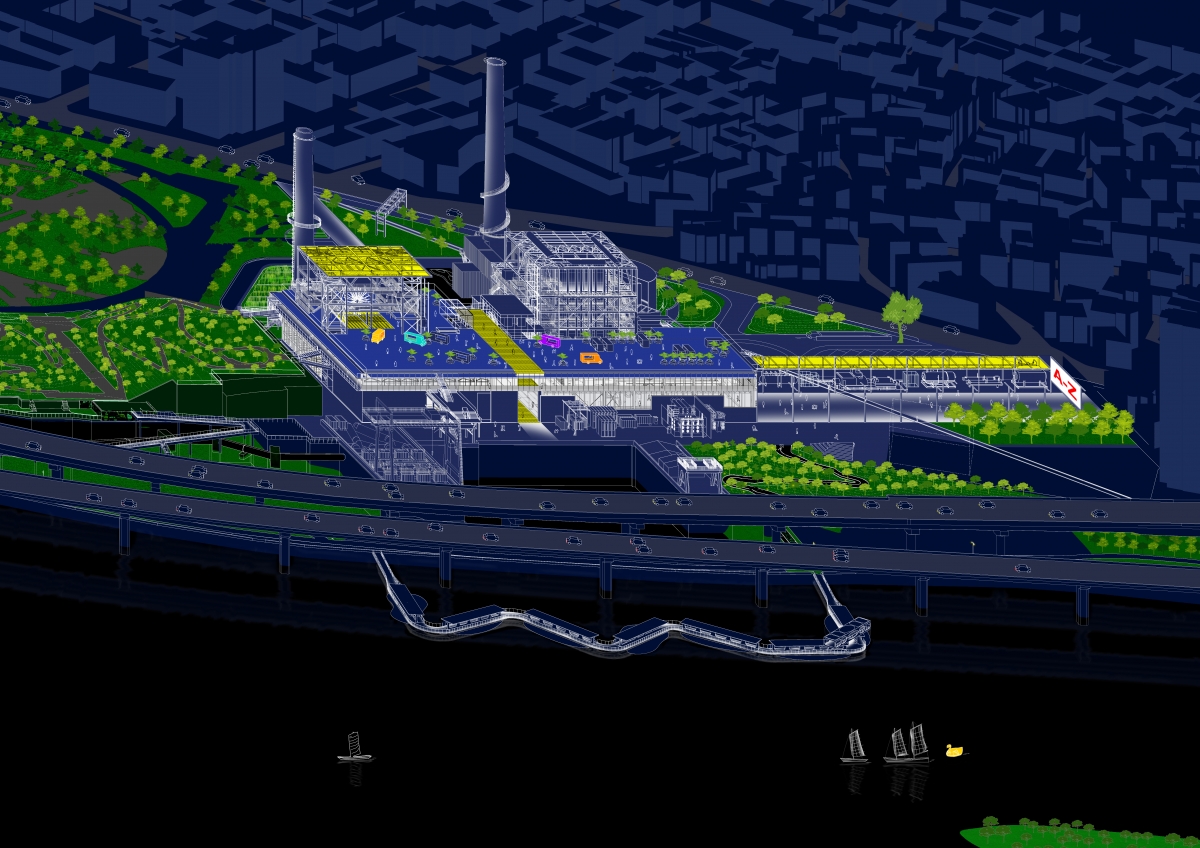 The 4th and 5th units of the Seoul Power Station, commonly known as the Danginri Power Station, will be transformed into a cultural complex connected through three passageways, as a result of the Danginri Comprehensive Cultural Space Design Competition. The hosts of the competition, the Ministry of Culture, Sports and Tourism and Korea Midland Power Co., Ltd. selected 'Danginri Podium and Promenade' by Mass Studies (Park Kisu, Cho Minsuk, Kang Junkoo) from 18 proposals.
The focus of the competition was to preserve modern industrial heritage while also celebrating local culture and the arts eco-system (such as the neighbouring Sangam DMC, Mullae arts creative village), as the well as the natural assets of the region, such as the Hangang Park and Seonyudo Park, and historical resources such as the Mangwon-jeong and a shrine of King Gongmin. The nomination was based on the concepts of 'city, industry, eco × discovery, appropriation, composition, connection, expansion', featuring plans to 'establish the three pedestrian paths, the industrial paths, ecological paths, and shortcuts as the axes, while naturally projecting the internal activities of the spaces into the surrounding sites'. The jury concluded that the project plan achieved 'organically connected disparate spaces with the rooftop space at the centre, composed of a variety of outdoor spaces, understanding of the site, and an approach towards preservation and active use of the industrial heritage particularly fitting to the objective of this competition'.
A prize of excellence was also awarded to 'Emptying Space and Filling it with the Stories of Time' by Samoo Architects & Engineers (Park Dokwon), with runners-up including 'Danginri Cultural Power Plant' by JU Architects & Planners (Park Jaeyoo) + Wondoshi Architects Group (Heo Seogoo), 'STOKE! THE BOILER' by Arcbody Architects (Kim Sunghan) + Space Oh (Oh Kisoo) and 'PROGRESSIVE SYMBIOSIS' by Shinhan Architects & Engineers (Song Jugyeong) + Mooyoung Architects & Engineers (Park Myunghyup).
Mass Studies, the winner of the competition, was awarded the contracts for design development and construction documentation for the creation of the Danginri Cultural Space, and the firm hopes to start in Jan. 2019 to open in 2022. The Danginri Cultural Space, which both preserves and recycles modern industrial heritage, has been proposed as a concert hall, exhibition space and studios, in which artists can also reside. Mass Studies has also been nominated as the winner of the 'International Design Competition of Seoul Cinematheque Construction', which aims to revive the local character of Chungmuro in Mar. 2018. <by editorial team>​