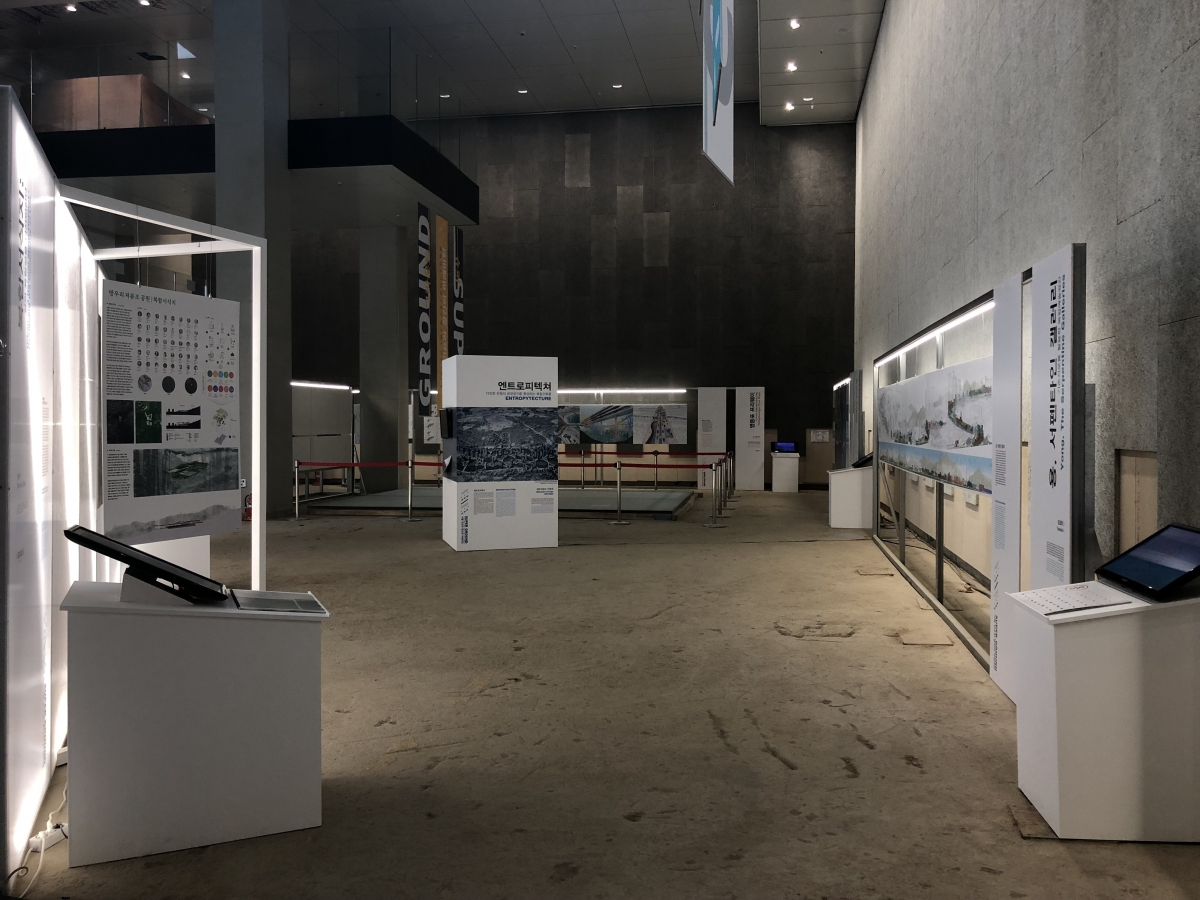 A city contains not only buildings but also countless works of social infrastructure, such as roads, bridges, reservoirs, detention ponds, waste disposal sites. Such megastructures, though essential for helping a city to function properly, often cause a separation of space and can end up becoming eyesores over the course of time.
'Super Ground', the inaugural exhibition at the Seoul Museum of Architecture and Urbanism, held from Oct. 15 - 31 was a showcase of scenarios for the new operation of Seoul, paying particular attention to its infrastructure. Eighteen teams of Korean and international architects took part in the project, stretching their imaginations freely by pondering scenarios and issues such as recycling of existing infrastructure, urban sustainability, ecosystems, citizen participation, among others.
Charles Waldheim, with the Office for Urbanisation, proposed Heliomorphic Seoul, a giant structure of 650m tall. Twelve structures along Hangang Cheolgyo (the Railway Bridge) are equipped with panels to collect and store solar energy and to filter contaminants in the air. 'I thought it had become urgent to restore nature to an area that had been damaged during development', he explained. 'I intended to transform the bridge into a platform to enhance biodiversity and ecological connectivity.'
While Heliomorphic Seoul looks like something from a science fiction movie, some projects seem more realistic. Kim Chanjoong (principal, THE_SYSTEM LAB) centred on the elevated railway between Chang-dong station and Danggogae station of Line-4. Defining the elevated railway as a new type of terrain, he proposes to regulate it in a different way from the existing by attending to the building coverage and floor area ratio. He also inserted vertical circulation that enables pedestrians on the ground to more easily approach the space. Based on such ideas, he created SEOUL LAPUTA: Self-developing linear city which can be developed spontaneously by the private sector.
Eun Young Yi (principal, Yi Architects)'s SUPERCOLONNADE SEOUL made a remarkable attempt to restore coherence to fragmented urban space. He proposed a pedestrian walkway linking the segregated large spaces, reaching between areas such as the World Cup Stadium, the World Cup Park, and the Oil Tank Culture Park. Using slender columns in endless lines on the walkway structure, he presents an impressive bird's eye view of the people's activities and an all encompassing urban view. In addition, this segmented space was to be restored and connected in From Mountain to River by Cho Minsuk (principal, Mass Studies) and Yeongdungpo Rotary by NL Architects, which restructured the road system of Yeongdeungpo Rotary to create spaces for pedestrians on the ground.
Most of the projects in the exhibition capture the attention of the visitors by drastically transforming the existing social infrastructure. However, some proposals are composed of ambiguous and obscure programmes like complex art spaces and cultural facilities that make them unattractive. 'This exhibition shows the transformation process of neglected areas known as urban infrastructure into new significant spaces for life', stated Kim Youngjoon (city architect, Seoul Metropolitan Government) who curated the exhibition. 'Reflecting the real situations in Seoul, such plans will be adjusted as applicable proposals for the near future'.