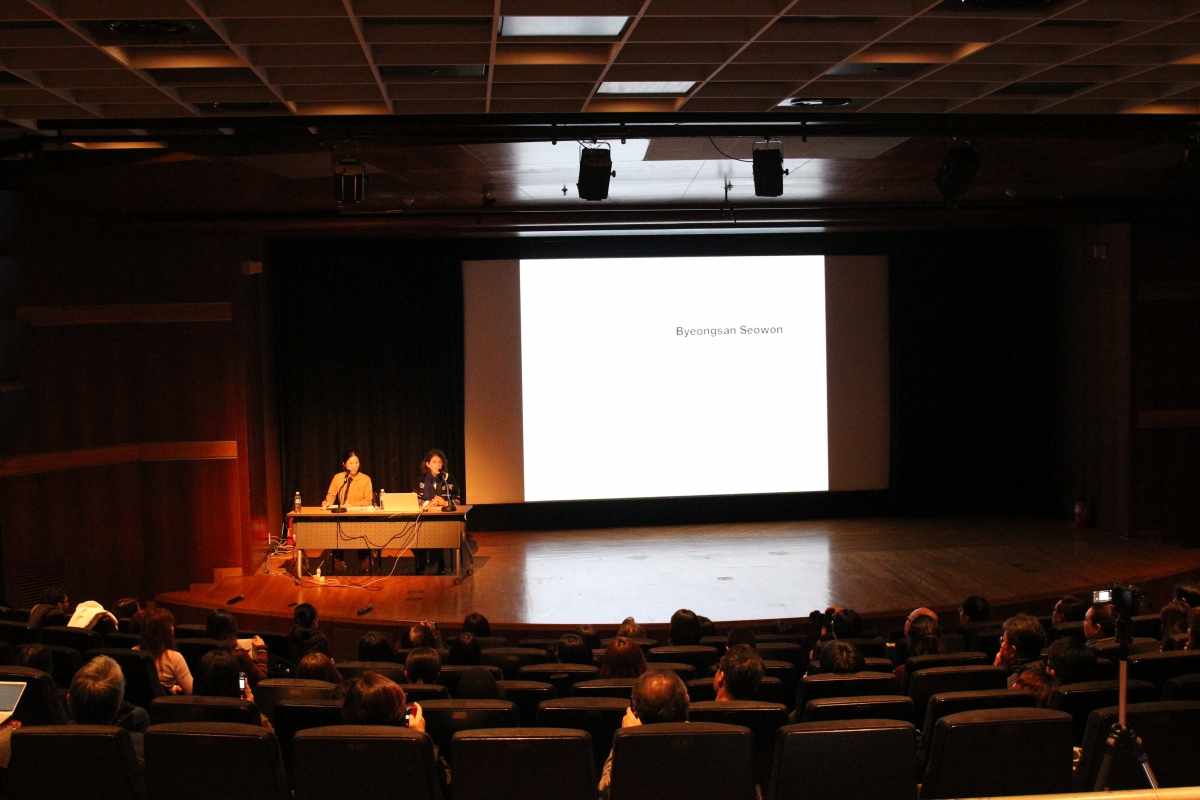 Light and shadow create a stark contrast around a grey-toned building. Shadows that give the building a stately look are met by voids that form breathing spaces at points on this geometrical object. There is nothing but hushed silence. The image is like a piece of poetry. It's the work of Peter Zumthor photographed by Swiss photographer Hélèn Binet, who mainly works with architecture and space.
On Oct.30, 'Artist Talk: Hélèn Binet', hosted by The Embassy of Switzerland in Korea and Art Sonje, introduced the past works of Hélèn Binet and held a seminar on the relationship between photography, architecture and space. Binet has been committed to taking photographs of the works of world-famous architects such as Zaha Hadid and Peter Zumthor since she stepped into the world of architectural photography about 30 years ago. Starting to work with hanoks in 2017, she has now come to Korea to photograph the work of Byeongsan Seowon School and Jongmyo Shrine.
To begin with, she spoke about taking a picture of a space: 'Architecture involves a complicated experience of seeing, feeling temperatures or smelling scents. Photography is like a performance art that captures the moment of such an intricate experience. Taking a photo is a process of reorganising the architecture itself, and thus is a process of creating a new space.'
And then she explained the concept of 'transitional space' that she continued to express in her images. Transitional space means an intermediate space as well as a connection point between abstract concepts and reality. Suggesting Byeongsan Seowon School as an example, she noted, 'The school's emptied garden is a transitional space on the way to the classroom. It symbolises a basis by which we may embrace the spiritual concept of learning, in order words, a foundation to accumulate life experiences.' Also, it carries the message that space works as a medium between the past and the present.
In an era dominated by digital and mobile cameras, she persists in working with monochrome photography using analogue technology. Describing her work process, she said it's interesting because 'she is not allowed to make mistakes as films are expensive and scarce'. And she emphasised the importance of light, adding, 'I can say my work is like drawing with light. I visit sites at different times of the day to see them with my own eyes and wait there until a good light comes while making notes.'
Hélèn Binet is planning to publish a book about Korean traditional architecture after finishing her shooting in Korea. She will visit Korea again in May next year to attend the opening of the official residence of the Swiss Embassy.