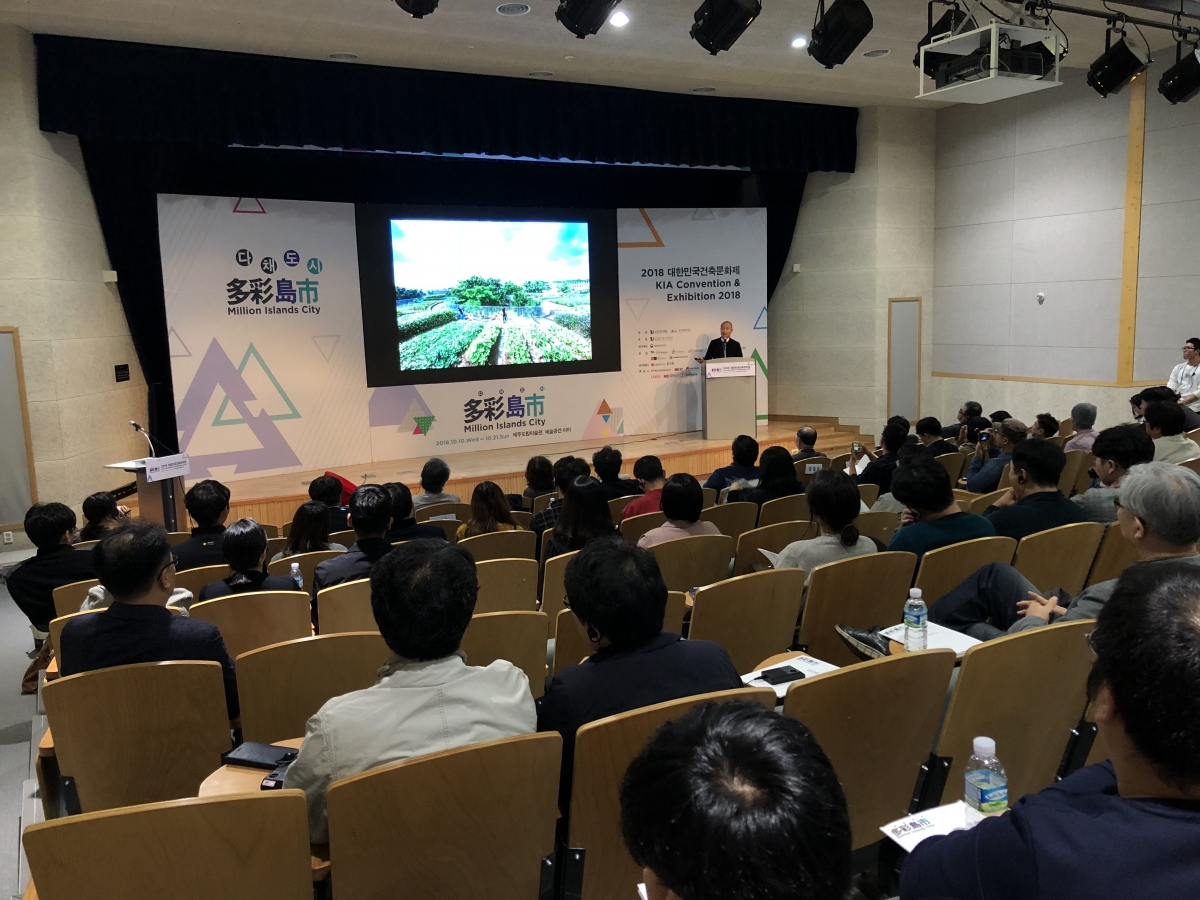 The international conference 'Million Islands City and Regionality' was held at the Jeju Museum of Art on Oct. 13. As a part of the programme of events at the KIA Convention & Exhibition, this conference was organised to 'view projects pursued by local architects and establish a new idea of regionality by discussing thoughts on architectural regionality and sharing the values behind the works of these architects'.
The conference was kicked off with a keynote given by Seung H-Sang (principal, IROJE architects & planners). Seung H-Sang stated, 'our ancestors established villages by observing the land's texture, formed by the mountains, valleys, and streams derived from a respect for location, the origin of our existence'. Touching upon the significance of the intangible aspects of scenery, such as the historic memories stored in Jeju, he claimed that 'all architecture and cities eventually fade, but the fact that people once resided in a location is stored in the land as truth. Respect towards the land and for stories about the land are surely an important reason behind why we perform architecture'.
In the subsequent presentations, local architects active in Jeju and Southeast Asia presented their work and shared their thoughts on regionality. Kim Seokyoun (principal, Architect Kim's Atelier) explained the characteristics of traditional architecture in Jeju through the main and subordinate buildings in his presentation 'Matrix of Jeju Architecture'. Huang Sheng-Yuan (principal, Fieldoffice Architects) introduced projects that he had worked on for the past 20 years as an architect in the small city of Yilan, Taiwan, in his presentation 'Making Place'. Vo Trong Nghia (Vo Trong Nghia architects) and Chatpong Chuenrudeemol (principal, CHAT architects) explained their works in relation to the urban phenomena of Hanoi and Bangkok respectively. Talks on new regionality continued throughout the discussion session. Chatpong Chuenrudeemol commented, 'we are witnessing a disorderly mixed autonomous architectural language and the commercial development in Asia in which urbanisation is occurring rapidly' and 'instead of denying the situation, we need to perceive the new reality and contemplate how to change our cities'. He added that 'we need to find a sense of regionality by correctly defining vernacular – regionality as something already there instead of something old'.
Vo Trong Nghia said 'In the case of Hanoi, where the green coverage ratio is very low, we actively incorporated green into architecture as an architectural solution' and that 'new regionality is solving problems at hand as we adapt to the present'.
Huang Sheng-Yuan argued that 'regionality is not an abstract concept but rather a matter that each local resident has a subjective view towards', adding that 'it is important to look into the region's potential while flexibly responding from a long-term perspective'.