SPACE September 2022 (No. 658) ​
The 58th Far East Asia Architecture and City History Colloquium, hosted by the Far East Asia Architectural History Lab, Faculty of Architecture, Hanyang University, was held on July 27 over Zoom. The colloquium, conducted under the theme of 'Architectural Space of the Islanders: Focusing on Jeju Island's Subsidiary Island', focused on Gapado Island, Biyangdo Island, and Udo Island attached to Jeju Island. Yang Sungpil (principal, Archi-Jeju Architects) gave a presentations on 'The Terms and Characteristics of Residential Spaces in Jeju Island' and 'The Characteristics of Residential Spaces on the Three Islands Based on Wind and Water'. Some of the content can be found in Stories of Homes and Villages from Jeju Samchons (2021), written by Yang.
Samchon is the dialect of Jeju Island and means neighbours or – mostly unrelated – uncles. It was a study based on the cultural knowledge shared by Samchons and Yang's experience and philosophy as an architect. The study began with a question concerning housing layout that did not consider the wind conditions of Gapado Island. Since Jeju Island is windswept, enduring gales from the Northwest, private houses tend to be concentrated in the southeast of Hallasan Mountain or oreum (volcanic cone). However, Gapado Island is flat with no oreum or trees to block the wind. To meet these conditions, the side of the house faces northwest to avoid the wind, but as Gapado Island is arranged almost to the south the area exposed to the wind is significant. Yang argued that the reason the people of Moseulpo Port, who built a south-facing house under oreum, were unconsciously following cultural practices when they moved here. In this way, he concluded that the power of culture is as powerful in the way it acts upon nature as the residential space. In addition to the wind, water was also crucial when examining island architecture. It is essential to obtain drinking water on Jeju Island, where water is not stagnant due to the basalt plateau. Islanders are said to distinguish between 'living water' springs from the sea and 'dead water' collected in an artificially created puddle on the land. The pattern of obtaining this 'dead water' was also different for the three islands. Although it is rare on Gapado Island, there is a communal well; on Biyangdo Island, when the dust settles in the stagnant water in the yard, only the upper part is stored in a well, and the lower part is used as feed for livestock. In Udo Island, people collect rainwater from roofs and store it in wells for water access. Depending on these lifestyles, the house layout and the yard and roof structure changes. Lastly, Yang concluded the colloquium by saying, 'A house on an island is informed by a process of finding a compromise between the two conditions of nature and culture', and expressed the hope that the study would be regarded as a 'living water' of new thinking rather than an endpoint.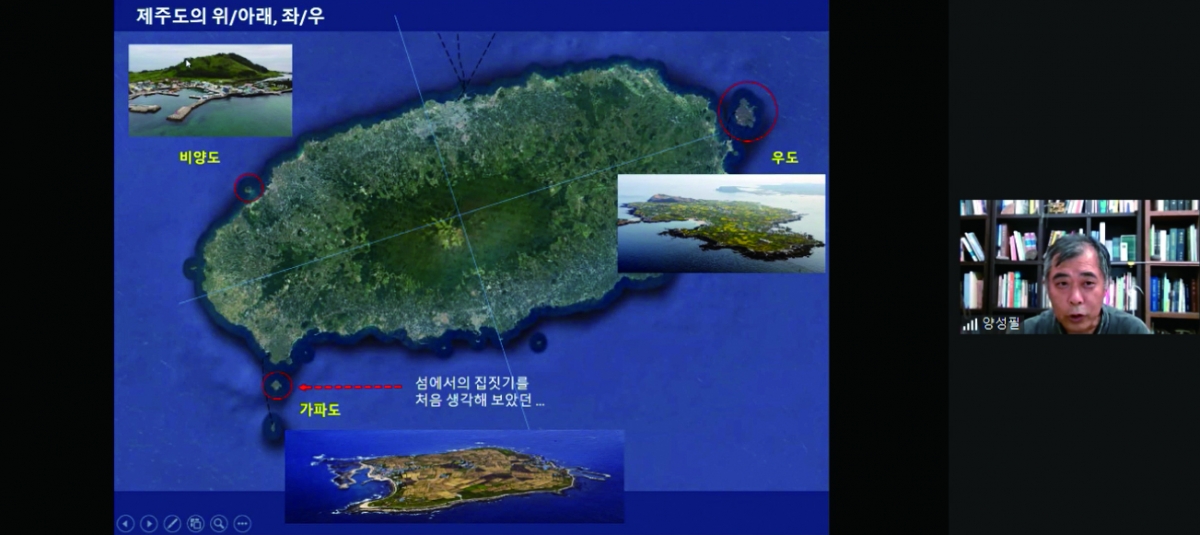 The 58th Far East Asia Architecture and City History Colloquium / Screenshots for Zoom​