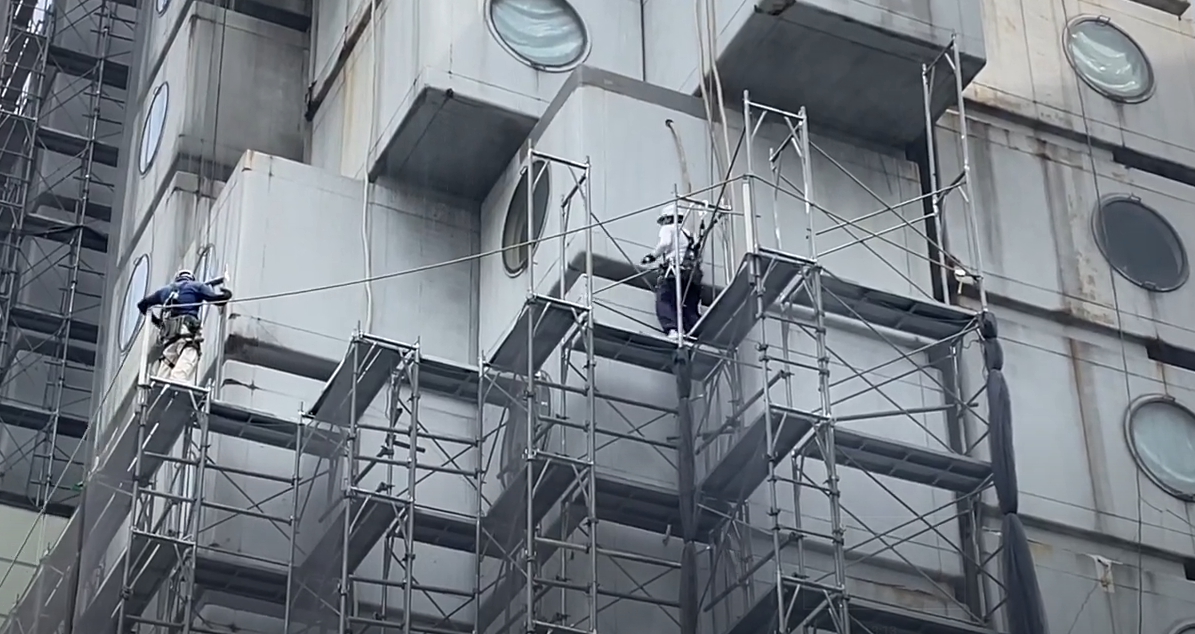 Nakagin Capsule Tower under demolition / Screenshot from Youtube​
In April, the demolition of the Nakagin capsule tower designed by Kurokawa Kisho (covered in SPACE no. 652) began. Completed in 1972 in downtown Tokyo, this building was comprised of two towers with 11 and 13 stories, onto which 140 capsules were stacked. A 10m2 capsule had a bed, toilet, and cabinet, and Kurokawa had a plan to replace them every 25 years. At that time, it was innovative idea to replace capsules as if a mechanical part to keep up with a rapidly developing living environment, but it presented real difficulties. Only about 50 capsules were replaced due to ownership and replacement costs.
Beginning in 2006, due to issues of deterioration and safety, discussions concerning demolition have proceeded right up to today after many twists and turns. In the meantime, Kisho Kurokawa, the architecture critic Nicolai Ouroussoff, the director Rima Yamazaki, and Maeda Tatsuyuki, who leads 'Nakagin Capsule Tower Building Preservation and Regeneration Project', have all raised their voices in support of protecting the building, but the building is finally to be demolished 50 years after completion. One positive outcome from this misfortune is that the capsules aren't going to disappear completely. Kisho Kurokawa architect & associates and Urban Design Office Chiyoda-ku will donate some capsules to art museums or reuse them as accommodation. They have been collecting repair funds through crowdfunding since last year. Meanwhile, Maeda Tatsuyuki is also leading the 'Nakagin Capsule Tower A606 project'. The project team has a plan to retrieve and display the No. 606 capsule of Building A and they are communicating the demolition status of the building via demolition videos on YouTube.​