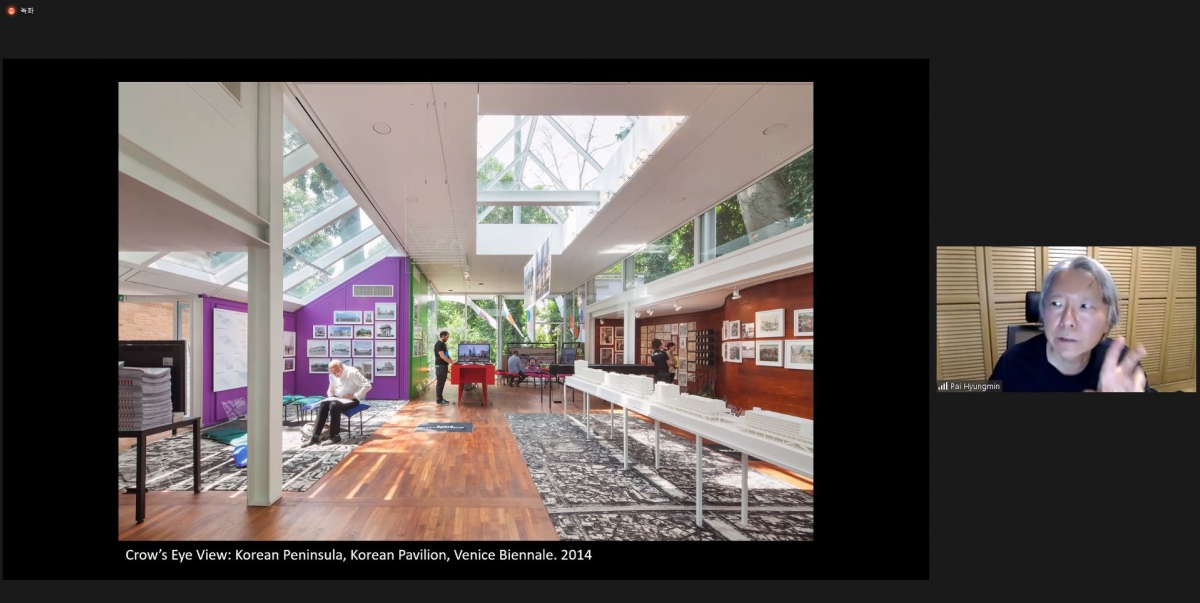 Since 2019, yhe Junglim Foundation has held its Curating Architecture Workshop (hereafter CAW) every year. This workshop is a programme for curators, scenographers, graphic designers, and editors to explore curatorial activities which revolve around architecture inside and outside of the museum walls.
The first special lecture of CAW 2022 was held on Apr. 14, titled 'Curator Review', and was part of a newly initiated program that explores the planning processes behind recently-held architecture and design exhibitions. Pai Hyungmin (professor, University of Seoul) led the discussion by sharing his reflections on how carbon had been reduced in the realisation of 'Climate Museum: Life and Death of Our Home'. Reused partition walls and exhibition stands — which were decorated with recycled paper and ink-saving prints — were introduced as examples. A video of how the exhibition was demolished was played to wrap up the presentation. By showing how little except the reused paper was left at the end, it demonstrated that much thought had been put into the process, not only in the obvious areas but also in the less noticeable aspects. Independent curator Sim Somi shared her thoughts on 'how physical space can organise exhibition experience in an era of crisis', such as the pandemic. The answer presented in the exhibition 'Do You Miss the Future' is an architectural intervention into urban space and exhibition hall. The façade work and installation work either reconfigure the scope of the exhibition space or expand bodily experiences to bring about various experiences. Following this, the art conservator Lee Hyunju introduced the 'MMCA Gwacheon Project 2021: Art Bus Shelter'. In this project, bus stops were turned into artworks and the signage of an underground train station was transformed through collaboration with a graphic designer. The intention to revitalise not only the museum but also its spaces distinguishes it from other pavilion exhibitions. During the discussion held at the end of the event, when asked about the difference between exhibitions made by an architect or designer and a professional curator, Sim Somi answered that 'the charm factor of an exhibition made by a creator lies in the radicality of imagination. Curators tend to think first through language, and this lack of imagination may become a self-posed restriction'. Lee Hyunju also added that 'professional curators should collaborate with various parties to overcome such limitations in vision'.
CAW 2022 is to be held every Thursday as an online lecture until May 26. In the first half, architecture curating conducted within the conventional settings of a museum or institution can be compared with architecture curating outside the museum. Following this, various working areas such as exhibition-related publications and the role of editors, as well as the working processes of spatial and graphic designers, will be shared and explored.