The 2021 Public Architecture Conference was held on Nov. 3 at Bucheon Art Bunker B39. This conference, which was organised by the presidential commission on architecture policy to share works of public architecture and to establish a sense of connection with its citizens, was held as an online and offline hybrid seminar under the subtheme 'Architecture, City, Industry' along with an online exhibition of the winner of this year's Public Building Awards of Korea.
The seminar was held under the two topics: 'By Whom and For Whom Is the City Built?' and 'The New Era of Architecture: The Value and Tasks Faced by Architectural Industry'. In the first session, Lee Kyosuk (project leader, MVRDV) introduced PLABERUM, which is an integrated urban architecture deliberation model used in the Netherlands. By presenting examples of the pursuit of creative urban design that reflect the requests of involved parties via collaboration with the private sector, he explained that 'there is a need to establish a deliberative process model that considers the city and architecture at an integrated level to promote both consistency sought by the public sector and flexibility sought by the private sector'. This was followed up by Kim Hyunjun (professor, Kangwon National University), who emphasised 'that it is important to verify the operativity of mass diagrams and the actual positioning of spatial organisations'. During the discussion session that followed, Kim Jaechul (professor, Gachon University) highlighted the importance of adopting an integrated method and stepwise differentiation between continuous management bodies and professional fields per project phase in the urban architecture integrative planning. Kim also criticised the lack of a sense of connection with wider society, suggesting the need to secure a planning period and emphasised the need for further work in this respect.
In the second session, various changes within the architectural industry were reviewed and possible solutions at the institution/policy level for promotion of architectural industry were discussed. By listing the policy changes in the architectural industry in his presentation, Youm Chirlho (director of Architectural Heritage Research Group, AURI), criticised the lack of a project management institutions that consider the difficulties arising from legal distribution and related legal institutional settings in the context of architecture projects and their peculiarities. In the discussion session that followed, Kim Eunhee (research fellow of Architecture Research Group, AURI) suggested that 'the state needs to propose an agenda related to public architecture and have the private sector use it in a stable way,' and proposed a future direction that might be put to consideration for institutional improvement and execution in architectural industry.
Under the theme 'Public Architecture for All', the online exhibition features the winner of this year's Public Building Awards of Korea along with other distinguished works. The value of public architecture and the various narratives from those behind these buildings are conveyed through the interview videos of architects. The exhibition will be available to access at www.우수공공건축.kr until Nov. 2022.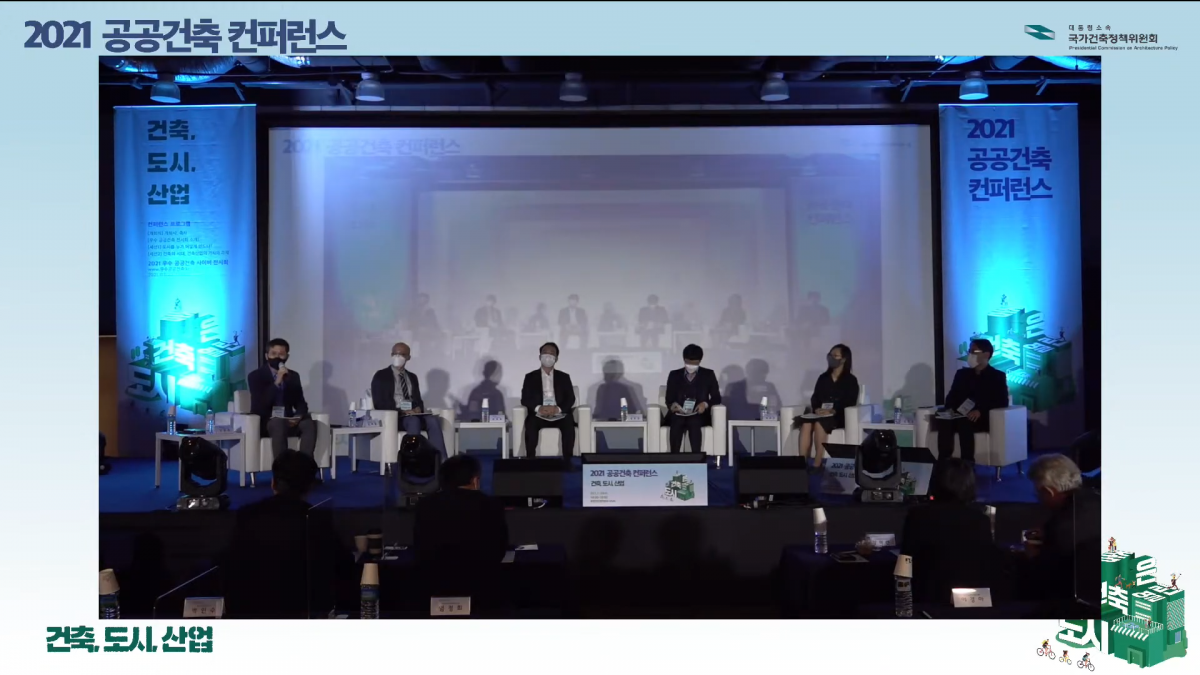 The 2021 Public Architecture Conference / Screehshot from YouTube​