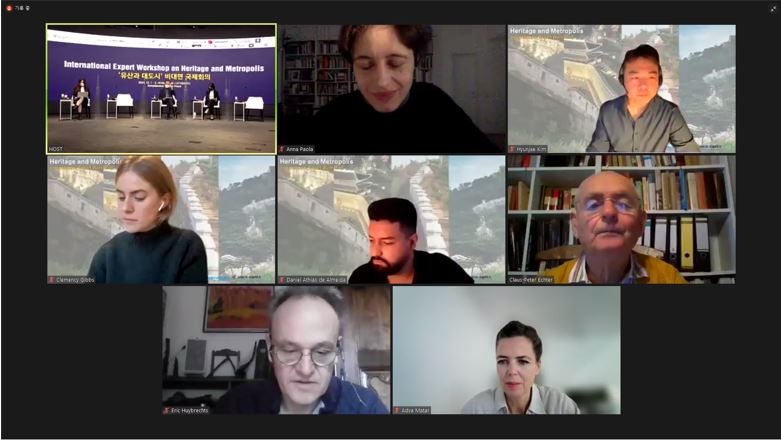 Screenshot from Zoom
For two days from 1 December, a contactless international conference on 'Heritage and the Metropolis' was held jointly by the Seoul Metropolitan Government and the UN-Habitat. More than 30 urban and heritage experts from 15 countries participated in this conference. The conference introduced global case studies in Sessions 1 and 2, discussed four sub-themes (territory and space, heritage, governance, and networks) in Session 3, and dealt with future challenges in Session 4.
In most discussions, prominent researchers agreed that defining 'heritage' and the 'metropolitan' had become increasingly difficult. The definition of heritage and a metropolis relates to identity, which is composed of global, multinational ethnicities due to the nature of the metropolis. Daniel Athias de Almeida (Professor, Anhanguera University) noted that preserving our more intangible heritage has become particularly difficult as large cities take on a global outlook. In addition, he expressed concerns about transmission, noting that in today's climate, particularly with the pressures presented by COVID-19, even the spaces in which to show examples of intangible heritage have disappeared. Claus-Peter Echter (ICOMOS principles) claimed that 'It is multiculturalism that makes a metropolis a metropolis, and society itself that creates the value of a metropolis'. Moreover, Jana Chaudhuri (Ph.D. student, Guru Nanak Dev University) introduced issues related to a miscarriage of justice that he is currently paying attention to in Delhi, while Valentina Galiulo (Assistant, Polytechnic University of Milan) and Nicole de Togni (Ph.D. Polytechnic University of Milan) continued various and free discussions related to the topic, such as a methodology by which to study the cultural heritage they had built, and a map of the metropolis.
As for the content related to Seoul, Kim Hyeonjae (Ph. D. student, University of Cambridge) introduced the relationship between heritage policy and that pursued by Seoul Metropolitan Government, and Choi Jaeheon (Former Executive Member of ICOMOS-Korea) gave a presentation on the metropolitan heritage policy and the promotion of Seoul's World Heritage inscriptions. He said the Seoul Metropolitan Government has a separate department for the Seoul City Wall and is equipped with policy, conservation management, monitoring, and research teams. He added that 'the altitude around the City Wall is limited to the landscape. Old surrounding buildings will be demolished, and polluting vehicles will also be restrained from entering the city centre. This is also related to urban regeneration projects'. Baek Unseok (Director of Seoul City Wall) expected that 'Seoul's excellent heritage management policy would be known to the international community through this conference and that it would be helpful for the inscription of Seoul City Wall as a World Heritage Site in the future'.