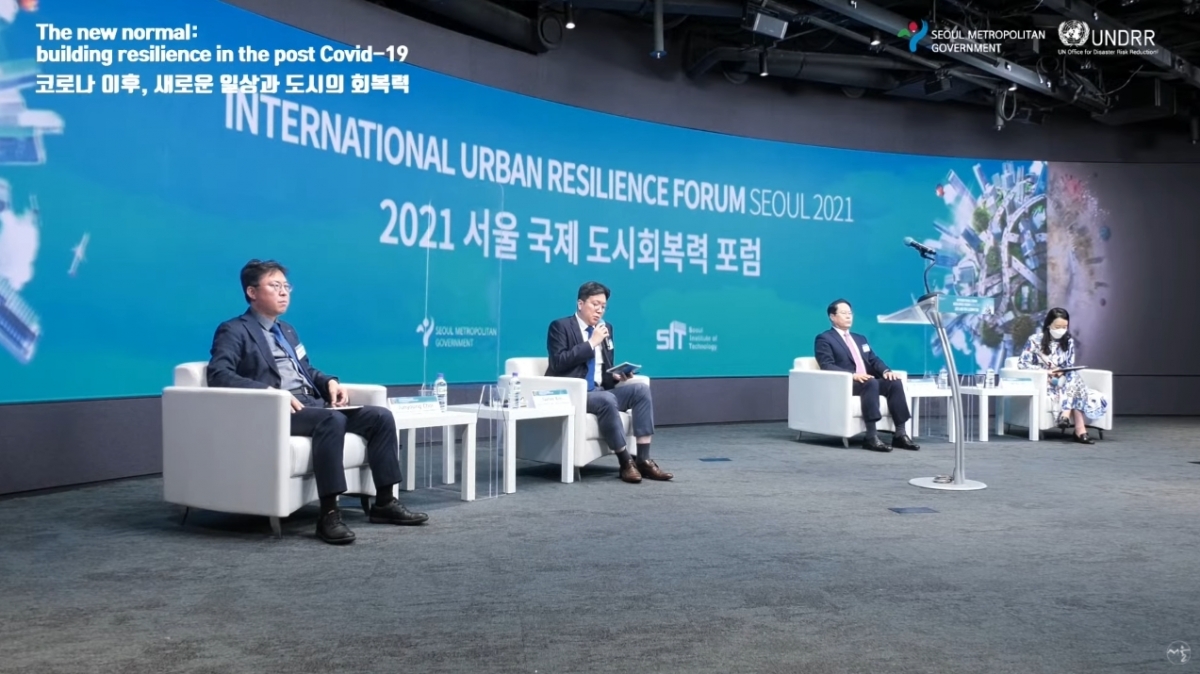 The International Urban Resilience Forum Seoul 2021 / Screenshot from YouTube​
The International Urban Resilience Forum Seoul 2021, hosted by the Seoul Metropolitan Government (SMG) and United Nations Office for Disaster Risk Reduction (UNDRR), was held via live streaming on 28 September. The purpose of this forum was to enhance the city's ability to respond to natural and social disasters and to ensure the rapid recovery of our environments following disaster. Oh Sehoon (Mayor, SMG) noted, 'Since the outbreak of Coronavirus Disease-19 (COVID-19), there have been growing calls for a change to our disaster response methods. We must preemptively respond to subsequent disasters'. These comments stress the importance of this event.
The forum included congratulatory addresses from Mami Mizutori (special representative, UNDRR), Koh Inseok (president, Seoul Institute of Technology), Yim Geunhyeong (CEO, CityNet), and a keynote speech by Ban Kimoon (former head, National Council on Climate Change and Air Quality), followed by presentations by domestic and foreign urban researchers and disaster safety experts. The first session of the presentations, 'New Standards for Smart Safe City' introduced solutions to urban disasters using digital technologies such as artificial intelligence, big data, and the Internet of Things. Kim Minju (researcher, Korea Institute of Civil Engineering and Building Technology) suggested that future urban problems can be prevented by introducing a Smart Solution Living Lab that investigates and computerises disaster vulnerabilities in old downtown areas. The second session, 'The Role of the City after COVID-19' discussed measures to reduce the digital divide accelerated by COVID-19 pandemic. Sanjaya Bhatia (head, Incheon Office of UNDRR) argued that the creation of a digital inclusion fund should be encouraged to increase access to information for the socially vulnerable. The third session, 'The Role of the City in Preparing for Institutionalised Disasters' shared urban self-sustaining policies against disasters and continued to discuss and emphasise solidarity and cooperation with the international community. The forum and its proceeds can be watched again on the SMG's official YouTube channel.
​