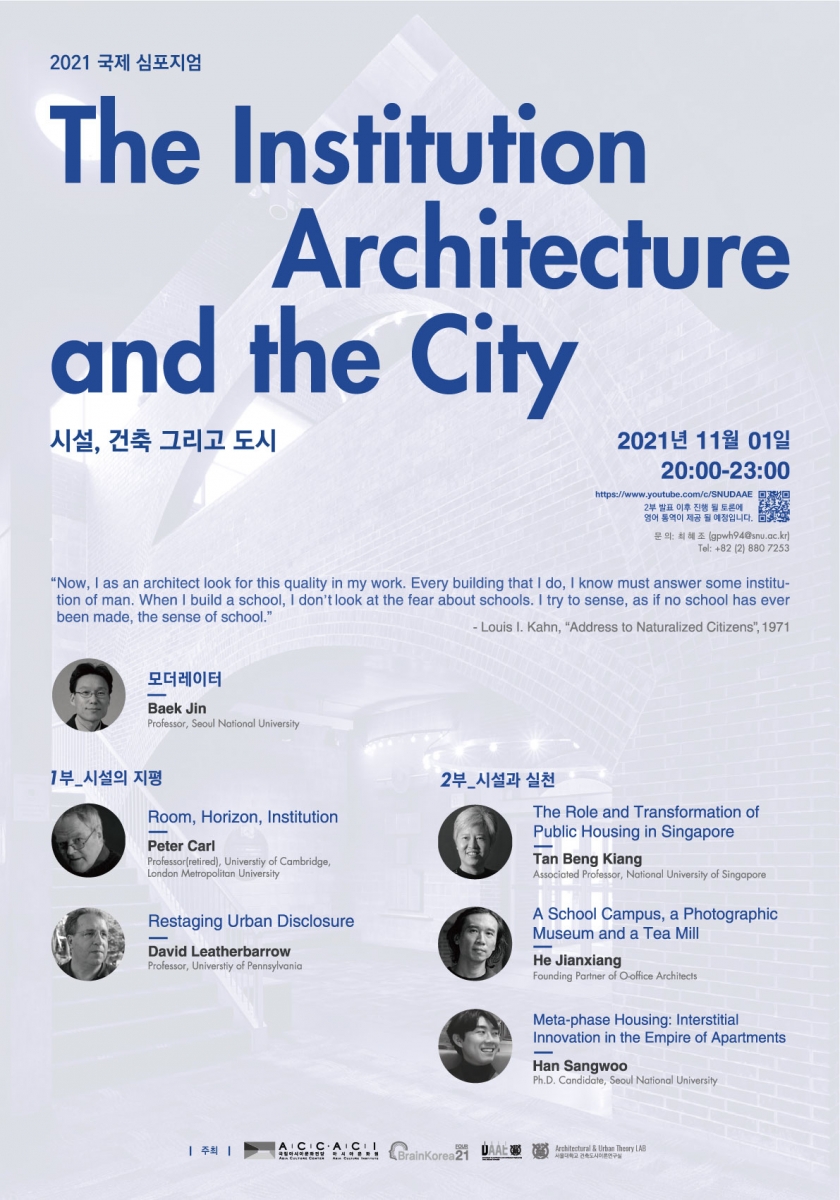 International Symposium
The Institution, Architecture, and the City
Nov. 1, 2021, 20:00-23:00 (KST)
Seoul National University Architecture Youtube Channel
(https://www.youtube.com/c/SNUDAAE)
Since the 1980s, the discourse on architecture has been concerned with expressive formal and spatial freedom with the excuse of naive functionalism, on one hand, and environmental scientific simulation, on the other. The discourse on urbanism has been heavily preoccupied with the quantitative and statistical status of the city as it is still evolving in a revolutionary fashion into a metropolis and a mega-metropolis. Another popular rhetoric demands the transformation of the city upon the new technological mode of the fourth industrial revolution. However, what has been put aside under the dominance of these architectural and urban preoccupations is the notion of the institution as one of the most remarkable dimensions of humanity, and its contribution to the human culture.
Notwithstanding this situation, many thinkers and architects have discussed the significance of the institution that guarantees interpersonal collective living and survival. Not to mention Aristotle of Athens, Maurice Merleau-Ponty and Louis I. Kahn in the contemporary period took the notion of the institution, its relationship with justice, and its fundamental significance in human culture as the topic of their philosophical and architectural reflection. Their studies of the institution uncovers the foundation of the everyday of the city life whose productive operation is possible only when differences are gathered upon a shared ground of an institution. Thus, humanity's resiliency in coping with socio-political, technological and environmental challenges rests on the renewal and transformation of given institutions, and the formation of new institutions.
The symposium deals with this rather forgotten issue of the institution – again one of the most remarkable dimensions of humanity - and illuminates its theoretical and practical significance in reference to the contemporary situation. It is composed of two sections. The first, for which scholars of historical and theoretical research are to be invited, deals with theoretical perspectives of the institution. This section discusses the meaning, origin (fictive and/or archeological) and role of institutions in human culture, and their formations and transformations in reference to architecture and urbanism. It also seeks to clarify architecture and urbanism's contribution to human culture by relating them to the notion of the institution.
The second section regards practical cases. Speakers to be invited for this section range from scholars of practical research to architects. This section discusses the changing status of institutions by taking specific cases such as the school, social housing, library, and even correctional facilities as examples. Another important topic to be discussed in this section is to capture newly emerging or hybridized institutions in reference to contemporary sociopolitical, cultural, and environmental conditions. What sort of freedom, justice, and resiliency is being achieved in terms of joining different individuals and sectors of the society, and what sort of setting is being shaped in terms of programmatic, configurational, and atmospheric features are some of the issues that could be dealt with in this section.
Program:
Moderator- BAEK Jin (Professor, Seoul National University)
Session 1 – Institutional Horizons
-Peter Carl (Professor[retired], University of Cambridge, London Metropolitan University)
Room, Horizon, Institution
-David Leatherbarrow (Professor, University of Pennsylvania)
Restaging Urban Disclosure
Session 2 – Institution and Practice
-TAN Beng Kiang (Associated Professor, National University of Singapore)
The Role and Transformation of Public Housing in Singapore
-HE Jianxiang (Founding Partner of O-office Architects)
A School Campus, a Photographic Museum and a Tea Mill
-HAN Sangwoo (Ph.D. Candidate, Seoul National University)
Meta-phase Housing: Interstitial Innovation in the Empire of Apartments
*For inquiries, please contact Hyejo Choi / gpwh94@snu.ac.kr/ +82(2) 880-7283​