On Dec. 9, the Seoul Metropolitan City Space Improvement Bureau (hereinafter CSIB) hosted an online forum under the theme of 'A City in Need of Care: Facilities for Infants, Children and the Elderly.
CSIB stated that this forum was intended for the discussion and determination of solutions to the blind spots in social care, which have become more pronounced in the months since the outbreak of Coronavirus Disease-19. Prior to the opening of the forum, Lim Jinyoung (principal, OPENHOUSE Seoul) who was the presiding host, summarised the domestic laws and systems regarding facilities for infants and the elderly. In the first part of the forum, featuring presentations and discussions on infant facilities, Baek Sunhee (principal, Korea Institute of Child Care and Education), Shin Hayoung (professor, Sookmyung Women's University), Lee Hyesook (researcher, The Seoul Institute), and Choi Haejin (principal, ODDs&ENDs architects) all participated in a panel discussion. The conversation mainly focused on creating a new model for the spaces of care. Shin Hayoung noted that 'there are many instances in which town architects, who typically design public facilities, have planned small spaces such as hideouts. Children, however, prefer open space in which where they can participate in various activities independently'. Choi Haejin added, 'in order to provide a more pleasant spaces for care than those of the past, the area per capita of space for infants, which is currently 7-8㎡, should be increased to more than 15㎡, which is the range applied in case studies abroad credited as excellent'. Based on their discussion, they highlighted the need to modify this condition in existing facilities, before constructing new care homes for children.
In the second part of the Forum, Song Injoo (manager, Seoul Welfare Foundation), Yoon Minseok (researcher, The Seoul Institute), Kim Sanggil (principal, ATEC Architects & Associates), and Jung Soondul (professor, Ewha University) discussed facilities for the elderly. There were many negative remarks about existing care homes for elderly. Jung Soondul commented on one case: 'care facilities for the elderly, which have been tailored to and designed on behalf of a group of four users due to financial issues, may need to be converted into facilities for individuals to protect the privacy of every resident'. Yoon Minseok added, 'the requests of elderly residents can be accommodated and reflected much more rapidly in the facilities owned by the private sector because their administrative procedures are more streamline than those in the public sector'.
CSIB announced that it plans to continue researching spaces according to stage of life and to experiment with formats and approaches with policy researchers, spatial planners, and architects. <by Kim Yeram​​>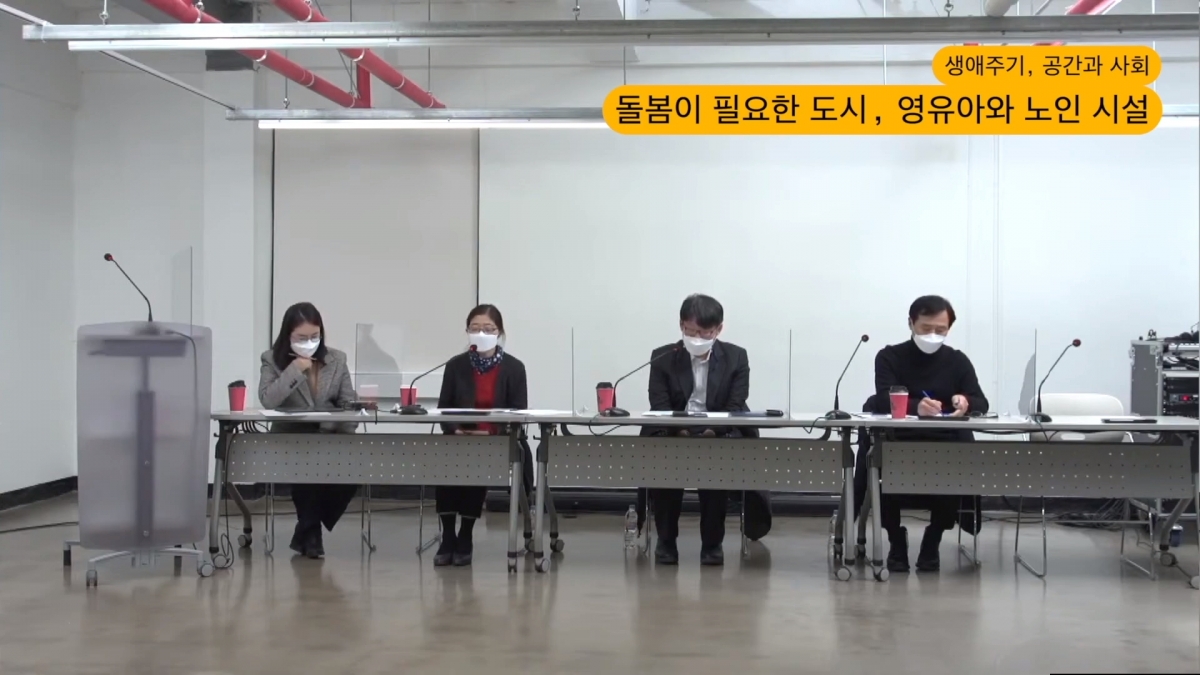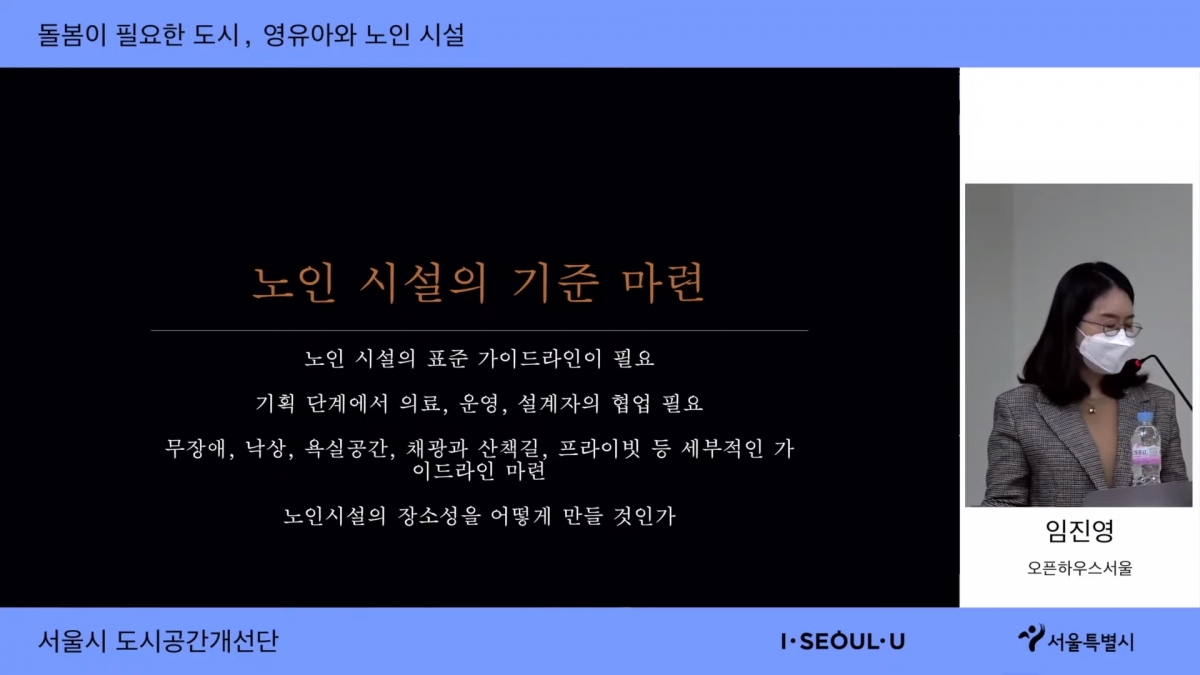 Online forum 'A City in Need of Care: Facilities for Infants, Children and the Elderly'
Screenshot from YouTube