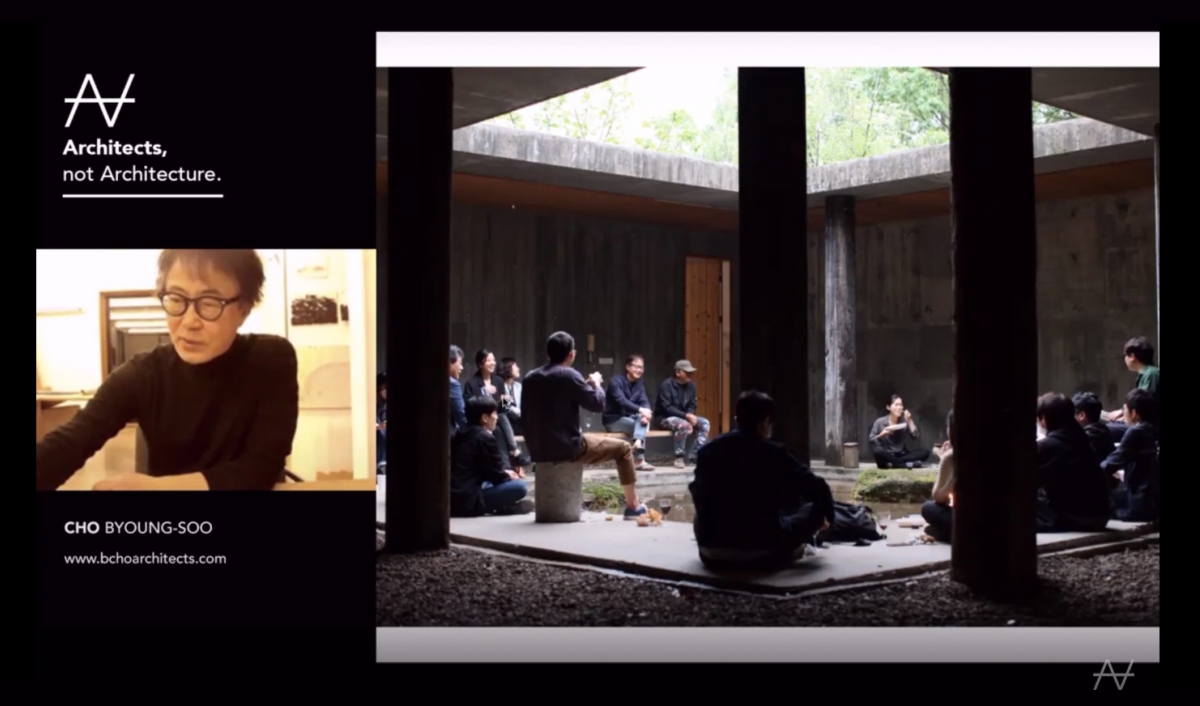 Online lecture 'Architects, not Architecture' / Screenshot from YouTube
The Korean event in the international architectural lecture series 'Architects, not Architecture' was broadcast live on YouTube on Jan. 6, 2020. Architects, not Architecture (ANA) is an architectural lecture programme that was launched in 2015 in Hamburg, Germany. Each year, it invites internationally active architects to discuss their lives and architectural work. Famous architects, such as Thomas Heatherwick (principal, Heatherwick Studio), Ma Yansong (principal, MAD Architects), and Thom Mayne (CEO, Morphosis Architects) participated in this year's event. Representing Korean architects, Byoungsoo Cho (co-principal, BCHO Partners) and Kim Incheurl (principal, Archium) served as lecturers.
Cho Byoungsoo talked about 'Things that I Like'. Cho delivered a talk on the natural world he experienced in his childhood, the typical western architecture he observed in Montana, USA, and the yard he explored when returning home. In particular, he noted, 'What I've experienced of the natural environment while spending my childhood on the outskirts of Seoul in the 1960s and 1970s made my architecture today'. He also explained, 'The continuous attempt to connect nature and people led to his architectural view of Bi-um (the emptiness).' Kim Incheurl began his presentation by showing images of a ruined Seoul before and after the Korean War. He said that the deficiency found in Seoul at that time became the basis of modernist architecture in Korea. Kim said, 'The opportunity for architects to think about society has increased as addressed by huge urban events such as the urban redevelopment project, and Seoul 1988 Summer Olympics have taken place, and as a result, I worked in groups such as architectural tour and 4.3 group'.
You can check the stories behind the work of these two architects in detail through ANA's official YouTube channel.