The exhibition 'Pavilion Laboratory' was on display at domansa, in Seongsu-dong, Seoul, between Aug. 28 to Oct. 31. The theme of this exhibition was the architect's pavilion, explored through works such as Lifethings (principal, Yang Soo-in), NAMELESS Architecture (co-principals, Na Unchung, Yoo Sorae), stpmj (co-principals, Lee Seungteak, Lim Mijung), and SoA (co-principals, Lee Chihoon, Kang Yerin). This exhibition focuses on architectural experiments conducted through the form of the pavilion, rather than introducing the plans through which pavilions were created and run.
Lifethings introduced Gyroid Trefoil located in Seongsu-dong, Seoul. The work was guided by the concept of an intersecting 'gyroid' structure, which is a three-dimensional curved surface that is infinitely connected, and a 'tripol' known as a three-leaf knot. More than 5,000 modules were derived from the adjustment of variables such as radius, degree of bending, position, and rotation of the unit structure of the pipe using computer algorithms. The final shape was determined through the consideration of aesthetic and structural stability, and was made of aluminum. Through this exhibition, he realised that 'The era of relying upon a creator's singular eye is over. It seems that the design conditions for certain experiments using artificial intelligence or algorithms have become more important than design itself'.
Nameless Architecture presented D Pavilion, located in Gwangju, Gyeonggi-do. It is a small shelter and outdoor stage located on the hillside outside a high school, and it was designed to support a flat concrete roof with polygonal vertical structures. It employs a raised construction method rather than a single cast structure, and there is a gap at the contact point where the roof and vertical members meet. Nameless architecture notes that 'if the properties of this pavilion could be compressed into a single word, it would be the "incomplete"', adding that 'this comes to architects as an opportunity, as a pavilion is a great medium through which to test an architect's own visual language'.
Stpmj introduced Dissolving Arch. This vaulted pavilion made of salt bricks was built in the summer. Due to the hot and humid summer weather, the salt bricks gradually melted and disappeared, leaving behind only the mortar. As for the reason for working on this pavilion, stpmj stated that 'It offered the possibility of conducting several experiments difficult to perform in the practice of commercial architecture', suggesting that 'the further architecture and pavilions are from each other, the more interesting the projects that emerge'.
SoA presented the open platform Yoonseul for creators in Manli-dong, Seoul, and the Shinchon Youth Culture Basecamp, a complex cultural space located in Sinchon. They asserted that 'a building should propose a space that is useful, but a pavilion is free at this point', noting that it is possible to try to 'programme the experience and the weather' like Yoonseul. This is an intriguing idea to architects.
As such, it is an exhibition through which you can observe the process of completing a pavilion through material experiments, structural experiments, and programming architectural experiences, to see how they develop into a new story within the long history of architecture.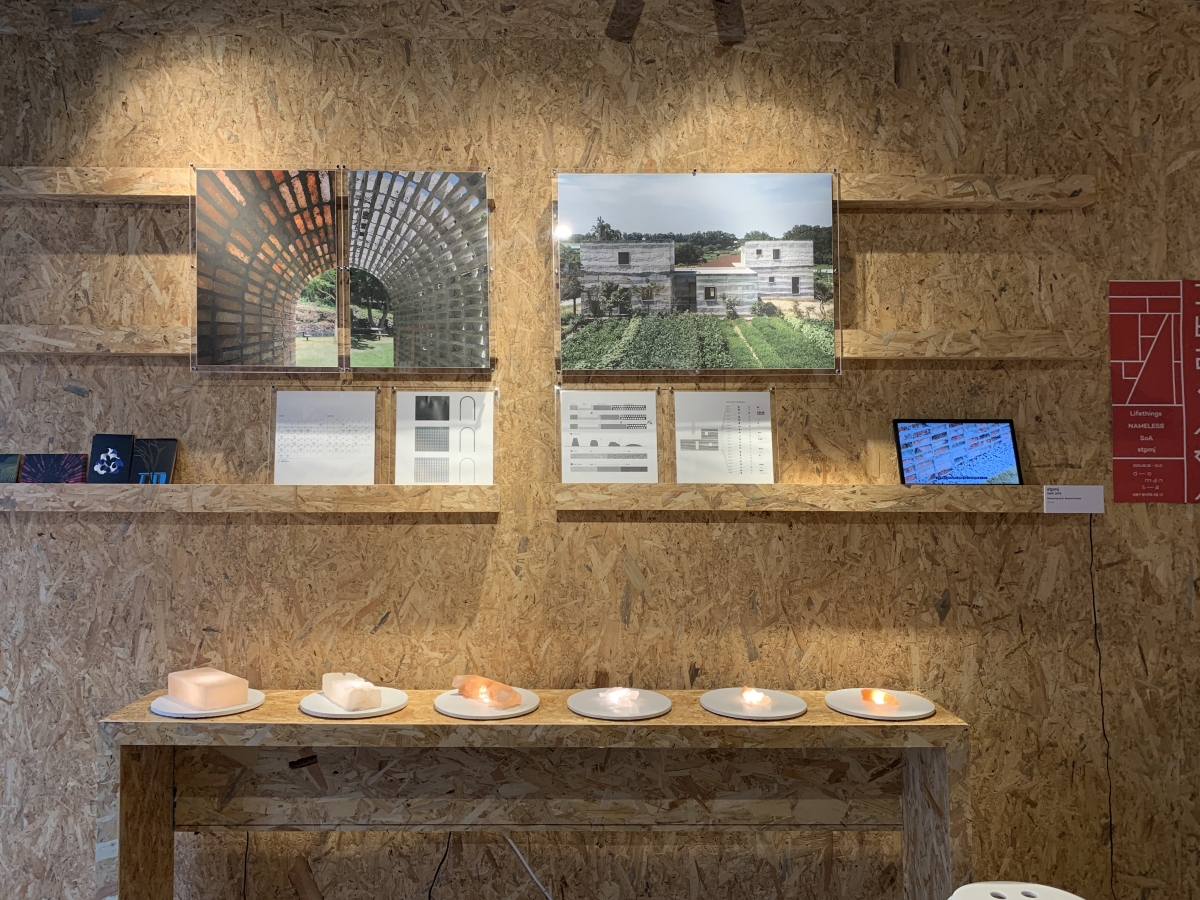 Dissolving Arch by stpmj