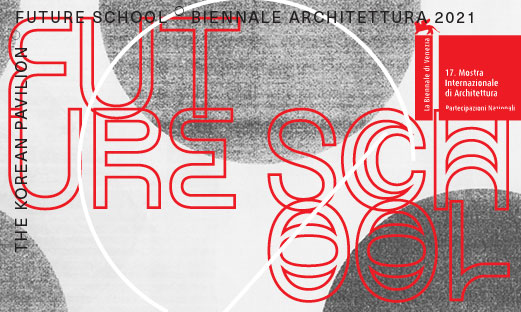 The poster for the 17th Venice Biennale International Architecture Exhibition Korean Pavilion / Image courtesy of Arts Council Korea
On Aug. 29, the Arts Council Korea released their announcement of the Collaborative Initiative regarding the 17th Venice Biennale International Architecture Exhibition in 2021. This was the postponed opening day of the Venice Biennale, which was delayed once from May to August due to Coronavirus Disease-19 (COVID-19). Since then, the 17th Venice Biennale was delayed again, and the changed schedule is now from May 22 to Nov. 21, 2021.
At the announcement of the initiative, 80 curators and teams from 34 countries, including the Biennale's chief curator Hashim Sarkis and the Korean Pavilion curator Shin Haewon (principal, lokaldesign), participated voluntarily. It is not a statement advanced by the Foundation, but the result of a dialogue and agreement between curators from participating countries and is the first collaborative initiative in the history of the Venice Biennale International Architecture Exhibition for 40 years. The initiative was triggered on May 23 through Shin's proposal and at a convocation at an online conference for the curators of each national pavilion. Shin suggested international solidarity because it was important for all humankind to come together and to share in our present difficulties, and she received replies from 23 countries. The action gradually expanded and led to this collaborative initiative.
The main point behind the initiative is to establish an independent platform that will connect countries and secure a long-term open channel. According to the statement, the theme of this biennale, 'How will we live together?' has an entirely different meaning from that of the past due to the pandemic. The curators and teams said that they should rethink the architectural profession, the way they collaborate, and how they think about our architectural environments. It is said they plan to build a platform upon which to share the exhibition content and to interact with each other over the next few months. It aims to lead to specific cooperations and joint projects between countries. In the end, it intends to establish a channel that enables continuous flow of exchange between curators and commissioners of each national pavilion not only at the 17th Venice Biennale but also at all subsequent events.
The statement describes these changes as 'a step that further emphasises the role played by discovery, understanding, and mutual exchange across boundaries in the existing structure of an international contest'. Moreover, they said, ;we do not yet know how these efforts will materialise. We have no doubt, however, that this is a necessary step forward for our community in this new troubled age'.
Shin Haewon mentioned one further point about the initiative, adding that 'a declaration that marks the beginning of solidarity across regions and borders takes one step further from a temporary event'. Also, Shin hoped that 'it will become a meaningful network through which the architectural and urban cultural experts from various countries can explore our new lives together'.