Upon entering the dimly-lit exhibition hall, one is met by a wave that exceeds the height of an adult to overwhelm the space with an explosive sound. Visitors chase after these waves in this panoramic azure-coloured sealine and enjoy a fleeting escape deep in the city centre. This large-scale multimedia installation artwork 'a'strict', which provides the transportive experience of being at a beach, was on show at Kukje Gallery's K3 space from Aug. 13 to Sep. 27.
This immersive media art installation exhibition entitled 'a'strict' interacts with its audience through its sequencing of digitally-produced waves, and was produced by the media artist unit a'strict. As a subsidiary content production team residing within the digital design company, d'strict, a'strict is composed of various professionals ranging from video designers, system designers to directors. Driven by a relentless interest in the interaction between mankind and technology, along with the ever-burgeoning importance of digital transformation in light of the global pandemic, the full sensory, immersive installation continues to push the innovative user experiences that d'strict is known for, while at the same time raising the stakes of digital projects in a fine arts setting. This team received prominent attention last May for its public art project Wave (2020), a flowing wave that crashes within an invisible box, displayed on the large external display of the COEX Artium at Samsung-dong. Employing anamorphic illusion, a type of projection technique used to highlight the illusion of depth and three-dimensionality, d'strict transformed the flat exteriors of the screen into a self-contained space unveiling a constant rush of massive waves.
In contrast to this previous work, which was showcased on a LED-lit display, Starry Beach (2020) at Kukje Gallery was produced by shooting the 3D-generated waves via six projectors placed at designated spots in the exhibition hall. The 3-minute long video projection was produced from 12 perspectives to express the movement of the sea in detail, and the 13m-wide and 4m-tall video exhibition space was finished with mirrored panels. After four months of analysing the physics of waves through a simulation program, a'strict were able to reflect an close impression and express the character of waves in their graphic work. The sound of waves was recorded in situ by the sea to create a realistic representation and edited to reflect the distinctive rhythm of waves.
In explanation of their effort to create an immersive experience, a'strict explained that they had 'worked hard to make the water spray droplets that hit the screen and the trails they leave behind as realistic as possible', adding their hope that the work 'would provide some relief to those suffering from the impact and resulting anxiety of COVID-19'. While not many people were able to admire this work due to COVID-19 admission restrictions, the design intention was also conveyed to the public via video sharing on social media.
The exhibition at Kukje Gallery has ended, but Starry Beach can be also be experienced at the opening exhibition of Arte Museum in Jeju.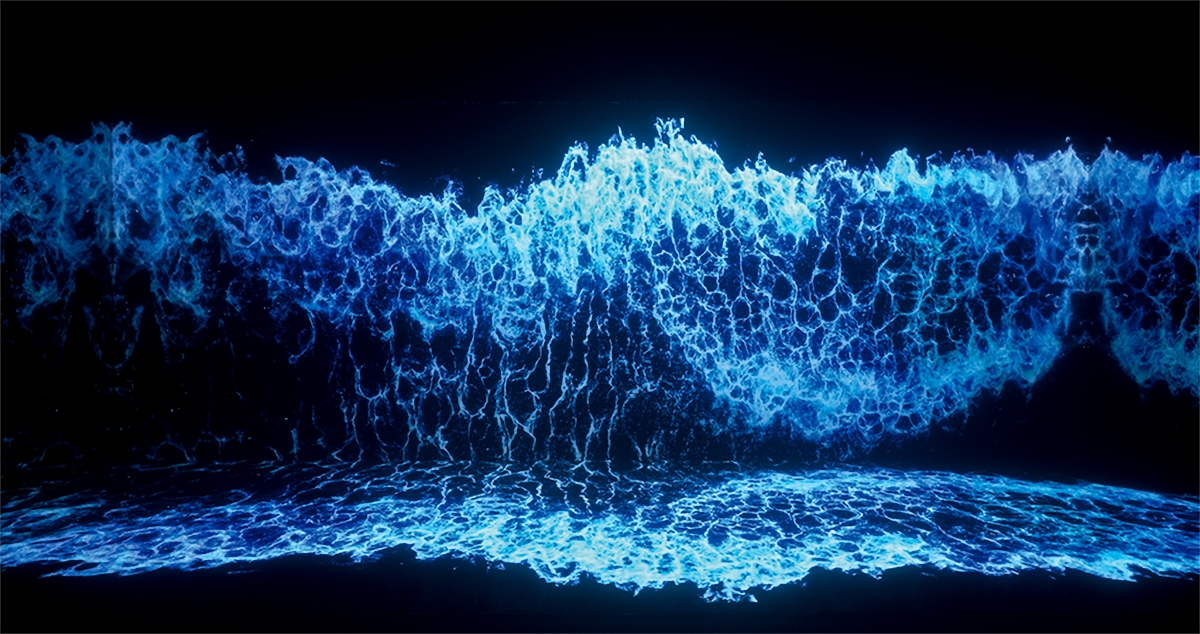 Exhibition view of 'a'strict' / Image courtesy of Kukje Gallery