On Oct. 30, the 30th conference of the Young Architects Forum Korea was held at the Untitled Void in Jongno-gu. With winners of the Korea Young Architect Award, staffs, and thirty pre-bookers in attendance, the conference was broadcast live through an online video service to share the event with many people. The event, held under the theme of 'Meeting and Space in the Non-face-to-Face Era' consisted of presentations of four architectural firms which were finalists for the Korea Young Architect Award this year, followed by questions and answers. The presentations were given by Woo Seungjin, Park Jihyun, and Cho Seonghak (co-principals, B.U.S Architecture), Jung Woongsik, (principal, On Architects Inc.), Kim Sejin, (principal, JIYO Architects), and Park Jeonghwan (co-principal, Simplex Architecture).
Cho Seonghak listed a series of his imaginations under the assumption that Conoravirus-19 (COVID-19) will last in the future. For example, the regulation on the right to have sunlight is eased so that people can have a space with increased floor to floor height when it becomes difficult to expand space horizontally due to social distancing, and the shape of urban blocks changes as the number of personal mobility increases to reduce contact through public transportation. Jung Woongsik mentioned that the demand for spaces reflecting self-isolation and non-face-to-face factors is increasing as COVID-19 which used to be unfamiliar, becomes a daily disaster like fine dust. He said, "As large facilities that used to serve as public spaces cannot function properly, the online work hours increased, which produced a space for 'isolated networks'." He added that the space for online communication could become a new type of space. Kim Sejin predicted the situation of COVID-19 in Korea by comparing it to Charles Darwin's On the Origin of Species (1859) about biological evolution. He explained the situation where the current housing space is not flexible in responding to disasters caused by diseases, saying "The spread of apartment houses was too fast to interact with other types of housing, which greatly reduced the possibility of a variety of housing."
In session 2, questions and answers followed based on the presentation among the previous speakers and panels. Kim Sooyoung (principal, su:mvie architects), Lee Jeonghoon (principal, JOHO Architecture), Lim Dongwoo (professor, Hongik University), and Han Yangkyu, Yoon Hanjin (co-principals, FHHH FRIENDS) participated in the session. Kim Sooyoung asked Kim Sejin "How should architects respond to this situation when the existing space becomes invalid due to COVID-19?" Calling the current situation 'Ice age of face-to-face contact', Kim Sejin said "In order to thaw the function of a rapidly frozen public space, we should try to use the space unlike before and transform its appearance." The video for conference of the Young Architects Forum Korea is uploaded on the YouTube channel of VERS STUDIO.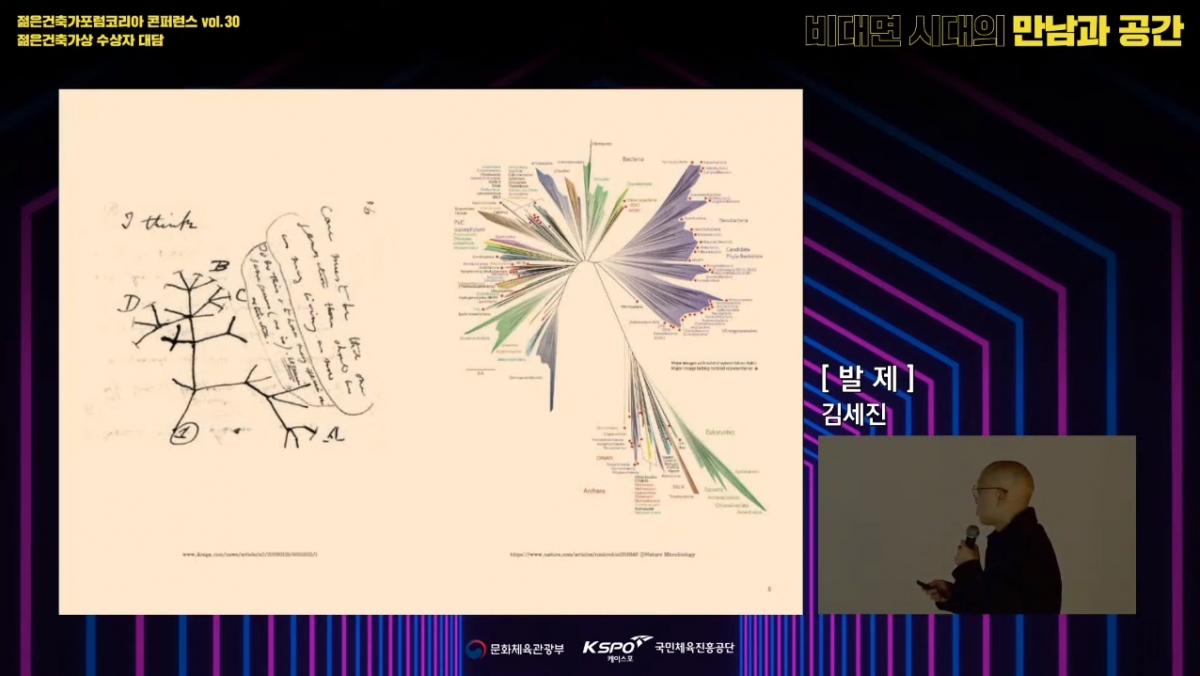 The presentation by Kim Sejin from JIYO Architects / Screenshots from YouTube​​