Recently, the number of people living with companion animals has increased significantly. The question of whether one owns a dog or cat was even included in a recent Population and Housing Census. Under these circumstances, from Sep. 4 to Oct. 25, the National Museum of Modern and Contemporary Art (MMCA) in Seoul opened 'A Museum for All, a Museum for Dogs', inviting dogs in particular to enter their spaces, which account for the largest percentage of companion animals in Korea. This exhibition is the first domestic exhibition to invite dogs as part of its audience.
Sung Yonghee (curator, MMCA) who curated this exhibition explained that 'our social awareness has improved quite a lot as we use the expression of companions rather than pets, but we have a long way to go as there are not many places that you are able to enter with them'. The exhibition aim was, she said, to 'invite dogs to a space dedicated to spectators, in order to create a better relationship with animals too often deemed other'.
The exhibition introduces 20 works including installations, sculptures, and animations, by 13 teams of participating artists. Through the animation Hello There (2013), in which a dog and its companion play a game of fetch, David Shrigley explores the boredom felt by the two in the game's repetitive nature. The video work I Say (2012) by Ellie Kyungran Heo is based in a farmer's market in London, England. The companion who appears in this film sees a sign prohibiting dogs from entry, so he continues shopping by leaving his dog behind. Dogs are so often excluded from spaces routinely occupied by humans.
To create an exhibition space in which dogs can jump around and play, various experts including veterinarians, jurists, architects, and landscape designers. Jo Kwangmin (veterinarian) were consulted as to whether the exhibition space would be sufficiently sensitive to a dog's behaviors and habits, while Kim Soojin (professor, Incheon National University) reviewed potential legal issues should an animal inflict injury upon a person in an unexpected instance or provoked by unanticipated behaviour. Guided by the understanding that dogs have red-green colour blindness, Kim Kyungjae (principal, Atelier KJ) painted the installation work Near Future, Guides to Use Other's Living Room (2020) in light of this, one space intended as their playground. Considering the fact that dogs are fond of smelling, Yoo Seungjong (principal, Livescape) also created a landscape work The Forest for All (2020) in which the barks of trees form its lining.
In this exhibition, the MMCA in Seoul use interior spaces as well as exterior – courtyards, gardens, and outdoor staircases – as their exhibition spaces. Companion dogs who visited the museum seemed to be enjoying the exhibition in an active way, by passing through the spaces and smelling the sparsely installed works. Due to Coronavirus Disease-19, the exhibition had to be temporarily shut more than planned, and, regrettably, the chances of companions and dogs enjoying the exhibition together was significantly reduced.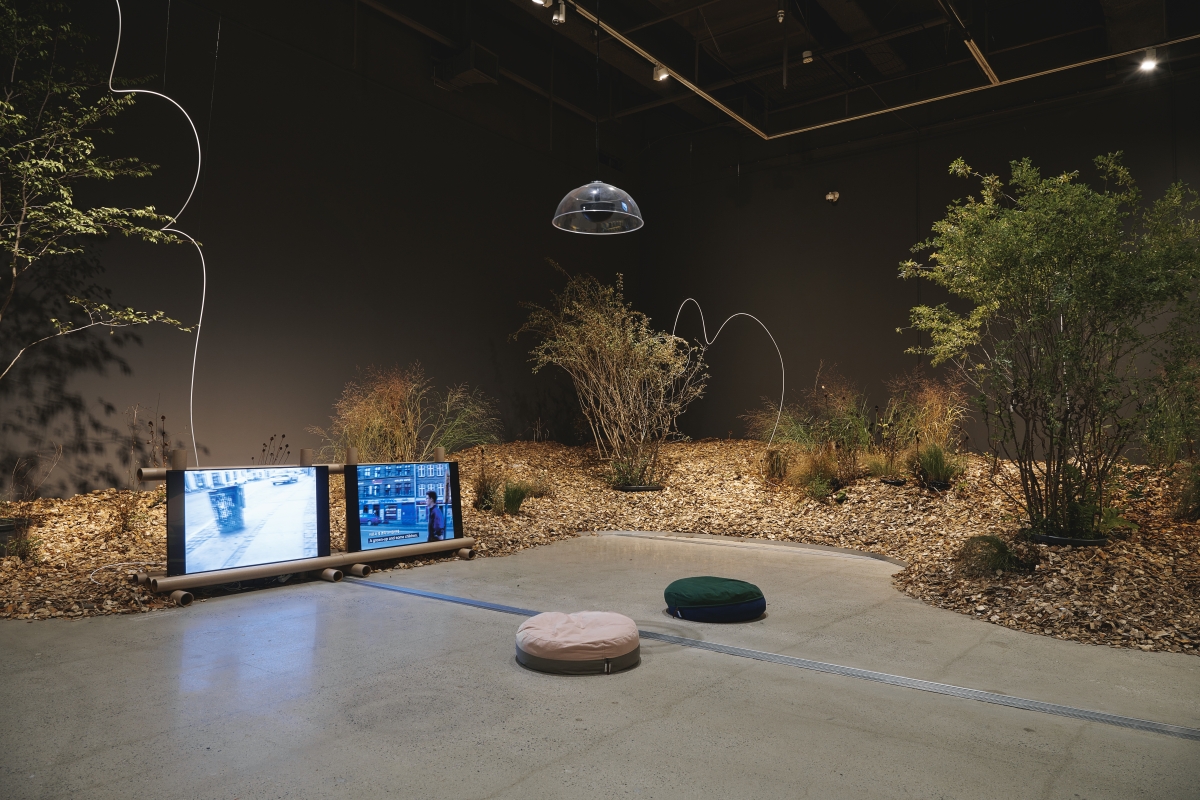 Exhibition views of 'A Museum for All, a Museum for Dogs' / Images courtesy of MMCA​