On Sep. 25, WISE Architecture (co-principals, Jang Youngchul, Chun Sookhee) was selected as the final winner in the design competition for the Ang-gang Bay Archipelago Observatory Deck Construction Project. Namhae-gun hosted this design competition with the aim of creating a building that would blend into the landscape rather than conceived of yet another lofty observatory from which visitors can admire the surrounding seascape. In a site of 3,500㎡ located in Murim-ri in Idong-myeon, participants in the competition were asked to submit a design proposal that included an observatory, a pavilion, a children's play area, and food and beverage facilities.
The design competition was held for design offices that had previously been awarded the Korea Young Architect Award. The participating teams included WISE Architecture, SoA (co-principals, Lee Chihoon, Kang Yerin), Notion Architecture (principal, Kim Minseok), Jo Jinman Architects (principal, Jo Jinman), and NAMELESS Architecture (co-principals, Na Unchung, Yoo Sorae). Six architects participated as jury members. Kim Jeongim (principal, Seoro Architects) served as the Chairman of the jury, and Kim Chanjoong (principal, THE_SYSTEM LAB), Lee Eunkyung (principal, EMA architects & associates), Cho Minsuk (principal, Mass Studies), Cho Jaewon (principal, 0_1 Studio), John Hong (professor, Seoul National University) participated as judges.
WISE Architecture, the final winner, presented 'Ang-gang Hill' that was designed using the motif of a stone mountain in Namhae. The architect intended to create an observatory shaped like the ascent of a mountain and proposed programmes including a play area, convenience facilities, and a parking lot on the lower level. The jury committee noted that 'considering the budget and the size of the site, the creation of a mountain-shaped structure achieved by stacking stones could feel somewhat excessive' but concluded that such a design would communicate the enchanting qualities of this site, attracting visitors from far and wide. They also added to this summary that 'the project maintained a sense of "publicness" through a building design that reflects how people with disabilities will be able to approach the building'.
Namhae-gun, the host of this design competition, announced that they will sign a construction contract with WISE Architecture and carry the project forward to embark on construction in Mar. 2021.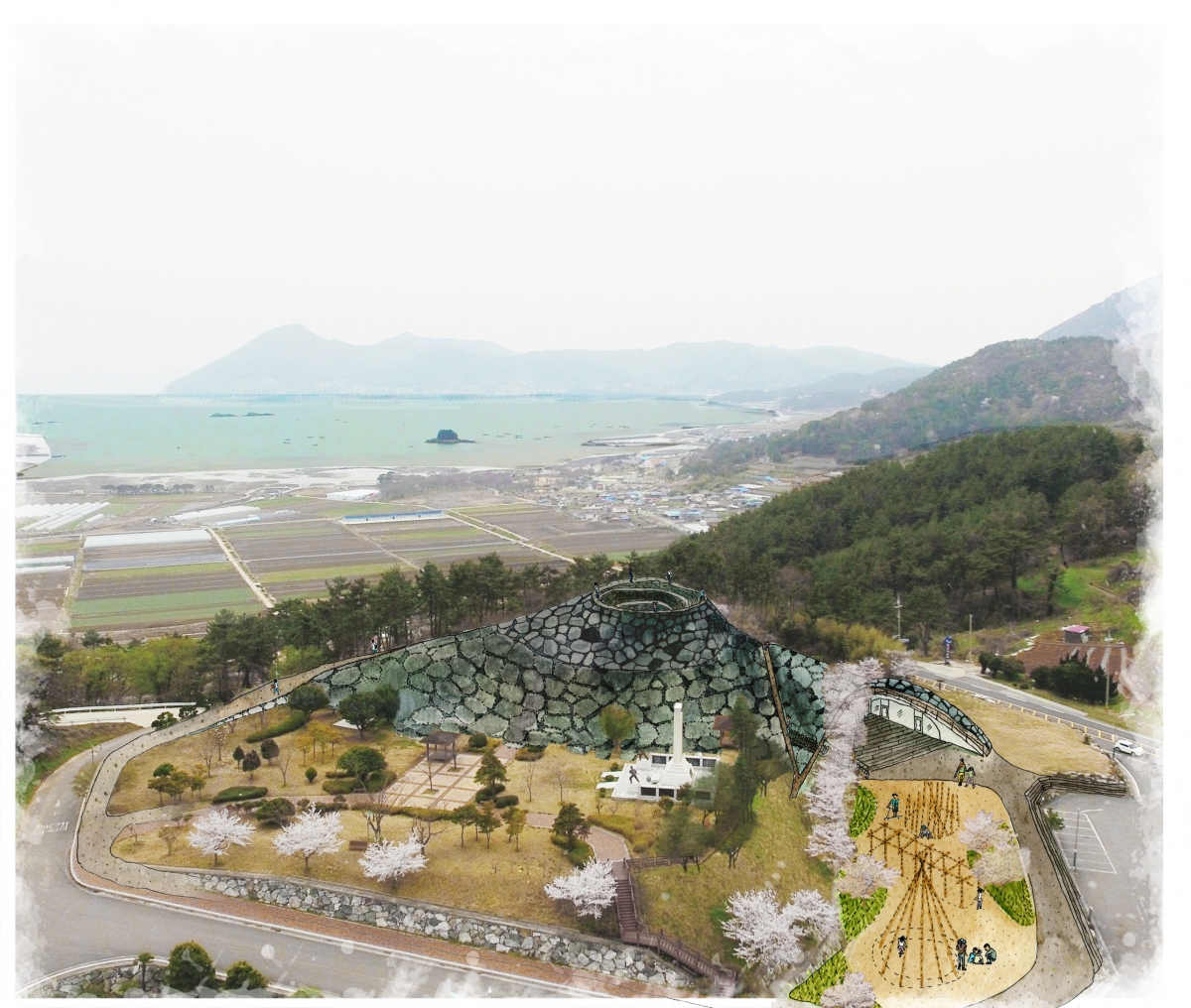 WISE Architecture, 'Ang-gang Hill' ⓒWISE Architecture​