Seoul Museum of History organised an online conference titled 'A Museum for Everyone' on Oct. 8. In response to the prevailing trend in the expansion of museums in terms of their functions and roles, this was an opportunity for professionals in the field to discuss the concrete methods to make Seoul Museum of History.
Beginning with a welcome speech from the Bae Hyunsook (director, Seoul Museum of History), the conference featured a keynote address and presentations on architecture, visual communications design, and museum case studies research.
The first presenter Kim Insoon (department of head, Universal Design Environment of Korea Disabled People's Development Institute) presented on the aspects one must consider when designing a museum's physical environment in terms of its topography, form, accessibility, and architecture, particularly as Korea transforms into a super-age society. Following this, Jang Hyejin (professor, Sungshin Women's University) introduced solutions and various local and international application examples of universal design in museums via visual communications design. Lee Hyunsook (professior, National Museum of Korea) presented a case example of the management of a barrier-free exhibition space in a special exhibition at the National Museum of Korea by catering to various demands of disabled and non-disabled people of various ages, genders, and levels of physical and mental development. The last presenter, Kim Kyungmi (professor, Sungsil University), used her research findings on how those with impairments in sight, hearing, movement, as well as in mental development, and those considered to live without such impairments experience Seoul Museum of History in order to propose the necessary security measures from the aspect of universal design.
After these presentations, a general debate session moderated by Park Hyunwook (research director, Seoul Museum of History) and participated in by Bae Yungho (chief researcher, Korea Research Institute of Eco-Environmental Architecture) and Kim Daebeom (center manager, People First Seoul Center) followed. The presenters and debate participants all agreed with the point that 'a museum for all' is ultimately 'a museum that does not exclude anyone', and they raised specific proposals from the perspective of physical environments, exhibition content, and psychological environments. They also agreed that it is important to have a clearly-defined audience, and pointed out the need to study and approach the demands presented by not only the non-disabled and the disabled, but also attending to the elderly with Alzheimer's, people with disabilities in terms of physical and mental development, and toddlers and children with greater prudence. A wide range of opinions and proposals also emerged throughout the course of the session, such as creating environments for multi-sensory participation in exhibitions, improving museum access, and designing works that would be considerate of people with diverse needs. The event concluded with a reassertion of the significance of this gathering of information and the knowledge required to build an environment that would meet the public expectations of Seoul Museum of History as a site on the frontline of Korean cultural welfare.
This conference, which was conducted online due to Coronavirus Disease-19, will be edited with subtitles and uploaded for wider public access. The video will be available on the homepage of Seoul Museum of History and YouTube from Oct. 20 to Dec. 20, while the discussions will be edited and published in the research journal Museum Review in Dec.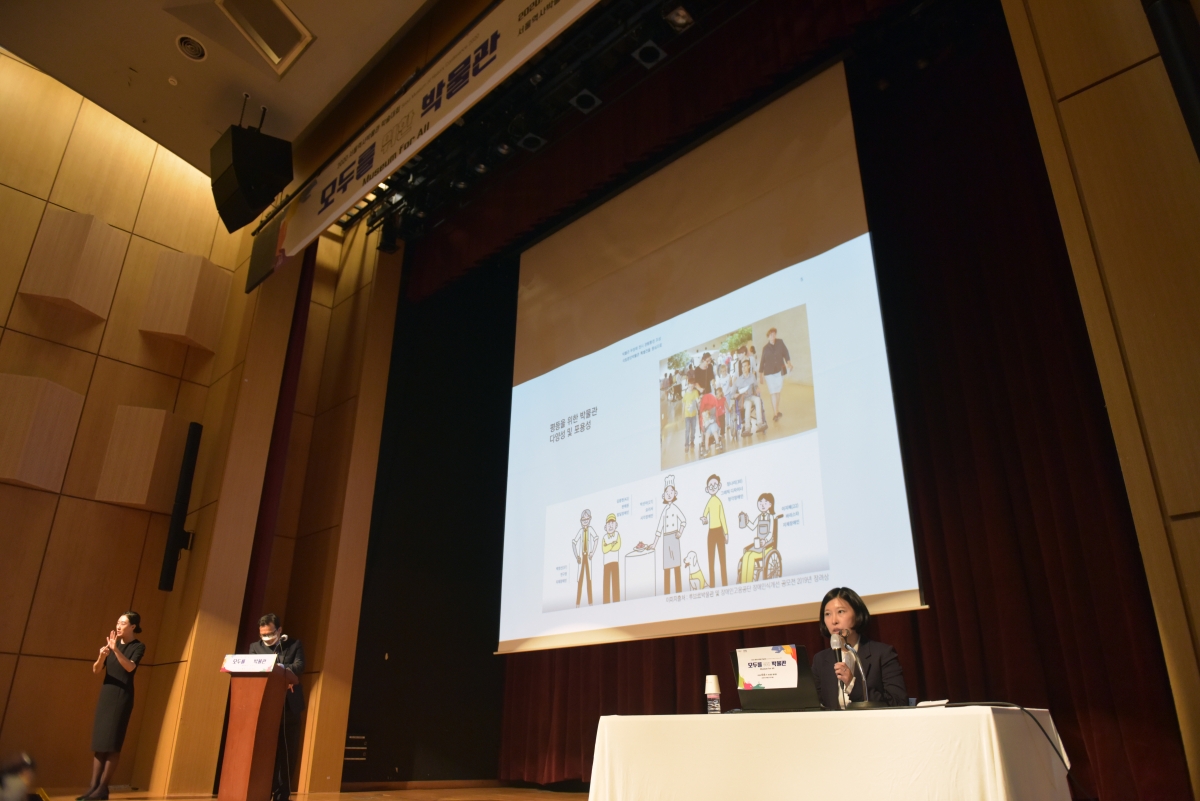 Views of 'A Museum for Everyone' / Images courtesy of Seoul Museum of History ​