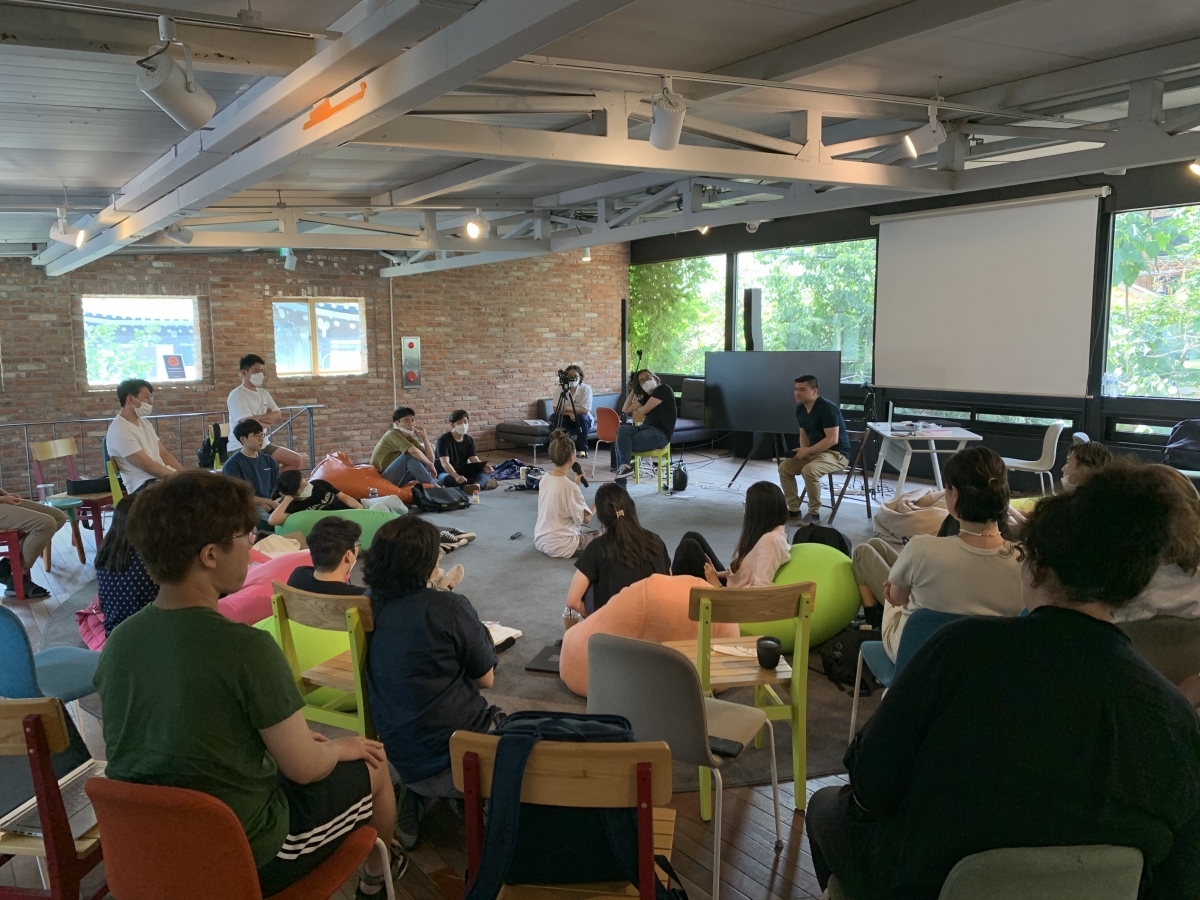 View of 'Future School Summer Studio' ​ⓒKim Yeram​​
The Future School Summer Studio (FSSS), designed to comprise part of the Korean Pavilion Programme at the 17th Venice Biennale International Architecture Exhibition, ran from June 29 to July 24 at KOTE, Insa-dong, Seoul. The Venice Biennale International Architecture Exhibition, which was scheduled to be on show in August, has been postponed to next year in light of the Coronavirus Disease-19 (COVID-19). However, the commissioner of the Korean Pavillion for the art exhibition Shin Haewon (principal, lokaldesign) pressed ahead with the studio programme as planned.
The FSSS is designed to help students develop integrated thinking skills and the ability to execute ideas across multiple disciplines. Shin Haewon, Ryul Song & Christian Schweitzer (co-principals, SUPA Schweitzer Song) served as programme coordinators and Yim Dongwoo (professor, Hongik University) and Rafael Luna (professor, Hanyang University) as programme directors. This year's FSSS dealt with topics such as the boundaries of geographical meaning, shared features between architecture and art, and a sense of belonging in society under the title of 'Transborder Lab'. It also invited artists and practitioners to lecture. Various programmes were also held in the studio: a seminar led by Kyung-jin Zoh (professor, Seoul National University) to explain the contents of the DMZ exploration project; a talk by Jeon Jinhong and Choi Yunhee (co-principals, BARE) who conceived of the exhibition based on geographical boundaries; a public lecture by Hwang Doojin (principal, Doojin Hwang Architects) that observes the area through the theory of Porous Rainbow-Cake City; and a conference organised by the Young Architects Forum Korea to discuss the nature of relationship between online and offline, and how this has been altered by COVID-19. In addition to this, 23 students gathered to reinterpret the notion of the boundary with their own eyes and shared their sense of it as their own creation.
The FSSS, which ran for a month, showed the possibility of creating a new kind of architecture school. Programme coordinator Yim Dongwoo noted that 'It is important to create an environment in which students discover their own interests by escaping the stricter apprenticeship education presented by famous architects. We invited experts on the subject and from the field, but did not forcing students to look at the subject from any specific point of view'.
The planning and operation team for the Korean Pavilion at the 17th Venice Biennale International Architecture Exhibition will set out the programmes and contents of this summer studio held in Korea and exhibit them at the Venice Biennale, which will be held from May 22 to Nov. 21 next year. In 2021, the FSSS will pose 'Gender and Space' as their agenda through which to explore the relationship between architecture and gender and to discuss ways of establishing a richer and more sensitive appreciation of gender in space.