A screen has been presented in the middle of this exhibition space, upon which a bus is shown to rumble by in an unspecified direction. It sets out from Apgujeong Hyundai Apartment, travels through Chungdam, Daechi and Guryong Village, and eventually arrives at Gangnam station. Shots of the view outside are interspersed with the clips of the bus coming to an occasional stop. Sprinkled between these scenes are anecdotes regarding the surrounding area told from the perspective of an actor, a vocal coach, and an office worker. These are scenes not from an actual public bus ride, but from a tour of the Gangnam area that operated on a one-off basis. This tour posed the question: 'What is Gangnam?' Walk over to a separate partitioned off space, and the video here features stories from Jongno 3-ga, told in different voices and offering different perspectives of what the neighbourhood means to them. Adjectives such as comforting, safe, quotidian, stuffy, distinct, are layered on top of each other. Such is the view the greets the visitor at 'PROJECT HASHTAG 2020', a show that scrutinises two iconic areas located in Seoul.
PROJECT HASHTAG is the competition co-hosted by the National Museum of Modern and Contemporary Art (MMCA) and Hyundai Motors to discover and fund new creative talent. It has been founded intending to embody the kind of diversity, expandability and openness found in their namesake. It will facilitate collaboration between creators of different fields, and starting from this year it will select two teams annually for this purpose.
The two winning team of 'PROJECT HASHTAG 2020' are GANGNAMBUG (Lee Jungwoo, Park Jaeyoung, Lee Kyung Taek, Kim Nayoun) and the Seoul Queer Collective (Kwon Wook, Kim Jungmin, Nam Soojung, Jung Seungwoo.) GANGNAMBUG and the Seoul Queer Collective have two shared attributes: first, both thematical centre themselves around two distinct regions, despite the lack of such instructions from the competition directives; second, both explore the gap between public and private perceptions of different neighborhoods, inviting audiences to find points that resonate with them.
GANGNAMBUG examines Gangnam through the prism of a bug. As the real estate and private education centre of Seoul, it is a place that 'everyone wants to enjoy and destroy at the same time'. Of the artworks on display there is the aforementioned GANGNAMBUS, as well as Win, Lose or Draw: The Drawing Competition and Anesthesia Gangnam, which questions what the region considers as its architectural ideal.
The Seoul Queer Collective studies the everyday lives of 'urban queers', which they define as the homeless, elderly citizens facing poverty, and sex workers displaced by Jongno 3-ga's long process of gentrification. Central to their thematic inquiry is the question of 'how to fairly and accurately document a specific city space'. These concerns have been addressed in a publication titled Others, Jongno 3-ga, which gives a platform to these marginal voices, as well as a participatory website titled Drawing the Trajectory of Your Life in which individuals can log their own peripatetic movements. The show will be open at the MMCA Seoul until Sep. 30. ​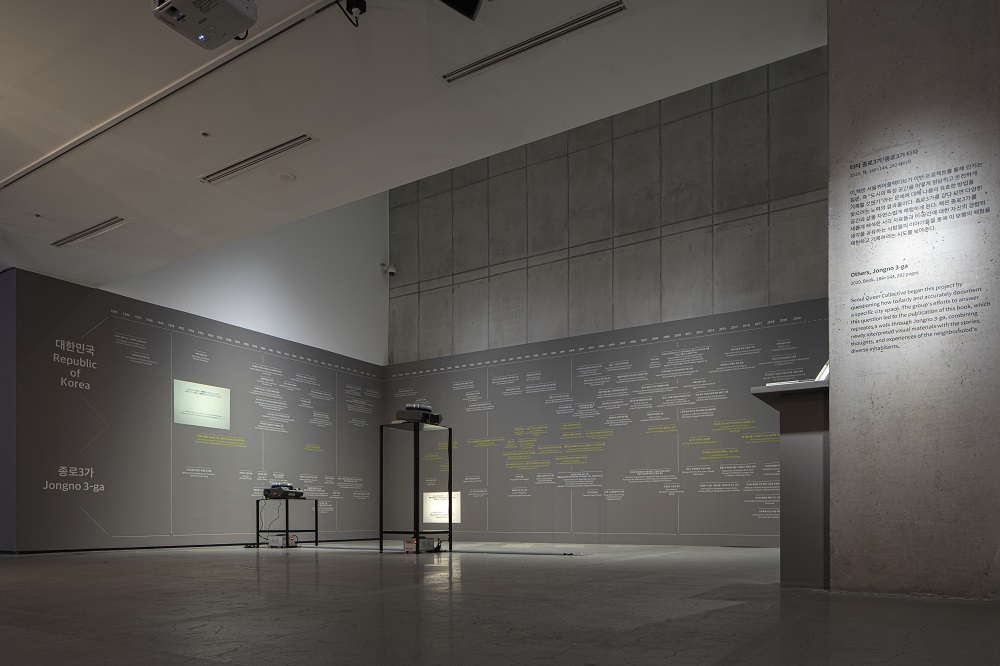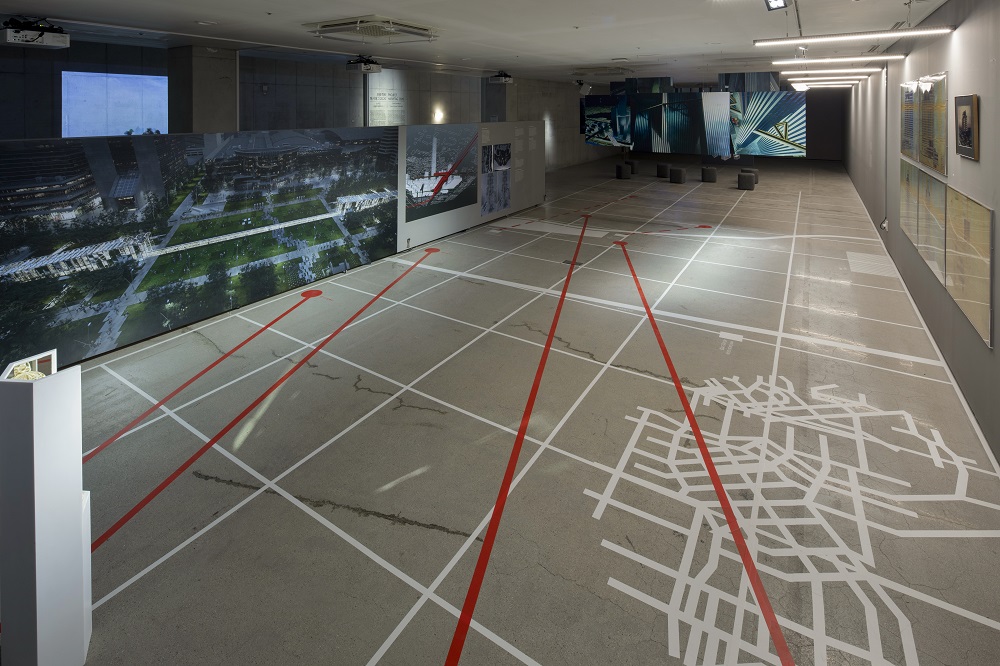 (top) Seoul Queer Collective, Chronology of Others, Graphic installation, 2020
(bottom) GANGNAMBUG, Anesthesia Gangnam, Research, architectural drawings, model, plans, etc., 2020
Images courtesy of MMCA