The exhibition hall has been taken over by a range of chairs that all seem to share the same skeleton. An exhibition reinterpreting the Lily Chair by the Danish furniture company Fritz Hansen was on show at MO-NO-HA Seongsu from July 28 to Aug. 8. Commemorating the 50th anniversary of the launch of the Lily Chair, young Korean designers from various fields showed their work that transformed Lily Chair with their own materials in Movement in Silence- Inperfect Beauty. Cha Jeongwook, the curator of the exhibition, rates the form of these original pieces highly: 'Made with a bending technology to create smooth curves, the Lily Chair radiates both aesthetic pleasure and comfort'. Explaining the intention behind the show, he noted, 'I hoped to encourage encounters with experimental designs in this exhibition'. What he claims here of the Lily chair, which has had a great and continued influence on furniture designers due to the concision of its form, is that it means 'Movement in Silence'. The young designers who here honour the Lily chair have based their work on this same craft spirit, advancing an 'imperfect beauty'.
Yoon Rahee, a furniture designer, presented the 'Block Chair', her reinterpretation made using an acrylic chip of Hansen's furniture with wood bending technology. The blue colour of this hand-dyed piece of furniture varies slightly depending on the level of light, creating a visual effect that is not found in the original chair. Im Jungjoo, a product designer, presented 'Volume Chair' in ash wood, which looks like a swollen version of Arne Jacobsen's chair.
The use of experimental materials produces rougher surfaces in some works, which are not found in the original Lily Chair. Baek Kyungwon, a ceramic artist, produced the 'White Chair' drawing on the natural world, a subject that greatly inspired Arne Jacobsen. He made the upper part of the chair, made from cornstarch, with 3D printing technology, and the lower part takes the appearance of the stem of a plant in the stacking of small bowl-shaped ceramics. Le dong-il, a spatial designer, presented his 'Primeval Chair', which leaves the rough impression of a dismantled aluminum formwork. He said he wanted to disclose the many imperfect results that lie behind any creative work. Paying attention to the process of creating art furniture, Jaeryo, the workshop of Kim Noori and Oh Sangwon made 'Paper Chair'. Continuing the process of spreading wood pulp on the chair frame and applying lacquer, they show that a perfect result can be achieved through a repeated process of trial and error.
The significance of this exhibition is that new interpretations using a wide range of materials surround the original, building new visions and possibilities for the chair.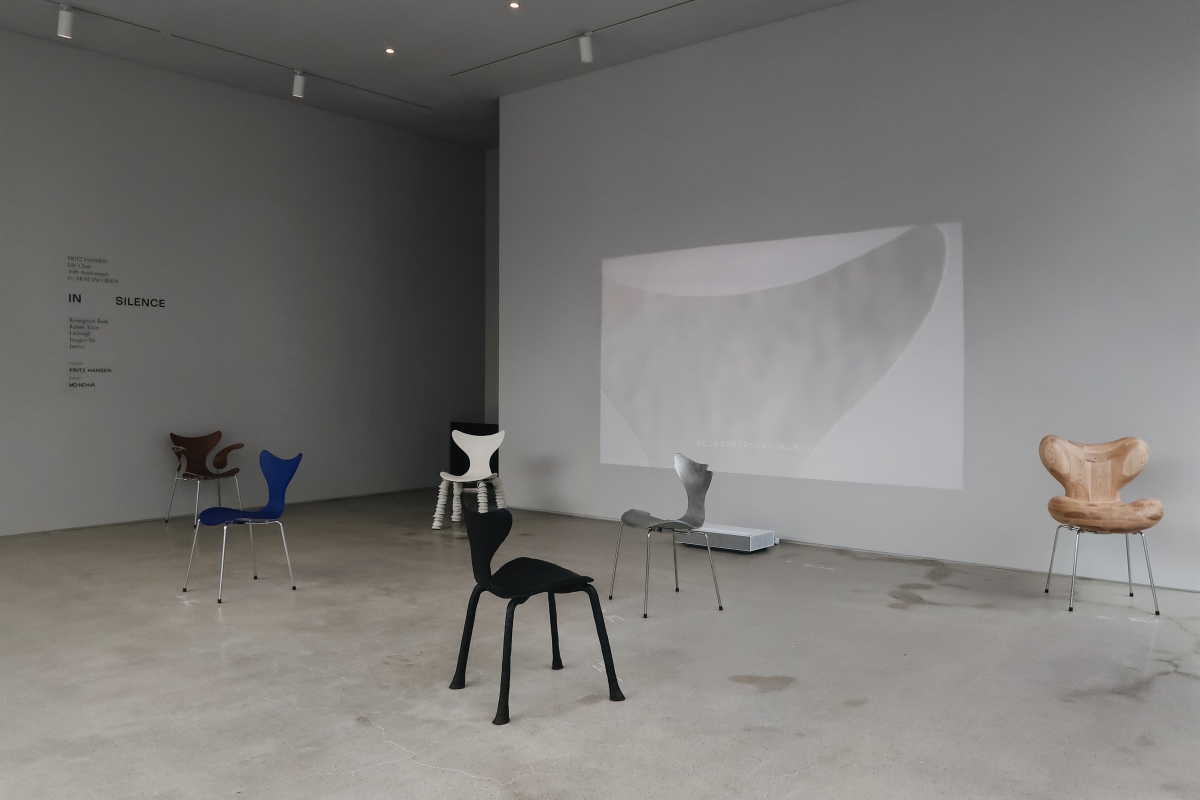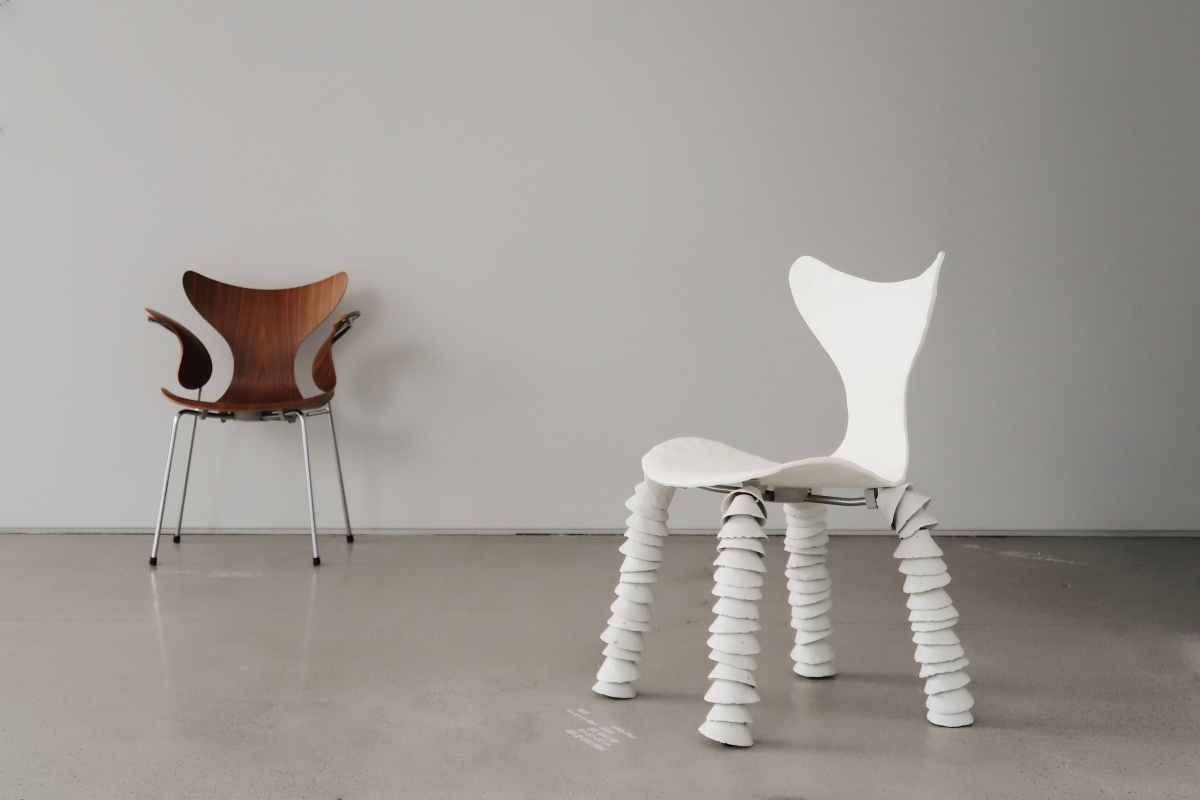 Exhibition views of 'Movement in Silence' ​ⓒJang Sooin​​