The Quay Brothers, who are renowned for stop-motion animations that use dolls, have turned their attention to exposing the dark underbelly of industrial society. Their newest exhibition, 'Quay Brothers: Welcome to the Dormitorium' will be on show at the Seoul Arts Center's Hangaram Art Museum, as a follow-up to their special exhibition hosted by the 21st Jeonju International Film Festival. For this exhibition, Stephen Quay and Timothy Quay are presenting an impressive variety of works which amount to some 100 set models, puppets and illustrations.
The Quay Brothers, who founded their studio in England in 1979, make singular animations that adopt a gloomy, dark signature style. Short films such as The Street of Crocodiles (1986) and Day of the Dead (2002) were awarded prizes at several international festivals and catapulted them into the international spotlight. The experiment not only with animated movies, but also with other media spanning a wide range of modes of expression. The current exhibition attempts to introduce the full compass of their work to Korean audiences.
Through shading created with only pencil on paper, the Quay Brothers study the alienation experienced by modern individuals. Their drawings often depict a lone pedestrian walking the streets of an industrial city, or a factory worker turned into a marionette, and aptly capture the duo's worldview. On the other hand, their puppets and set designs form stop-motion movies that transform this immobility into dynamic visual scenes. Their films do not feature any dialogue, only using the movements of the dolls to tell stories of the characters' changing feelings. Accordingly, audiences are drawn into the moving pictures in order to get a better sense of the story in the absence of narratival or linguistic information. In The Cabinet of Jan Svankmajer, The Alchemist of Prague (1984), the artists look back to their childhood and the ways in which they have been inspired by the Czech director. In one scene, where an artist imparts knowledge to a small child, the Quays employ rather peculiar means to illustrate the encounter by opening up the boy's head to disassemble and then reassemble the information contained therein. Several installations have been interspersed throughout the exhibition hall, such as Coffin of a Servant's Journey (2007) which resembles a kaleidoscope that entices to viewers to look deep into a coffin.
The show does not rely on architecture to spatially exaggerate the more grotesque tendencies of its authors, as it did in its previous location at the Factory of Contemporary Arts in Palbok. It does, however, divide up the exhibition hall to create individual set designs that provide a clear picture of their creators' artistic philosophy. The show will be open until Oct. 4. ​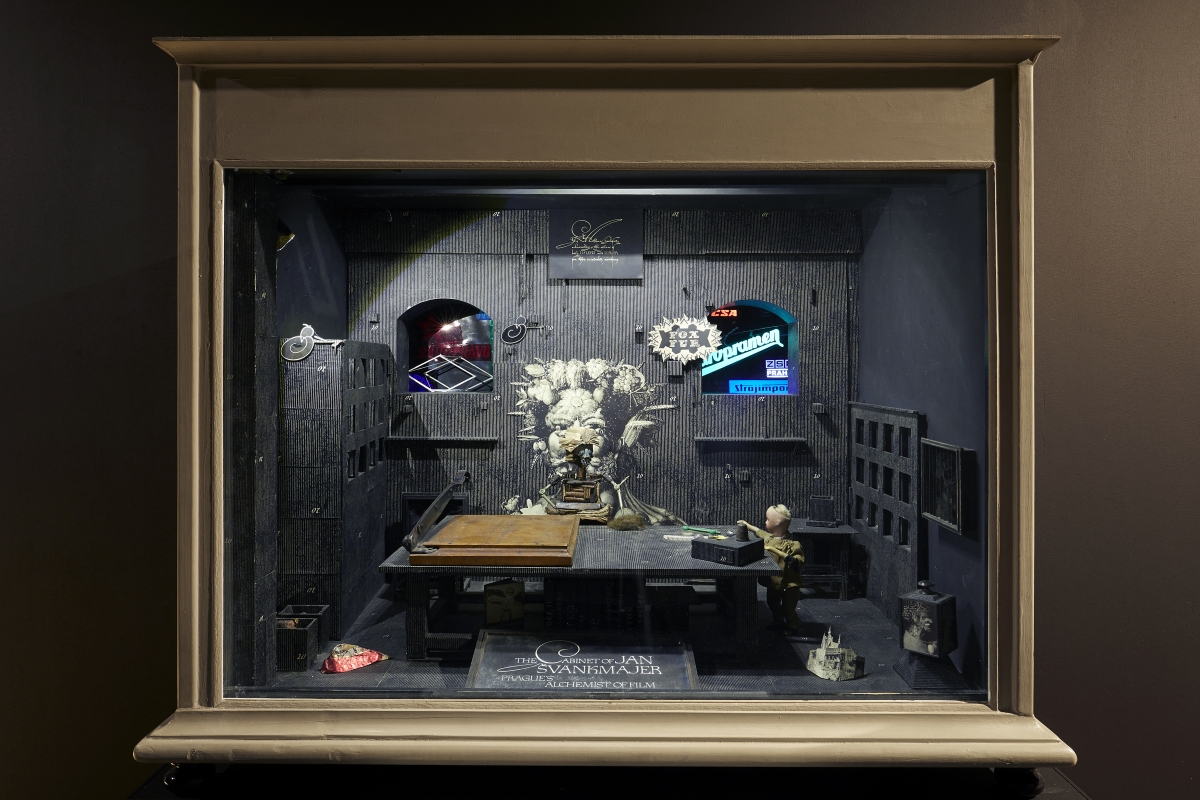 The Cabinet of Jan Svankmajer_ The Alchemist of Prague (1984) ⓒKim Yeonje​