'I think the charm of Seoul lies with the fact that it's unpredictable. Wherever you go, you can locate traces of the 1940s and 1950s. In a way, it's a city in which you can discover things indefinitely.'
For Kim Youngjoon, a graduate student at Tokyo University, Seoul is a city bursting with the potential of its unique legacy, one ripe for recording. Kim films historic traces visible throughout the city, from old signboards to pedestrian flyovers, overpasses, and red brick warehouses, or uncovers images from various archives and posts them on his Instagram and Facebook accounts, titled 'Journey to Modern Seoul'. He shares the memories of people and the city by attaching anecdotes about the space to each image, such as the utility hole cover that depicts 'Gyeongseong-bu (the old name for Seoul) Insignia' from the Japanese Colonial Period, the Ahyeon Overpass that disappeared due to demolition, or the Yongsan Electronics Market, which has changed dramatically over time. This is the story behind the first episode of 'All Sorts of Urban Archivists', an interview video produced and released by the Seoul Metropolitan City Space Improvement Bureau.
'All Sorts of Urban Archivists' introduces eight individuals who scrutinise the city in search of yesterday and register the ways in which it has disappeared and continues to disappear from their perspective. The interview was created to 'share their achievements of a long time' and 'to communicate with the public'. From June 17, every other week on a Wednesday video clips are released on the YouTube channel of the Seoul Urban Space Improvement Bureau. As of July 16, interviews with the formerly mentioned Kim Youngjoon, Sim Soorim (co-principal, reallab), and Park Jiho (former editor-in-chief, Arena Homme) of Junglim Warehouse, Junglim-dong, Seoul, were uploaded. In the episodes to come, other archivists from various backgrounds including Kang Yugaram (film director), Lee Seongmin (photographer), Cho Yoonhee (co-principal, GUBO Architects), Chae Hyesun (designer, Woowa Brothers Corp.), and Hwang Jintae (senior researcher, Center for Asian Urban Societies at Seoul National University) will feature.
The interview focuses on the activities of 'urban archivists'. It asks for the reasons why they seek to record these traces, their choice of methods and principles of recording, and analyse the processes behind their research investigations and archival work. Watching the second episode of the 'Haebangchon Archive Group', we learn that the team was formed in 2016 to record how a village changes day-by-day. Members include not only experts, such as video producers, designers, architects, and researchers in the field of humanities and sociology, but also villagers and children. By collecting the views of village, the group suggests that through this they look to the surroundings from different points of view and analyse the impact of changes to spaces encountered in their daily lives as residents.
Each interviewee has a different space to record, informed by their own perspective and expertise. Their responses, however, have a shared affection for the areas in which they live, and a shared sorrow at the way that historic means of city organisation are quickly breaking down with new buildings taking their place. As Kim Youngjoon concludes, 'I record the building to best represent its beauty, like a portrait of one deceased, so that it can be remembered by others even if the structure itself disappears'.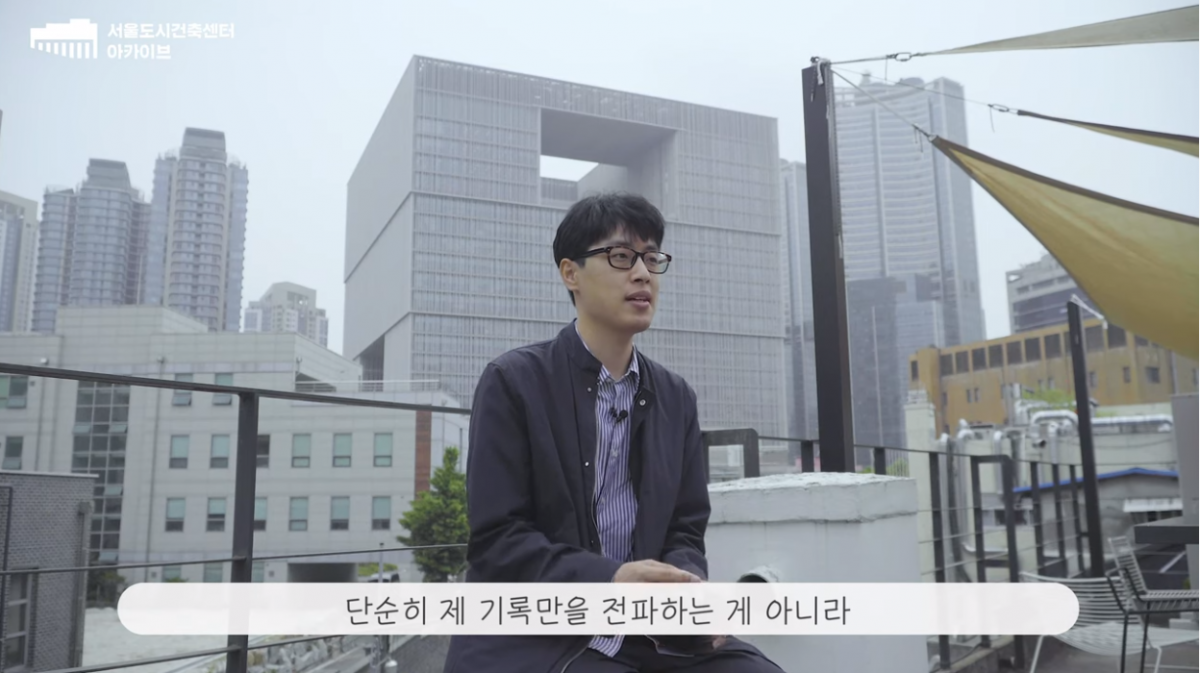 Kim Youngjoon, recording the old trace of Seoul / Screenshot from a YouTube​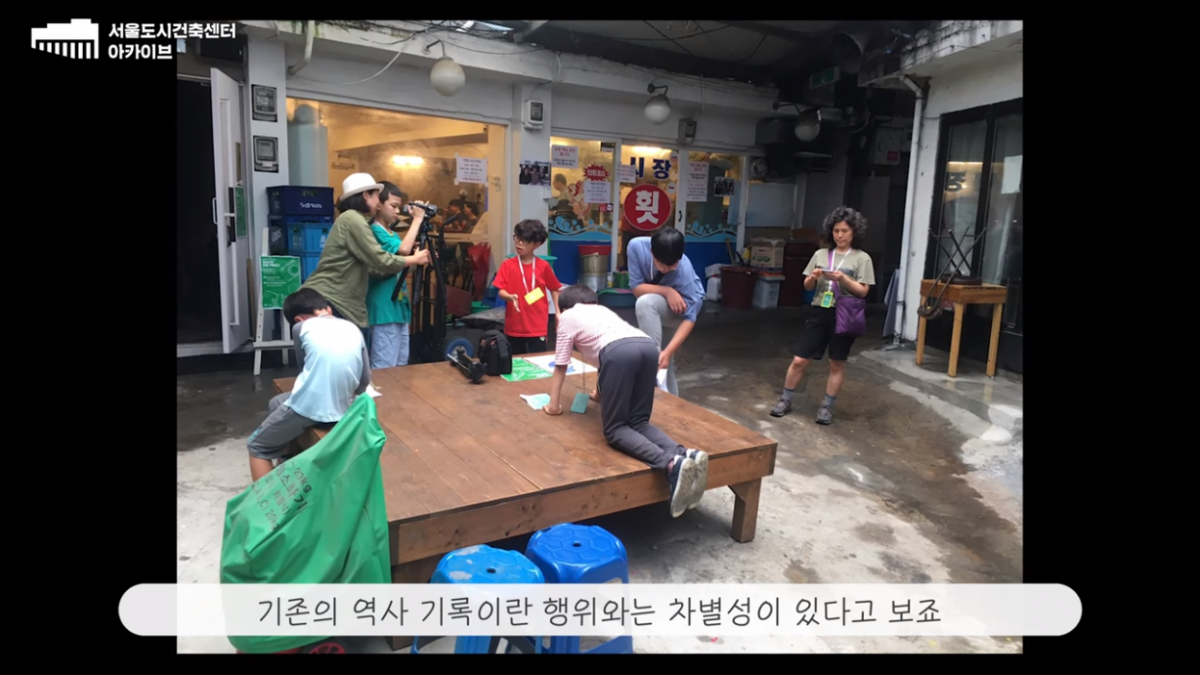 HBC Archive, shooting a video of Haebangchon / Screenshot from a YouTube​