On Mar. 31, the Korean Planning Association held a policy seminar on the theme of the 'City and Infectious Diseases'. The seminar was designed to look back at the relationship between urban planning and infectious diseases, in order to seek advisable directions for urban management in the wake of the COVID-19 outbreak. The event was broadcast live on YouTube.
For the first session, Oh Miae (researcher, Korea Institute for Health and Social Affairs) presented 'The Use of Big Data in the Healthcare to Respond to Urban Epidemics'. First of all, Oh examined the national trends perpetuated by COVID-19 through big data analysis. She collected search data related to 'COVID-19' and reorganised the data by time series by applying the amount of time series buzz, related terms, and network analysis methods. When the first COVID-19 case was confirmed in Korea on 20 January, the most popular related search terms were 'China', 'Japan', and 'Cruise'. At the time, COVID-19 was a global issue. On the 18 February, 'Daegu', 'Sincheonji' (a religious sect), and 'Mask' were mentioned since the 31st confirmed in Korea. It meant that the issue was getting closer to the region, Oh said. Subsequently, she stressed that a system based on the data should be built. It is because there are two crucial pieces of information in a national disaster situation: the quick and accurate assessment of the status of confirmed cases, to provide information for contact tracing, and to identify the major issues faced by regions and times effectively, so that examines the reaction of the people.
Lee Heejung (Professor, University of Seoul) followed wthi his presentation 'Urban Planning and Urban Infectious Diseases: Past, Present and Future'. Lee offered an overview of infectious diseases that have occurred throughout history, such as typhoid fever before Christ, the black plague in the 14th to 17th centuries, and cholera in the 19th century, and how these affected the city of human settlement. Besides, despite the map-based epidemiological investigation of John Snow and the hygiene management safeguards proposed by Le Corbusier in La Ville Radieuse (The Radiant City) , the city is not yet free from infectious diseases. He pointed out that since the 2000s viruses of unknown origin, such as SARS, H1N1, and MERS, have continued to spring up and the frequency of these instances have been shortening. Lee compared cases in New York and Los Angeles, and noted that the spread of infectious diseases differed depending on the degree of development of public transportation and infrastructure. He said that it would be necessary to think about how concepts such as 'group', 'density', and 'conversation' will change in the future, and how the future lifestyles and urban structures will change.
The Korean Planning Association held the second policy seminar on Apr. 21 under the theme of 'Urban Management after the COVID-19 Outbreak'. The event was also streamed live on YouTube.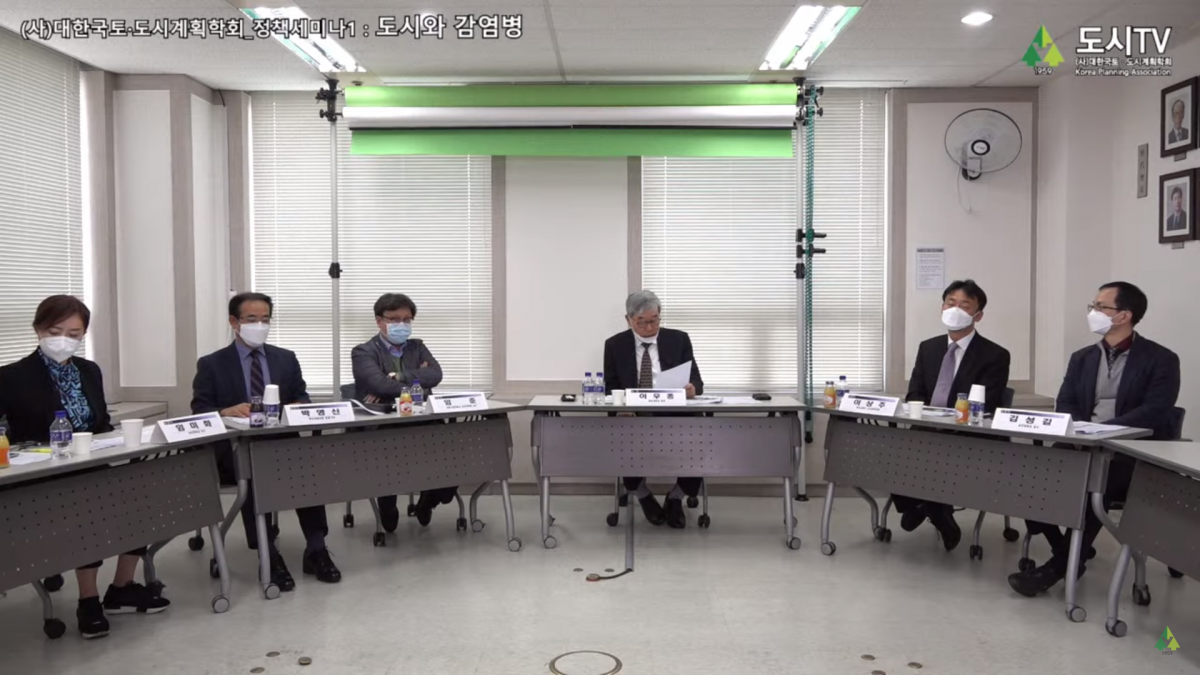 Online semiar of 'City and Infectious Diseases' / Screenshot from a Youtube​