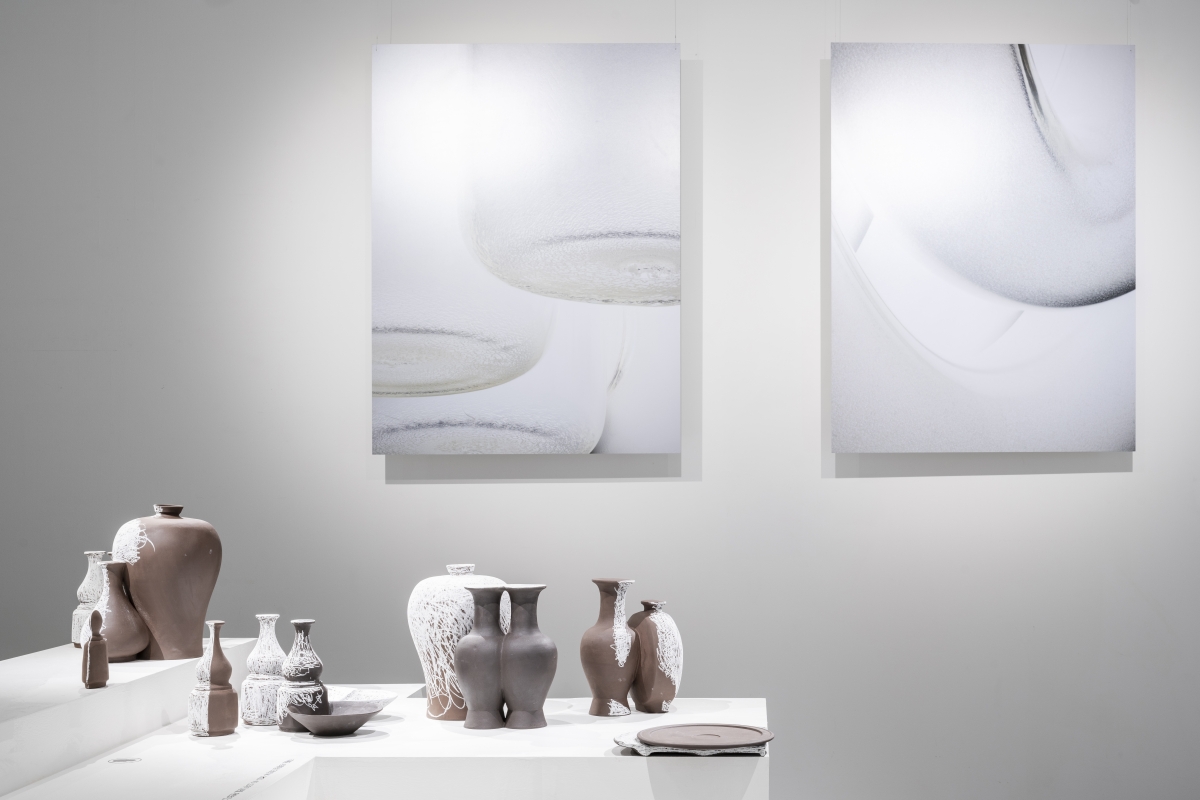 Exhibition view of 'White Rhapsody' / Image courtesy of Wooran Foundation​
'White Rhapsody', an exhibition focusing only on gradations of white, has been on show at the Wooran Foundation since Apr. 1. Until now, white has held traditional and ethnic connotations such as 'the white-clad folk' or 'white porcelain'. However, this exhibition intends to break away from these intuitive associations with white. It introduces ten new works by five artists born in the 1970s and 1980s who regard white as something close to daily life, and which they can experience in reality and closely related to an industrial aesthetic.
When one enters the gallery, objects, installations, and photographs designed by Chung Isak (Professor, Dongyang University) have been installed all over the terraced structure. At one end of the staircase, there are the ceramics of Ju Sekyun. Objects of various sizes and shapes, which appear to be of ordinary white porcelain, are, when one looks closely, find it is in fact black porcelain painted over and over with white chalk. Ju introduces a white porcelain technique that deviates from the traditional methods and therefore redefines the meaning of the craft. In the centre of the stairs, a piece of white flutters. It is of Fay Shin, which is made of a string of calico, silk and cotton cloth stitched together and installed on a frame with lighting. Shin continued to conduct experiments on the relationship between fabrics, paintings, and light, and hoped that various textures and temperatures would be added to the white fabric in this exhibition.
On one wall are photos of light bulbs by Kim Kyoungtae. Kim photographed a fluorescent lamp, an industrial product commonly used in everyday life, from a very close distance. It abstracts the light emitted and electrical collisions perceived as white. Also, one can appreciate the works of Choi Goeun that reveal the difference in status between ready-made objects and art objects along the theme of white, and those of Yo Daham that capture the burning process of incense and treat colours as temporal rather than visual properties. The exhibition is on show until May 27.