How will the COVID-19 outbreak change our cities, houses, and transportation? What points must we consider to better prepare for the future to come? The symposium, 'The New Future of Cities, Homes, and Movement in a Post-COVID-19 Era' was held on June 4 at the Sejong Convention Center to assess the impact COVID-19 has had thus far on the homeland transportation sector and to seek possible countermeasures. Hosted by the Ministry of Land, Infrastructure and Transport (MOLIT), and sponsored by the Korea Research Institute for Human Settlements, The Korea Transport Institute, Korea Agency for Infrastructure Technology Advancement, and Architecture & Urban Research Institute, the symposium was broadcast live on YouTube. Presentations on four topics were delivered at the symposium.
In the first presentation, You Jongil (Dean, Korea Development Institute) placed emphasis on a Green New Deal. 'Hyperglobalisation, the digital transformation of new-liberalism, and green transformation were all already issues of great importance even before COVID-19', he noted. 'We need a New Deal to act as a turning point in order to overcome our present economic crisis and environmental challenges'. Suggesting that 'public corporations such as Korea Land & Housing Corporation and Seoul Housing & Communities Corporation can lead a Green New Deal through energy-saving buildings', he added, for emphasis, that 'Green remodeling projects that can transform existing houses, industrial complexes, and buildings in an eco-friendly way will be at the forefront of a Korean-style green new deal which will also combat the employment crisis'.
This was followed by a presentation by Sophie Kim (CEO, Market Kurly) on a non-face-to-face logistics service. She said that Market Kurly, established in 2015 with the goal of 'dawn deliveries' of 'good quality food', is dealing with an increase in orders of more than 10% since the COVID-19 pandemic' and 'there is a new influx in our customer base of consumers in their 50s and 60s'. She said Market Kurly was directing all its strength and focusing all of its attention on data-based logistics processing and automation, the computerisation of deliveries to cope with soaring orders, and the management of manpower and protective measures. In addition, she said most of the shopping, not only food items but also flowers and clothes, will continue to move online rather than offline', noting the importance and growth potential of her logistics business as part of a 'stable market for small businesses and producers'.
Yoo Hyunjoon (Professor, Hongik University) presented his opinions of the changes to urban structure in his following presentation. As people spend more time at home, he noted, 'we need private green spaces such as private terraces', adding that a 'frame structure is more appropriate than a wall structure for reorganising a space to accommodate various lifestyles'. In addition, he claimed that 'while demand for housing has been increasing due to telecommunications and online commerce, the number of unoccupied commercial properties will increase, which will make us consider a more profound reconfiguration of urban space'. He also proposed the idea of constructing underground logistics tunnels for autonomous mobile robots as a solution to non-face-to-face logistics services.
In the final presentation, Kim Kihoon (Secretary, MOLIT) introduced policy changes by sector. Cities will 'be integrated with smart technologies while maintaining a flexible system capable of responding to change', and the residence 'will not only serve as a space for rest, but also for manufacture, cultural and leisure activities'. With regards to transportation, he stated that 'a system will be established to meet the demand in personal mobility while increasing the quantity and quality of public transportation', and that overall industry and social safety nets will become 'smart with the enhanced capability of crisis response through technological developments'.
You can watch the symposium in full on the YouTube channel of the Ministry of Land, Infrastructure and Transport.​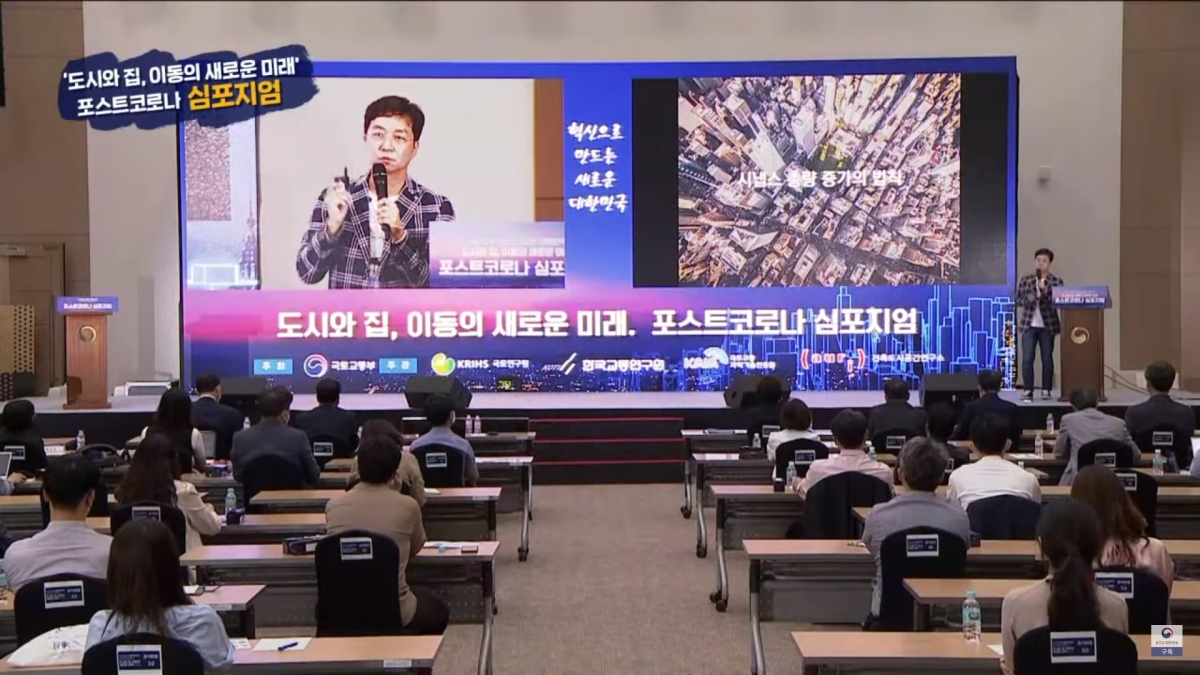 Symposium of 'The New Future of Cities, Homes, and Movement in a Post-COVID-19 Era' / Screenshot from a Youtube​