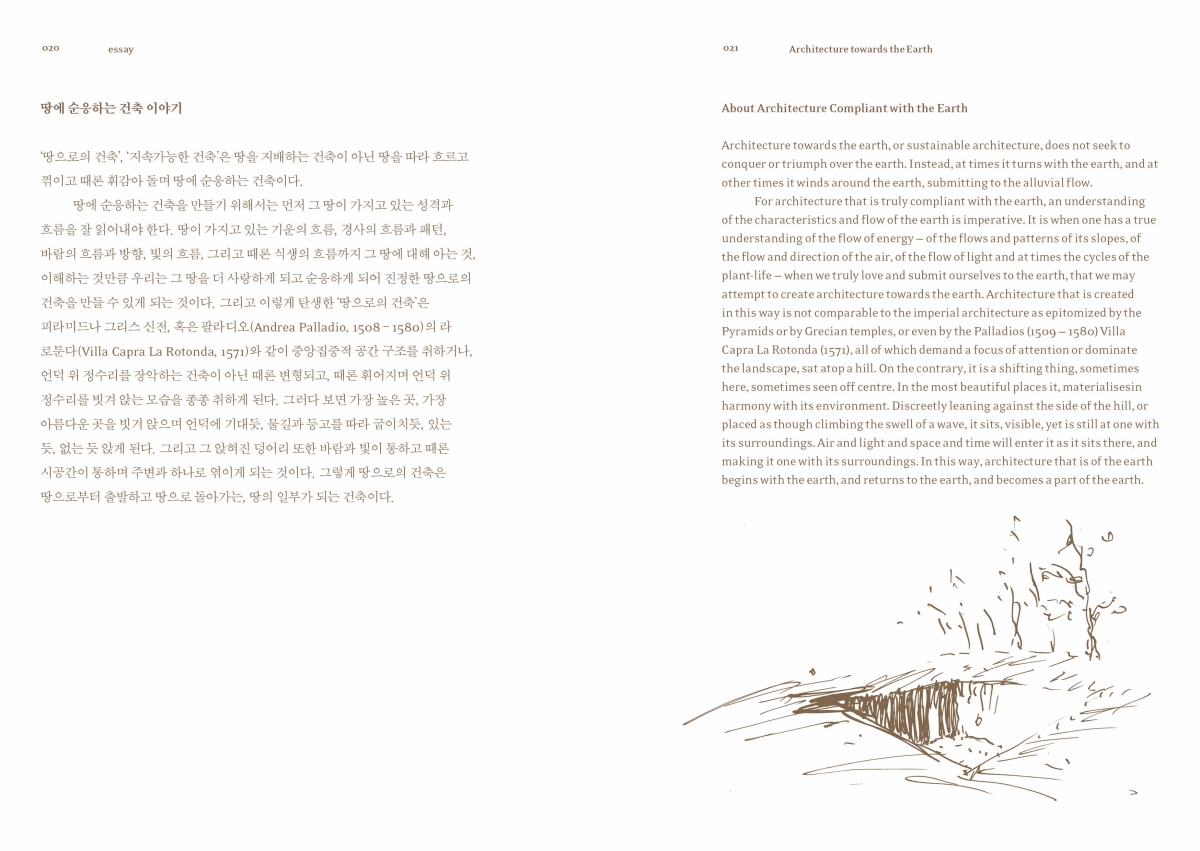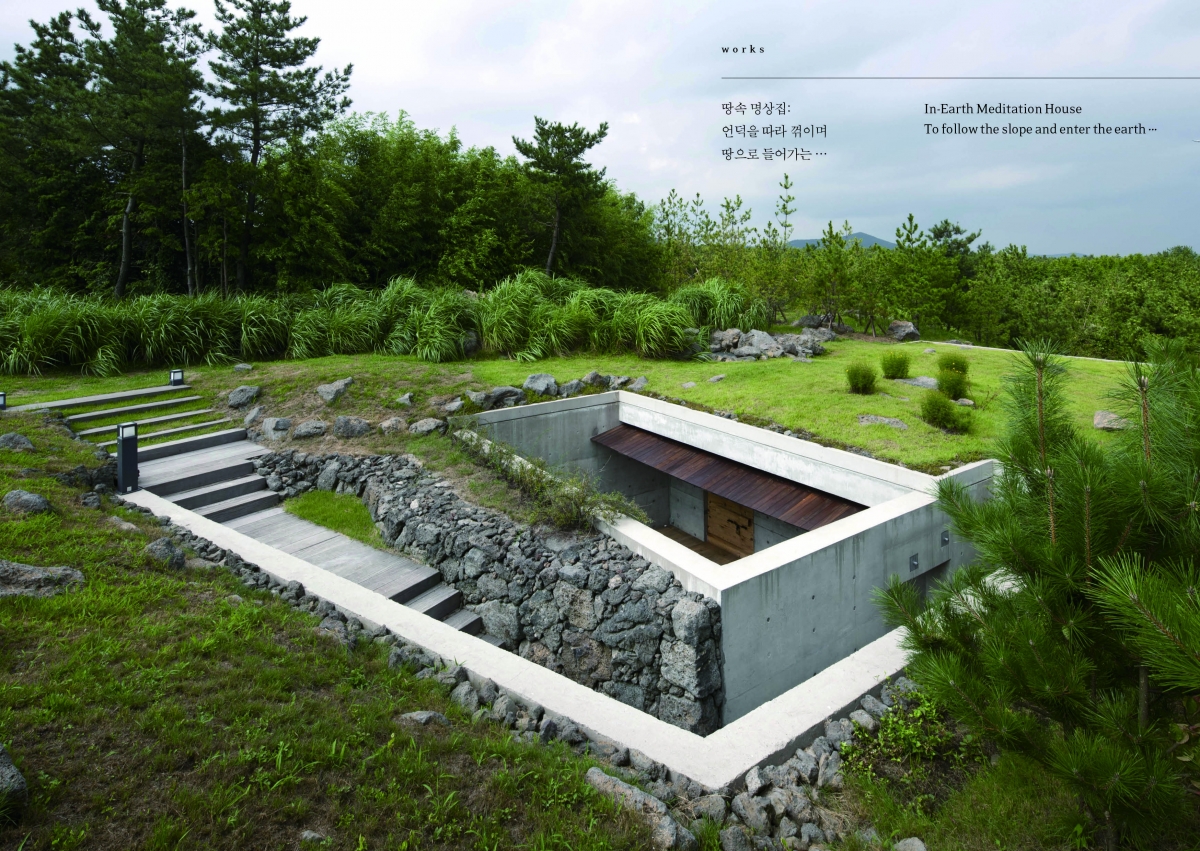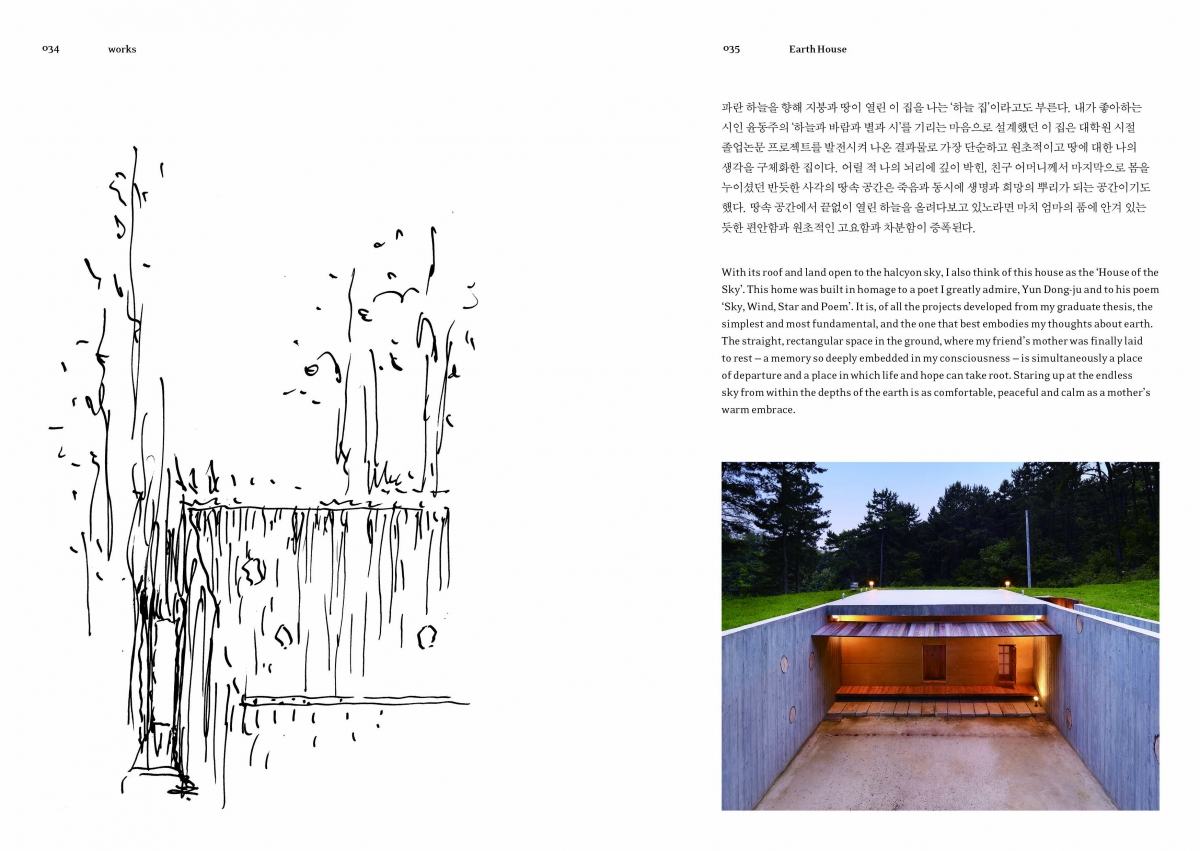 House in the Earth, House towards the Earth – Cho Byoungsoo contains an explication of Cho Byoungsoo's project the Earth House and related literary essays.
Known for the Southscape Hotel on the South coast of Korea and the Twin Tree Towers, Cho Byoungsoo's architecture is characterized by an appealingly simple practicality.
It's plain but sophisticated aesthetic have made his work very popular.
Critics have described his work as 'sophistication within the rough', and 'detachedness within sophistication'.
Of his many projects, this book focuses solely on his Earth House projects.
The Earth House is a home that is built in the earth, but is open to the sky, and is in harmony with nature.
The Earth House, the Tilted Roof House, the Meditation House, are all a part of the Earth House series that utilizes the slope of the terrain to compose the indoor floor plan and garden areas.
House in the Earth, House towards the Earth – Cho Byoungsoo, describes his four Earth house projects and also his current work on the Horizon House, including plans and photographs.
In addition to this, the book also includes a literary essay by Cho Byoungsoo describing a pivotal experience he had in his teens, as well as a figurative story about the nature of earth.
Also featured is an essay by the dramaturg Yeom Hyewon, who writes about her stay there during the winter and the summer of 2008, describing the cycle of day and night and the changing seasons. This book is the opportunity to vicariously experience the Earth House and its traditional Korean beauty and local personality.
Through this book readers will discover how the earth, the foundation of both life and architecture, subsumes and breathes into all aspects of his architecture.​ ​

About the Author
Since Cho Byoungsoo has opened his office in 1994, he has been actively practicing with themes such as
'experience and perception', 'existing, existed', ㅡ shaped house, ㄱ shaped house, 'contemporary vernacular', 'organic vs. abstract'.
He has taught at Harvard University, University of Kaiserslautern, Montana State University, and Aarhus School of Architecture, Denmark as a Chair Professor in 2014.
He has received KIA Award, AR House Award, Kim Swoo Geun Award, several AIA Honor Awards in Montana Chapter and in N.W.Pacific Regional.