SPACE August 2022 (No. 657) ​
The paradigm for real estate development is changing. We no longer live in an era in which building construction and sales are oriented towards suppliers and excluding users. Established in 2005, NEOVALUE focuses on developing real estate sales by encompassing people, cities, life, and experiences. It is about considering the spaces that fit the lifestyles and cultural touchstones in each region, as well as the spaces and their management. In this interview, with its overview of NEOVALUE's projects, SPACE will explore their guiding attitude towards urban space.​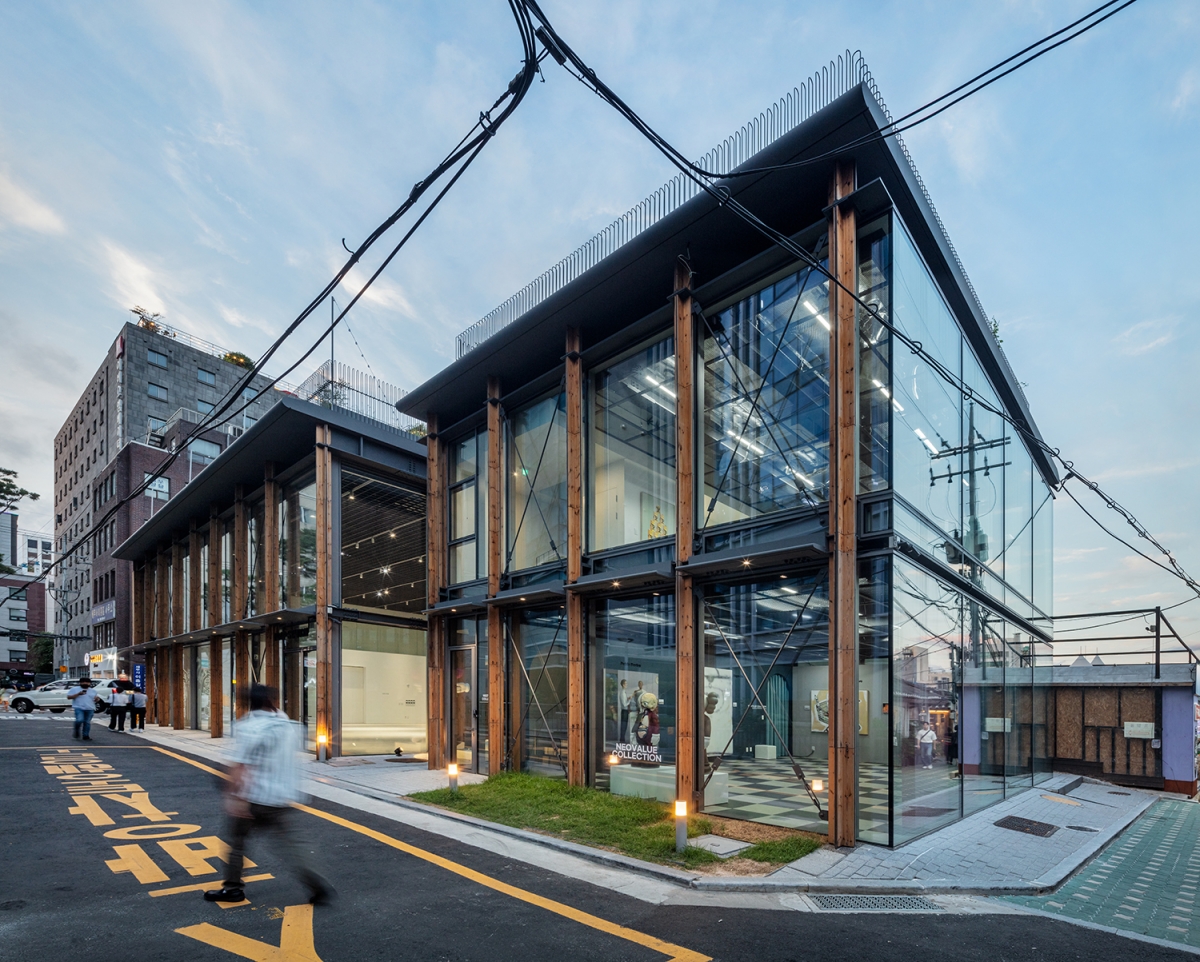 Loop Station Ikseon ©Kyungsub Shin
Chung Jonghyun principal, NEOVALUE Content Division, Lee Anna principal, NEOVALUE Architecture Division × Han Garam
Han Garam (Han): NEOVALUE, which identifies itself as a 'Lifestyle Developer', is different from the typical real estate development company. While real estate development, in general, tends to focus on supply and only deals with construction and sales, NEOVALUE discovers the distinctive lifestyle features of each region and proposes suitable solutions through space, content, and management. I would like to hear more about the 'Lifestyle City' pursued by NEOVALUE.
Chung Jonghyun (Chung): Predecessors in the same field have considered real estate development as a construction or sales business. However, we interpret the working area differently, through carefully consideration of 'what developers do and the purpose of development'. We believe that our work is considered complete once we supply not only the envelope but also appropriate content and functions that address to the region's cultural landscape and practices and take responsibility for its operation. In other words, it is about developing a lifestyle itself. As a result, we started to think about things that we would not have considered in the past, such as the kind of value or cultural life to celebrate in the project. (laugh) We regard six elements as the most crucial when creating an enriched urban culture: 'humanity, connection, wellness, inspiration, enjoyment, convenience' are the core ideas behind every project. These elements can be realised in a single building or can become a complex on a larger scale. NEOVALUE intends to gradually expand these to create and nurture a lifestyle city.
Lee Anna (Lee): In terms of space, we do not pursue any specific architectural type. This is because each city has different characteristics and requirements, and its uses vary from residential to commercial and business facilities. Instead, we aim to change the region and create culture through our buildings. From a small building to a larger urban complex to a city, the attitude remains the same. We believe that space embraces urban culture and sparks exchanges between cities and cities and people. In NEOVALUE's projects, such spaces may appear as voids or be reflected in the landscape. Perhaps these various spaces serve as a platform.
Han: Opening in May 2019, Alleyway Gwanggyo is practically a neighbourhood commercial facility located in a new town apartment complex. However, it drew public attention by launching a rare brand instead of a general franchise; a space directly operated by NEOVALUE which hosts events such as exhibitions and performances. This place appears to have a stable and satisfying existence without a decrease in the number of visitors. How would you evaluate Alleyway Gwanggyo today, three years after its opening?
Chung: Things that prompted the creation of Alleyway Gwanggyo can be noted in our previous projects. There was a time when NEOVALUE only handled sales, like other general developers do. When we were developing a residential-commercial building in Wirye, we had a rough sketch in mind, but once it was sold and left our hands, it was regrettably not realised as we planned. After that, we introduced a 'rental matching service' to launch stores as according to our plans, and provided MD customised for the region by owning a part of the building. However, despite a range of attempts, something was still missing.
Alleyway Gwanggyo was created in light of this and with the determination to make an exemplary complex in which to live. It is located far from the subway station, and it is challenging to walk to even within Gwanggyo. Still, the reason consumers continue to visit this place is that, in this local commercial facility, they can enjoy not only brands that were not launched in Suwon but also NEOVALUE's directly-managed brands that can only be found here. Directly-managed brands, such as F&B and select shops, maintain a balance so that Alleyway Gwanggyo can be operated by maintaining the concept of 'cultural alley in our neighbourhood'. Of course, we adopted a process of trial and error over the past three years, and, as a consequence, some stores were eliminated. This is inevitable with the introduction of life-oriented facilities, and it is anticipated that the status of Alleyway Gwanggyo will be re-established.
The method of operation is as important as content. NEOVALUE is the business owner of Alleyway Gwanggyo, but the owner cannot provide all services to the customer. There is a tenant between us and our customer. It is not an exaggeration to say that the rising and falling fortunes of this place depend on the tenant. Therefore, it is also important to build a relationship with the tenant who meets directly with the customer. When we select a tenant, we do so not only attending to whether we understand each other in terms of business, but also prioritising whether its path and philosophy fit well with our own.
Busking and flea markets are additional features, in that we were involved in their operations and have attained good results. A year after the opening of Alleyway Gwanggyo, we directly planned this feature, contacting performers and hosting events. News of this spread among local people, and now various groups such as local bands and college clubs approach us well in advance. Even if Alleyway Gwanggyo does not prime the pump as it used to do in the beginning, it circulates well in the popular conscious. And we feel proud that it appears to be becoming a true 'cultural alley in our neighbourhood', which was our goal from the beginning. (laugh)​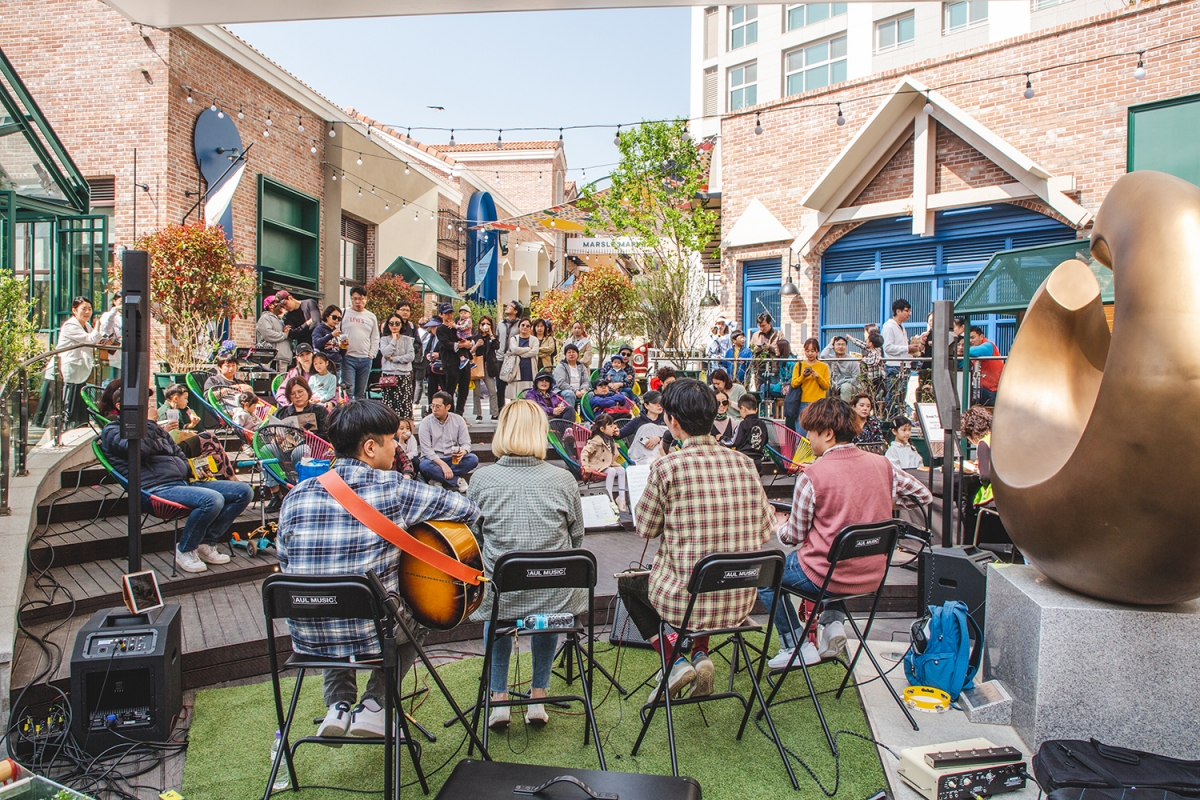 Alleyway Gwanggyo
Han: Recently, you introduced Loop Station Ikseon, a commercial facility in Ikseon-dong. As the name suggests, Loop Station appears to be a brand of a different character to Alleyway.
Chung: Of the brands run by NEOVALUE, Alleyway aims to create a 'great neighbourhood to live in' in a new town. As we proceed with the Alleyway projects, we feel more and more how significant the brand and location are to such developments. In the case of Alleyway Gwanggyo, it was well-branded and loved by many customers, but had limitations in terms of accessibility. We wanted to create a space that would demonstrate the unique content and management capabilities of NEOVALUE in a place with locational merits. This is why we relaunched the Loop Station brand. Loop Station stands for an urban culture platform that adds vitality and colour to a region by approaching in terms of urban regeneration within the existing downtown of the city.
Han: I would like to know your criteria for choosing Ikseon-dong as the first region for a Loop Station. Has the working environment changed as the site of your project moved into the downtown area of the city from the new town, the space in which you have mainly been working?
Lee: Loop Station Ikseon is a project that took a long time to commercialise, compared to its building scope. It took a total of four years from November 2018 for us to be able to secure the site to open this space. When considering the purchase of land, we shortlisted areas that could be approached in terms of urban renewal in downtown Seoul. At the time, trendy commercial supremacy was forming in Ikseon-dong around alleyways. Isn't there a tendency for stores to be unable to afford the rent, thereby pulling out and going into decline due to gentrification in most of the areas referred to as 'hot places'? Ikseon-dong was also faced with a situation wherein land costs have risen, which will soon lead to a rise in rent. Therefore, we thought that this could be another fleeting trend that will pass, like the once fashioneable hanok village. This project is the result of carefully considering the kind of region Ikseon-dong could become after gentrification. Currently, Ikseon- dong has a small scale of F&B-centred commercial supremacy, and therefore it ultimately lacks the elements in which many people can stay, exchange cultural outlooks, and preserve the regional character. In order to create such a space, we selected the largest site in Ikseon-dong that had been used as a parking lot.
Chung: Ikseon-dong possesses a district unit plan to protect the
hanok
village. Although this neighbourhood is a general commercial zone, stores of large corporations and franchises cannot make their home here. There are also many building restrictions. For instance, our site is restricted to only two stories and 8m in height. Moreover, if one wishes to develop a combined lot, one has to build a
hanok
. At the beginning of the planning phase, we considered the option of combining two lots to create a large space, but in the end, we ended up erecting two buildings. It was rather a good choice because the buildings can be used in a variety of ways, such as hosting the main event in one building while holding connected activities in the adjacent building.​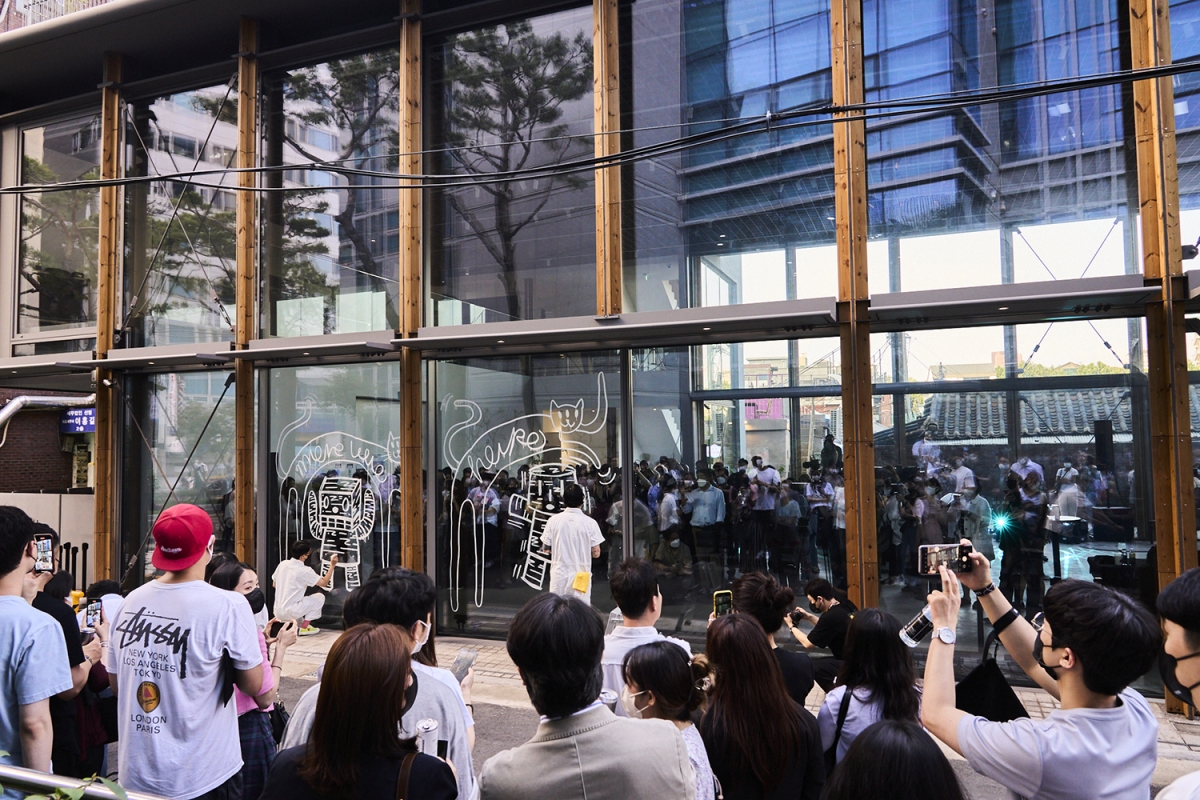 Loop Station Ikseon Image courtesy of NEOVALUE / ©VATOS
Han: The core element of Loop Station is the 'loop'. This loop includes the loop between individual to individual as well as the community to the region. How is this made manifest in Loop Station Ikseon?
Chung: When a specific brand is launched and operated here, it will eventually lead to an increase in rent. Therefore, we approached it with the idea of creating a space for exchange. What we sought for the space is the role of a node. In other words, it will prompt the brand and customers to meet where they were once not able to meet. The target ranges from the brands of large corporations – which cannot be introduced in Ikseon- dong due to the district unit plan – to content that will attract members of the public and enrich urban culture, even if it has low profitability. The first exhibition, 'PALISADE HOUSE', would have been less interesting if it only showed Hyundai Motor's Palisade. Cars were exhibited in the main building, and the exhibition hall at the adjacent building was filled with the brands and artists that best reflect the lifestyle of the three selected personas who seem to ride the Palisade. At the Loop Station's opening party held at the end of June staged vocal music, DJ performances, drawing shows, among other events. In particular, in drawing shows, artists Novo and Eddie Kang improvised and drew on the building's exterior, and the audience watched it not only inside and outside the building but also online. Just as this event opened the door to the field of urban culture by drawing on digital art and various content, we will continue to evoke the region and enjoy urban culture with people by conducting various experiments. That's why we call Loop Station Ikseon a 'small laboratory for retail'.
​Han: I heard it also plays a role of an offline space connected to online.
Chung: Due to the spread of infectious disease, making offline space an alternative home became necessary. The offline space has the restriction that visitors can only enjoy the space in light of several experiential limitations. Therefore, the ultimate goal is to connect the online and offline realms. We are thinking about a way of creating good offline content and distributing that content online, or a way of blurring the boundary using NFT or metaverse. Perhaps in a year or two, I expect that we will probably be able to release something a little more concrete.
Lee
: Earlier this year, NEOVALUE hosted the 'Lifestyle City Lab (LCL)' and researched lifestyle cities with participants for 10 weeks, even planning a business model. Among the featured cases, the winning team presented the theme of 'convenience'. This proposal was impressive because the team talked about convenience in connection with the digital realm rather than simply addressing convenience in the city. By gaining insights from this entry, we intend to present an offline space that is connected to diverse digital content. ​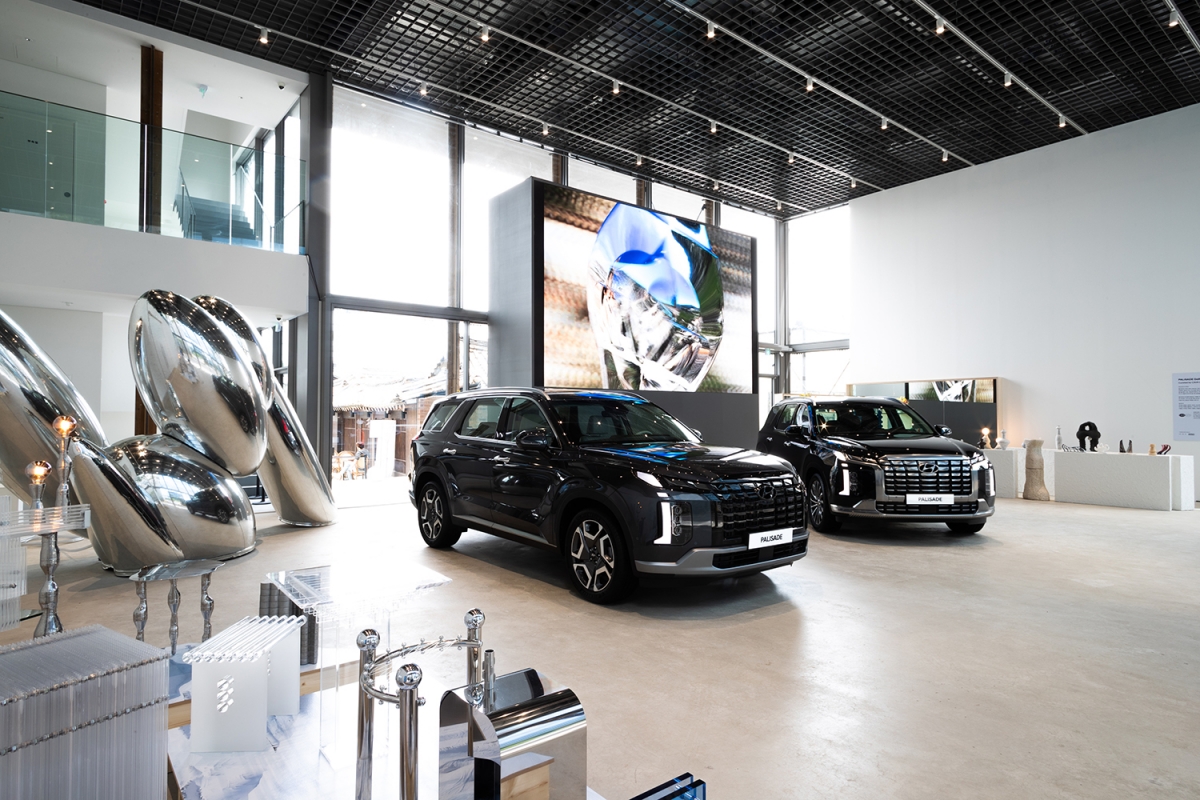 Loop Station Ikseon
Han: Let's talk about the space in which such activities will be held. Loop Station Ikseon (refer to pp.92 – 95) consists of two buildings designed by Kang Yerin + SoA (hereinafter SoA). I would like to know the reasons for choosing the architect, as well as the structures you decided upon.
Lee: First of all, since it is a small lot, we had a strong belief that we should solve this brief with a single idea, like a pavilion, rather than doing several different things. SoA came to our mind while we were looking for an architect who is proficient in such work. We were well aware of SoA for their Roof Sentiment (covered in SPACE No. 573) installed at the National Museum of Modern and Contemporary Art, Seoul, and Yunsl (covered in SPACE No. 596) located in Malli-dong. Also, doesn't SoA mean 'Society of Architecture'? It appears that we share the same interest in valuing connections with society.
When we commissioned a design, we asked for a large space that could be used flexibly, since the place was already designated for operation as a place for rental. This is building A, which is the largest lot. Since there are many legal restrictions, SoA paid a lot of attention to the detailed design in order to maintain enough ceiling height. building B on a smaller lot, is where a two-storey building, dedicated for fixed and regular business usage, has been erected. We also wished to communicate with the hanok village behind the building. The site was originally blocked by a fence, interrupting the circulation path, but a public sidewalk was installed to provide a smooth and circulating path, and the large space is opened as much as possible to be connected to the outside.
Han: Both architects and developers contribute skills when building cities. However, there are differences in the scope and approach of work. I would like to know how NEOVALUE views the relationship between architecture and the city.
Lee
: We are looking at architecture and cities from a more software-focused perspective than general developers. This is because we are redefining our business as a lifestyle business rather than a simple business that implements interventions or supervises structures in the physical environment. If architects are thinking about how best to build a building, I think the difference between us and architects is that we think about what kind of cultural value will be introduced to the city through architecture. Of course, the architect also considers city culture and plans the building, but it is difficult to decide even on the use of software. We think in an integrated manner about how best to populate the space with content and who will operate and use it in the future. Even when collaborating with architects, I try to share information about content and operation as much as possible and to increase empathy and understanding with the area. If the building does not conform to the planned content and method of operation, it will result in an unsustainable work of architecture. This also proves that it cannot play a role in creating culture in a city. Instead, if the requirements related to software are met, we tend to respect the architect's opinions as much as possible at the design phase. This is why each design of NEOVALUE's projects is different. (laugh)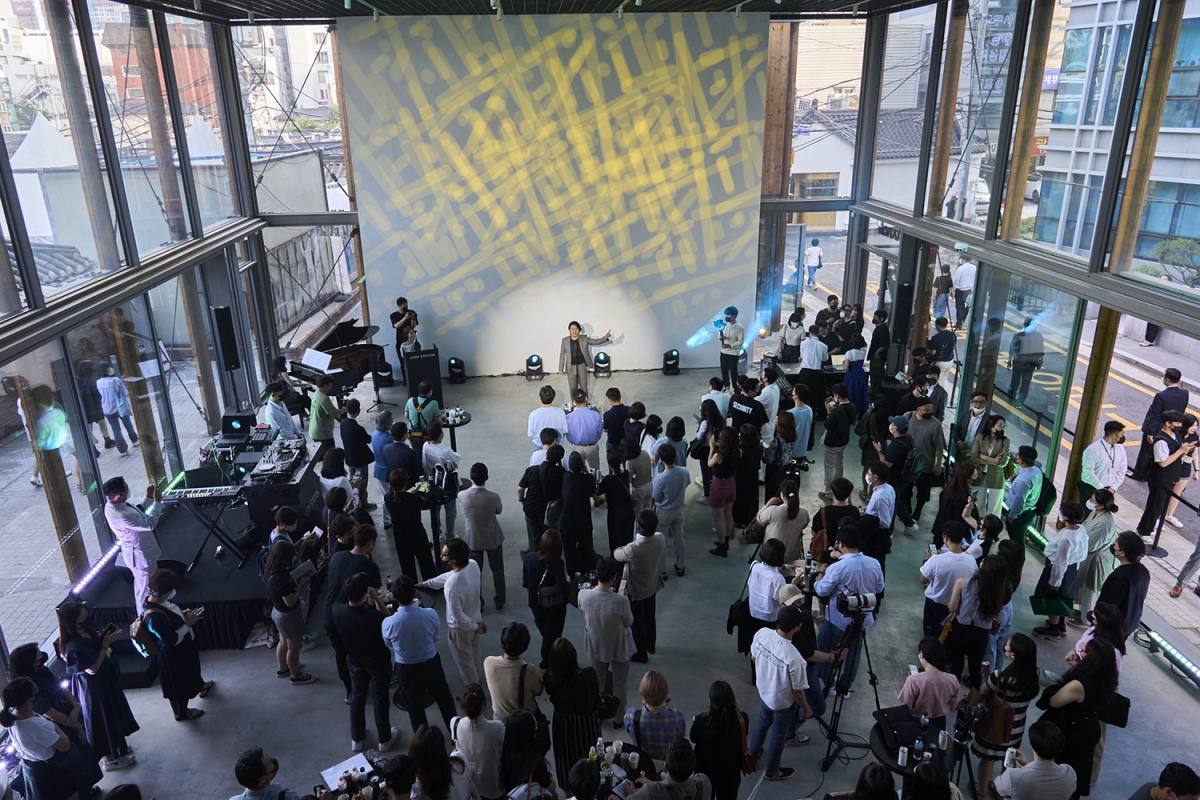 Loop Station Ikseon Image courtesy of NEOVALUE / ©VATOS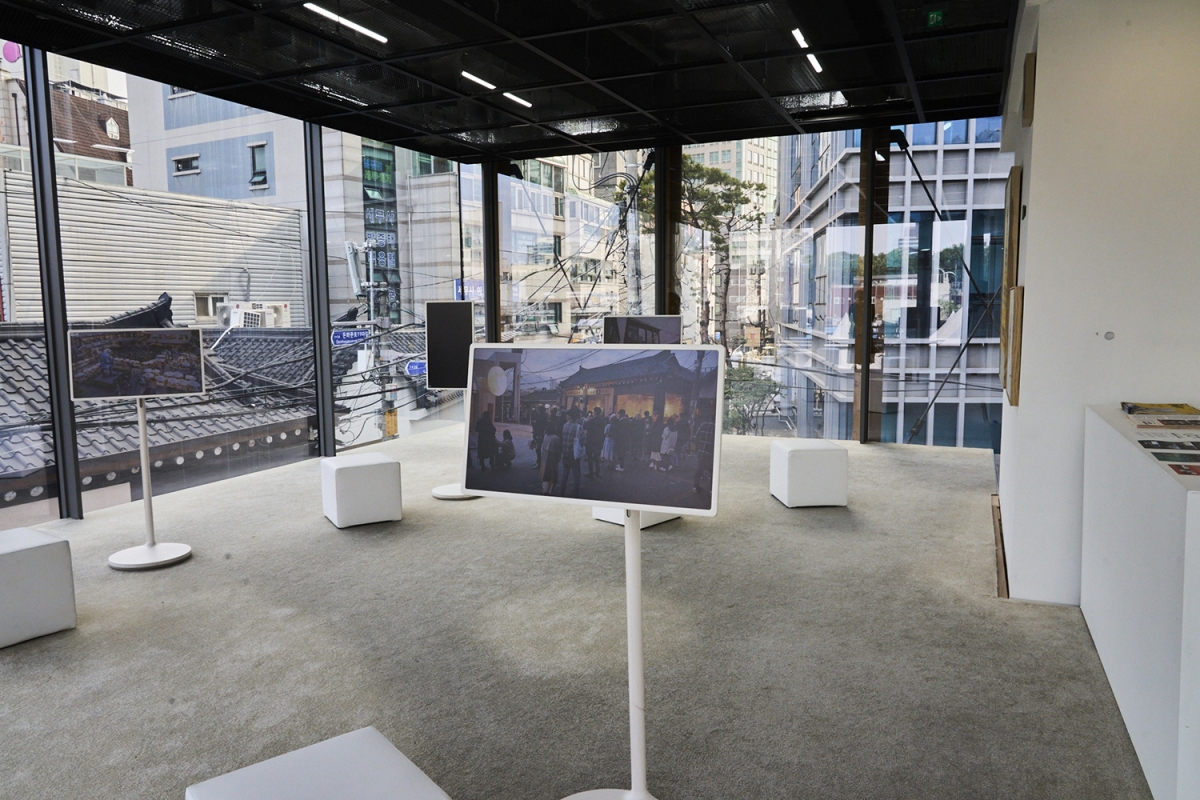 Loop Station Ikseon Image courtesy of NEOVALUE / ©VATOS
Han: As one walks through Seongsu-dong and Seogyo-dong, one is greeted by a screen fence that stands out on the construction site. It is a cute picture drawn by the artist Novo, and it turns out to have been a project led by NEOVALUE. What made you to consider the city aesthetic even at the construction stage?
Chung: The screen fence at the construction site remains installed for at least six months and at most two to three years. In the process of creating a lifestyle city, we looked back on whether we actually spoiled the cityscape. Transforming the construction site's screen fence into an art wall was done with a sense of responsibility for the area as its developer. The screen fence even reflected the local characteristics. For the one in Seongsu-dong, we were inspired by the surrounding red brick buildings, whereas for the one in Seogyo-dong, we reinterpreted the symbolic colours of Mapo-gu. If we invest a little more money, the construction site's screen fence can make the city look delightful. However, there were hurdles to making such an attempt. Since there was no such previous case as this, the borough office opened a deliberation of local aesthetics as to whether it would be allowed to go ahead. The first was held at the Seongdong-gu Office, followed by the Mapo-gu Office. Fortunately, it was a little easier to make the case by using the case of Seongdong-gu as an example.
Han: This screen fence will be cleared, and a new Loop Station will begin to reveal itself. You must have reconsidered regional characteristics. I would like to know what the distinctive features will be in each branch?
Chung: Loop Station Seoul Forest is based on the concept of a 'cultural power plant' that unites business and commerce. The difference with general business facilities lies in the method of operation. We plan to select and invite creators, planners, start-ups, and so on who can create new synergy with each other to launch their stores. In addition, while the community of Seongsu-dong currently has a lecture-centred unilateral system, we are trying to develop a salon culture by placing greater focus on networking. In the case of commerce, it presents an interesting challenge that combines with the parking lot. The four-to-five-level high ground parking lot is simply used as a parking lot, but it can also serve as an exhibition hall related to mobility and will be transformed into a mixed-use space in connection with offices and neighbourhood life. The biggest feature is that the height of the parking lot matches the height of the ground rail passing by in front of the building, so this space can even be glimpsed from the subway.
Loop Station Hongdae is located in a residential area that is two blocks away from major commercial outlets. Shared residences and offices run by Local Stitch are positioned on the upper levels, and the commercial facilities are located on the lower levels. We hope to generate a lot of interest as we present a new model that can serve as a reception room in an area densely populated with single-person households.​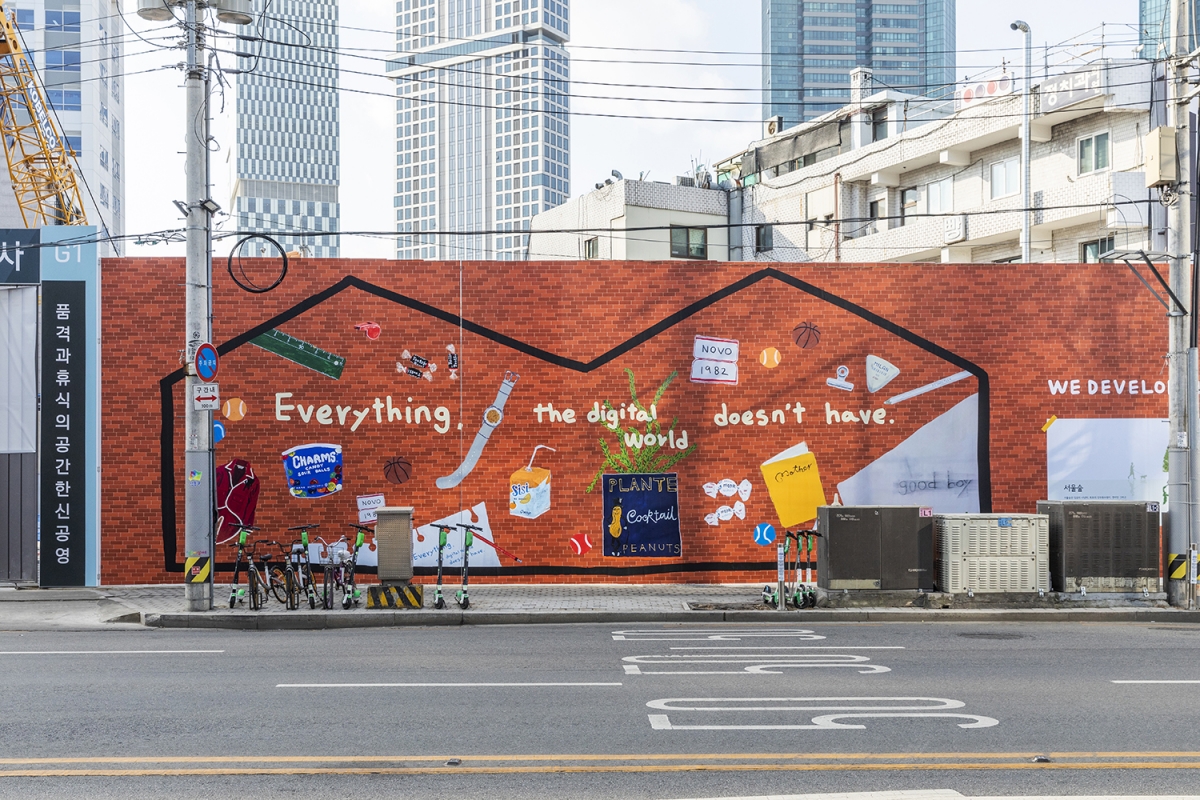 Loop Station Seoul Forest's screen fence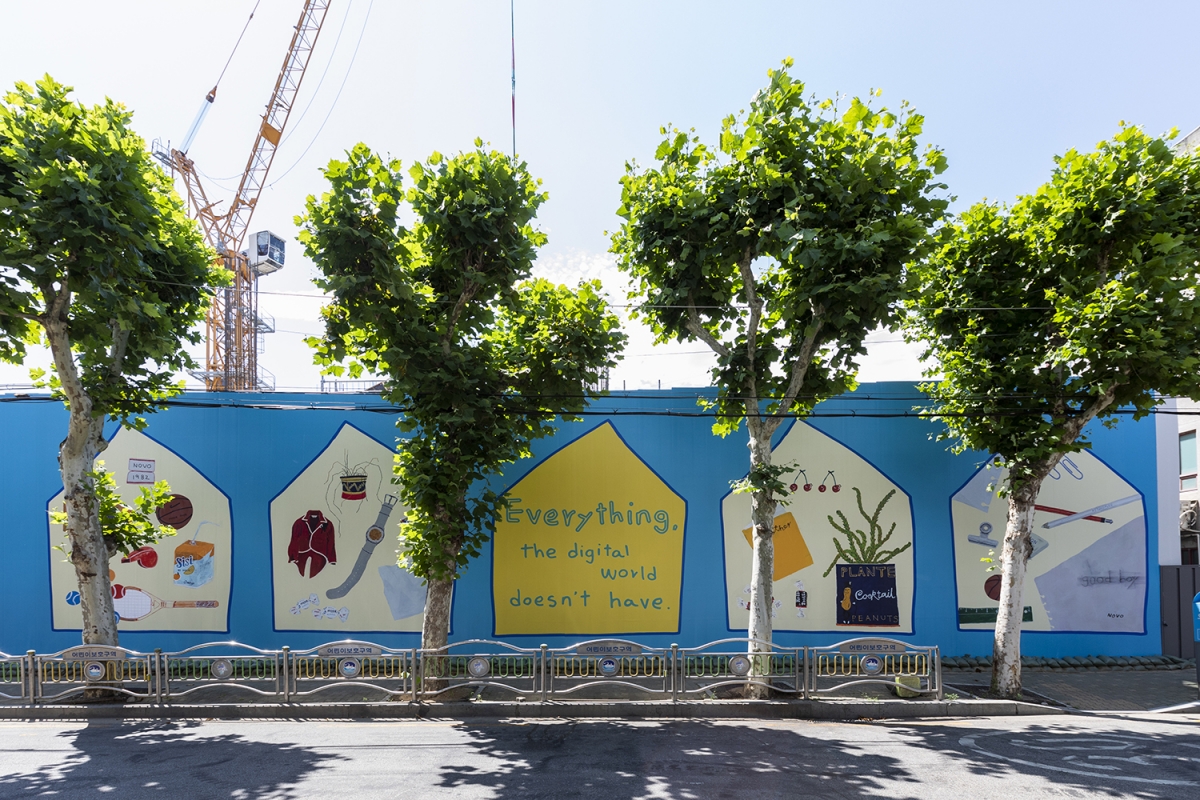 Loop Station Hongdae's screen fence
---
Chung Jonghyun majored in Urban Planning at Hongik University and graduated from KonKuk Graduate School of Real Estate. After working at SAMOO Architects & Engineers and Urban & Human, he is now the principal of the NEOVALUE Content Division. He has planned and managed various projects such as the residential-commercial project 'Michelan 107', the hotel 'Banyan Tree Club & Spa', the mixed-use facility 'Haeundae LCT', and the commercial facility Alleyway Gwanggyo. He is currently in charge of the content management for Loop Station.
Lee Anna is the principal of the NEOVALUE Architecture Division, and she plans and develops products and spaces to create an enriched cultural city based on lifestyles. Representative projects are Alleyway Gwanggyo, Alleyway Incheon, Loop Station Ikseon and Loop Station Hongdae.