While we all share the same planet, only a few of us have expressed concerns for the earth's well-being and about the amount of damage wreaked upon nature. Making improvements to the convenience of our quality of life has now reached a state of no recovery, and we are now aware of the need to unite to tackle this shared challenge of our age described as climate change, or climate crisis. We must review what we have long taken for granted and ask ourselves: 'does this threaten the environment?' Correspondingly, what can we ask of architecture and what will improve our quality of life and human dignity in the midst of our ongoing climate emergency? What should we do? By reviewing a building's life cycle from production, maintenance, and demolition, in the context of climate crisis, we will examine pertinent responses in this issue of SPACE.
STEP 3: During Demolition
Question 1: What Responsibility Does It Take to Demolish a Building and Build a New One?
Question 2: Where Does All the Construction Waste Go?
Question 3: How Does Korea Support the Circulation of Materials?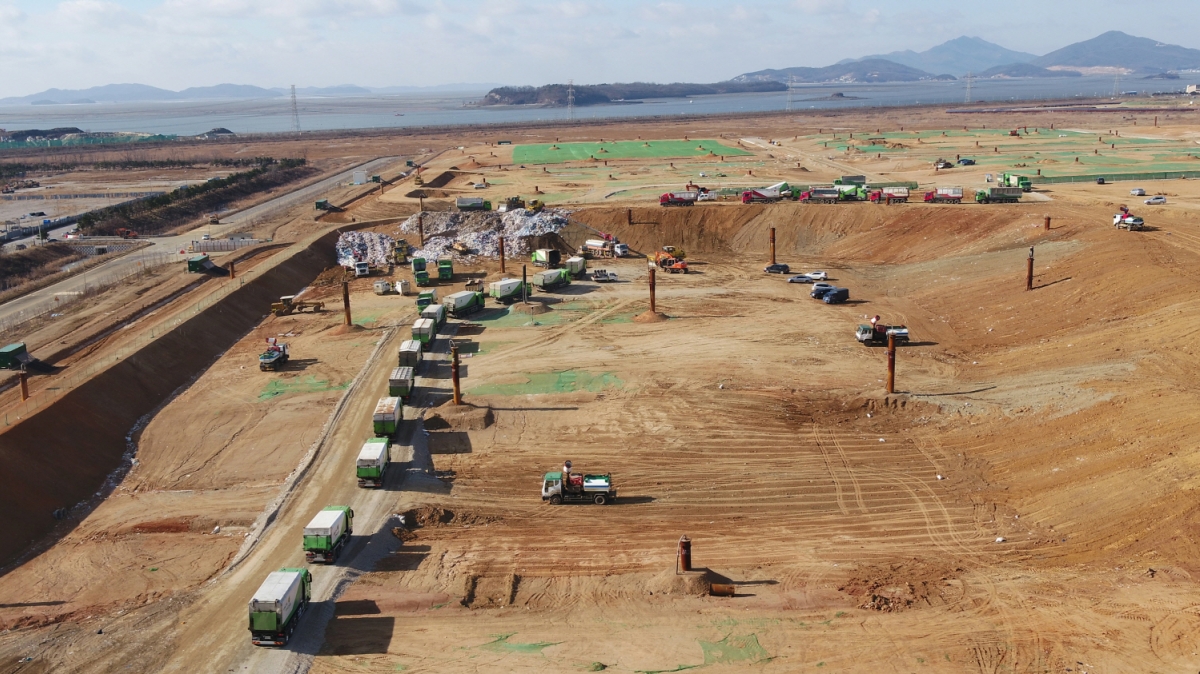 Image courtesy of SUDOKWON Landfill Site Management Corp.
The End of Architecture, Be in Part Again or Disposed Forever​
written by Choi Eunhwa
​
In October 2021, I visited a demolition construction site in Seoul. A two-floor brick house built in the 1980s was demolished to make way for a five-floor reinforced concreted neighbourhood living facility. An excavator with a claw-shaped crushing bucket known as 'crusher' attached to its arm pressed down the roof, toppled the wall, and pulled down the barebone structure in a gentle gesture. A water sprinkler was used to manage the dust cloud and a 2.5-ton truck was brought in to carry away the waste. It took less than a week to remove all traces of a building that had remained in place for almost half a century.
A representative from the waste processing company that I met at the site noted that about 3.5 – 5m3 of waste is collected per 3.3m2 area in demolition work. In other words, if a building was three-floors high and each floor was about 3m tall, about one to one and half floors worth of waste would be produced in its demolition. This huge amount of waste is also very diverse in type, as many materials form a building, such as linoleum floors, wooden window frames, electric lines, concrete, reinforced concrete, bricks, roof tiles, and glass. After being forcefully removed from their purpose as building components, where do these fragments go and what do they become?
'Construction waste', which is defined as 'waste exceeding five tons produced from start to finish of construction', amounted to a total of 80,702,230 tons just in the year 2019 in Korea.▼1 This took up about 44.5% that is, almost half of the total waste produced in the country. Construction waste is classified as flammable, nonflammable, mixed, and others, among which nonflammable waste represented the majority at about 87.8%. These are the core materials that make up buildings and cities in Korea today, such as concrete, concrete asphalt, metal, glass, tile, and ceramics. Flammable waste such as wood, synthetic resin, fiber, and wallpaper only took up 1.1%, whereas mixed construction waste of both flammable and nonflammable properties such as board and panel took up 12.7%.
There are two options when it comes to processing construction waste that is of such wide diversity and high quantities: to discard it or to make new use of it. The most ideal method would be to 'reuse' the building constituents as they are without physically altering them, but the demolition work in Korea today is often carried out indiscriminately. All waste is piled together in masses of rubbish, and it is almost impossible to identify usable things. However, considering that the regulations required to sort materials were put into effect recently in last April, the 'Nextdoor' approach for building elements is now slowly becoming more feasible.
Comparatively, however, there has been much active 'recycling' of building materials by either altering their purpose or processing them. Over the past ten years, about 97 – 98% of the construction waste produced in Korea has been recycled.▼2 A near 100% of construction waste has been recycled consistently. This was largely possible due to the Construction Waste Recycling Promotion Act established in 2003. This law, which was introduced for effective management and recycling of construction waste, prescribes roles not only to the central and local government bodies but also the client, the waste producing party, and the processing party in the middle while promoting recycling via incentives. The recycling rate that once hovered at 80% in the late 1990s to early 2000s rose to 90% with the introduction of this new act and has continued rising to the current state today.
The most important issue facing construction waste is demolished concrete and demolished asphalt concrete. As they take up a large portion of construction waste, recycling technology also focused on them. Demolished concrete retrieved from dismantled old buildings, the repair work of asphalt roads, and poor-quality concrete products broken down into 5 – 40mm sized pieces and turned into a 'recycled aggregate'. The 40mm sized fragments are then returned to the cities by using them in fillings and covering the land and roads, while 5 – 20mm sized pieces are used as aggregate products in buildings and structures needed for concrete placements. Aggregating and recycling construction waste brings benefits in terms of resource management and environment preservation. Natural aggregates made of pebbles and sand that are often used in construction sites need to be acquired from nature and are limited in terms of quantity. Furthermore, collecting aggregate from nature such as from seas, rivers, or mountains leads to environmental damage. In this context, recycled aggregate is not an option but a necessity. There are also economic reasons as well. Recycled aggregate is lighter and cheaper than natural aggregate. This leads to reduction of required human labour, energy, and the cost of moving and using the materials. Furthermore, because of its lightness, it allows the building to shed weight and reach higher heights.
From what has been said, it may appear that the current processing practice post-demolition is already sufficiently environmentally-friendly. Considering the near perfect rate of recycling remains at 97 – 98% and the numerous benefits that it promises, one might find the current situation satisfactory and favourable. However, there are still many things that require closer inspection. Some professionals argue that the numbers reflected in the statistics do not represent the materials recycled of higher added value.▼3 In fact, most instances of recycled aggregate use were for filling and covering up terrain and road work.▼4 Cases in which the recycled aggregate was actually used for structures or buildings were rare. This was not only because of the low and irregular integral quality of recycled aggregate but also its unstable supply due to a lack of distribution and processing businesses, as well as the halfenforcing regulations which only apply to constructions that are ordered by the state or local governments. In other words, the recycled aggregate processed from construction waste simply has nowhere to go.▼5 There remain many hurdles to be overcome so as to actually realise the theoretical benefits of recycled aggregate discussed earlier.
Moreover, construction waste that does not get recycled​ faces its end as landfill and incineration. When construction waste was recycled at 97 – 98%, the remaining 0.8 – 1.9% was buried in landfill while an even smaller percentage of 0.3 – 0.7% was incinerated. Relative to the total production of construction waste, the amount of landfill might seem insignificant, but when viewed from the perspective of the amount of landfill waste, the acuity of the problem is made apparent. According to the 'Waste and Landfill Report for 2020' announced by the SUDOKWON Landfill Site Management Corp., construction waste amounted to 1,276,956 tons and took up 58% of total landfill waste. This is significantly larger than the amount of domestic waste which took up 748,228 tons.
The problem is that the number of landfill sites approaching their limit is increasing. As land size is finite, the total amount of waste that can be buried was already fixed from the start. From 2022 onwards, the landfill site of capital region will no longer accept construction waste that exceeds five tons. The aim is to reduce construction waste to 50% and domestic waste to 80% by 2025. Waste that can no longer go to landfill sites must either be recycled, incinerated, or find an alternate landfill site. However, securing an alternate landfill option will not be easy. The Ministry of Environment, Seoul Metropolitan Government, and Gyeonggi Province had put out two calls for candidates from local governments to sign up alternate landfill sites for the capital region, and no one has yet replied. Where will future construction waste go?​​ (written by Choi Eunhwa)
▼
1. In 2019, the rate of construction waste was 221,102 ton/day. Ministry of Environment · Korea Environment Corporation, Nation-wide Waste Production and Processing Report in 2019, 2020.
2. The recycling rate of construction waste from 2009 to 2019 is 97.8%, 98.3%, 98.1%, 97.3%, 97.5%, 97.9%, 98.1%, 98.1%, 98.3%, and 98.9%. Ministry of Environment · Korea Environment Corporation, Nation-wide Waste Production and Processing Report (2013 Edition), 2014; Nation-wide Waste Production and Processing Report in 2019, 2020.
3. Kim Jinman · Kang Seokpyo, 'Construction Waste Recycling Technology Report', Konetic Report, 2017.
4. Korea Recycled Construction Resources Institute, Final Research Report for Enactment of the 3rd Construction Waste Recycle Base Plan, Ministry of Environment, 2016.
5. Ji Geontae, '"Recycled Aggregate" Processed Daily From Tons of "Construction Waste" Needed Nowhere', Munhwailbo, 21 May 2021.​
---