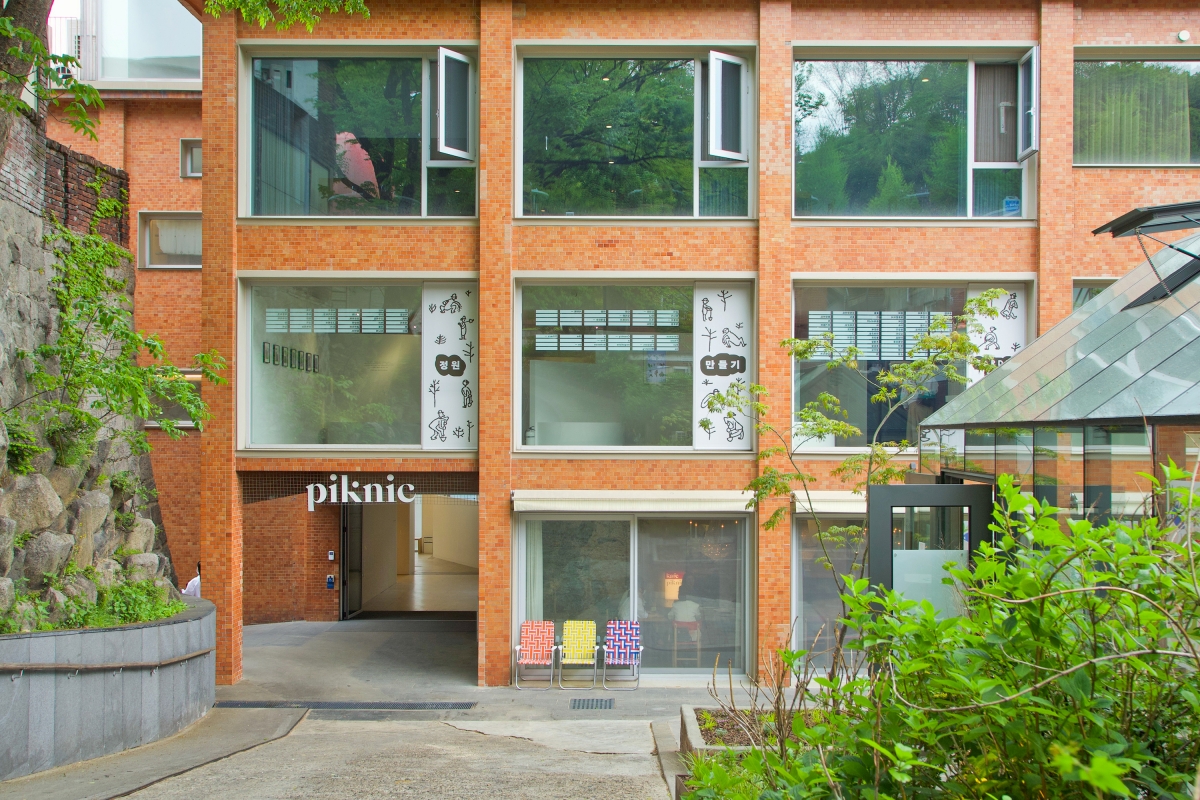 As the pandemic continues to exert its hold, more people have become interested in plants. According to NAVER Data Lab, the number of searches for 'plant' and 'garden' increased by 127% and 212% respectively in May of this year when compared to those in January 2020, before the severe proliferation of Coronavirus Disease-19. A newly coined word 'pet plant' has appeared, which means to take care of plants as opposed to a animal pet, along with 'planterior' and 'home gardening' now in vogue. Plants are increasingly becoming the main element in a space.
One noteworthy fact is that the movement of plants into private spaces has recently been on the rise. It is different to walking up a mountain close one's house or taking a stroll in the park. It is also far removed from the appreciation of trees and flowers that dot our roadsides. People are willingly giving part of their domestic space over to flowerpots, paying them constant attention, and laboring on behalf of their continued vitality. Why do we become attached to plants? Perhaps a clue can be found in the present exhibition, 'Gardening'.
The Way of Exhibit Changes over Time
The exhibition 'Gardening' is on show from the 24th of April at piknic in Seoul. This is the second special exhibition from piknic following last year's 'Mindfulness' (covered in SPACE No. 631). Kim Bumsang (director, GLINT), the exhibition director who runs piknic, stated the clear intention behind this exhibition: 'If the message expressed in the previous exhibition was "let's meditate", then this exhibition says "let's make our own, hand-size garden"'. He also added that this exhibition does not seek to define what a garden is. Rather, it was planned as a place to talk about how best to take care of plants and gardens, and to share the meaning and excitement that can be gained through that experience. Regarding the reasons behind paying attention to a private 'garden' rather than to a 'park' dedicated to the public, he explained that there is a beauty that can only be reached by physically touching the soil and taking care of the plants, rather than just observing them from a distance.
That is why, in the exhibition, a 'person who touches the soil' is referred to as a 'gardener'. In addition to contributions by landscape architects, such as Jung Youngsun (principal, Seo-Ahn Total landscape Design & Consulting group), Kim Bongchan (principal, THE GARDEN garden design & construction), and Piet Oudolf, who transform architecture and cities through their green spaces, artists such as Park Wansuh, Karel Čapek, Emily Dickinson, Hermann Hesse, and Derek Jarman elevated contemplation and inspiration to be taken from their gardening, and incorporated this labour into their literary and film works. Artists are also christened as gardeners. The installation artist Choi Jeonghwa, the film director Jeong Jaeeun, the graphic designer Park Yeounjoo, and the artist Park Mina are also included. Along with various works such as photographs and videos capturing the garden, texts excerpted from literary works, and drawings by landscape architects, and the actual garden was formed on the first and fourth floors of the exhibition hall.
Kim Bumsang described as follows: 'What should we do when planning an exhibition of the garden? Should we show plants? Flowerpots? Introduce a gardener? Or should we ask artists to create artwork about the garden? Instead, I wanted to create a garden itself in order to take a closer look at what it really means'. When bringing plants into an exhibition hall located in the centre of Seoul, he chose not confine them or overburden them. Rather, he let them encounter sunlight, wind, and rain – just as they do when in nature – and let them change according to the seasons during the exhibition periods: spring, summer, and autumn. Emphasising these changes over time is also found in the work of the two gardeners, Piet Oudolf and Jung Youngsun, who are highlighted in this exhibition. Piet Oudolf explained, 'I watch the entire process of a plant undergoing change, because that is where beauty begins', mentioning that 'Design is not something that can be created through plants alone. Atmosphere and seasonality are also important'. Jung Youngsun added, 'You're dealing not just dirt, but with living soil. That soil, and the plants that grow from it, are not the same in the morning and the evening, between spring and autumn, between this year and ten years from now'. Based on these accounts, I would like to analyse this exhibition – which consists of four sections: 'Land', 'Gardeners', 'The Pleasures and Sorrows of Gardening', and 'My Garden' – through the lenses of the flowing seasons.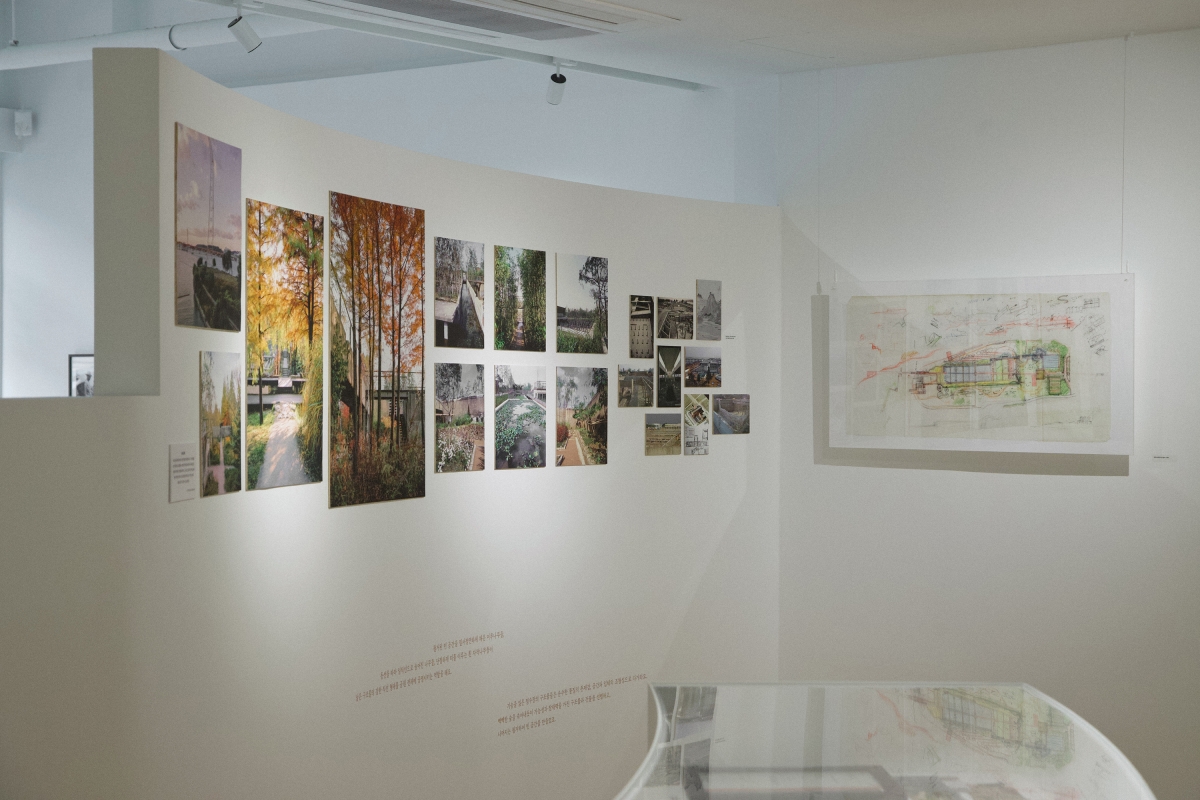 Jung Youngsun of section 'Gardners'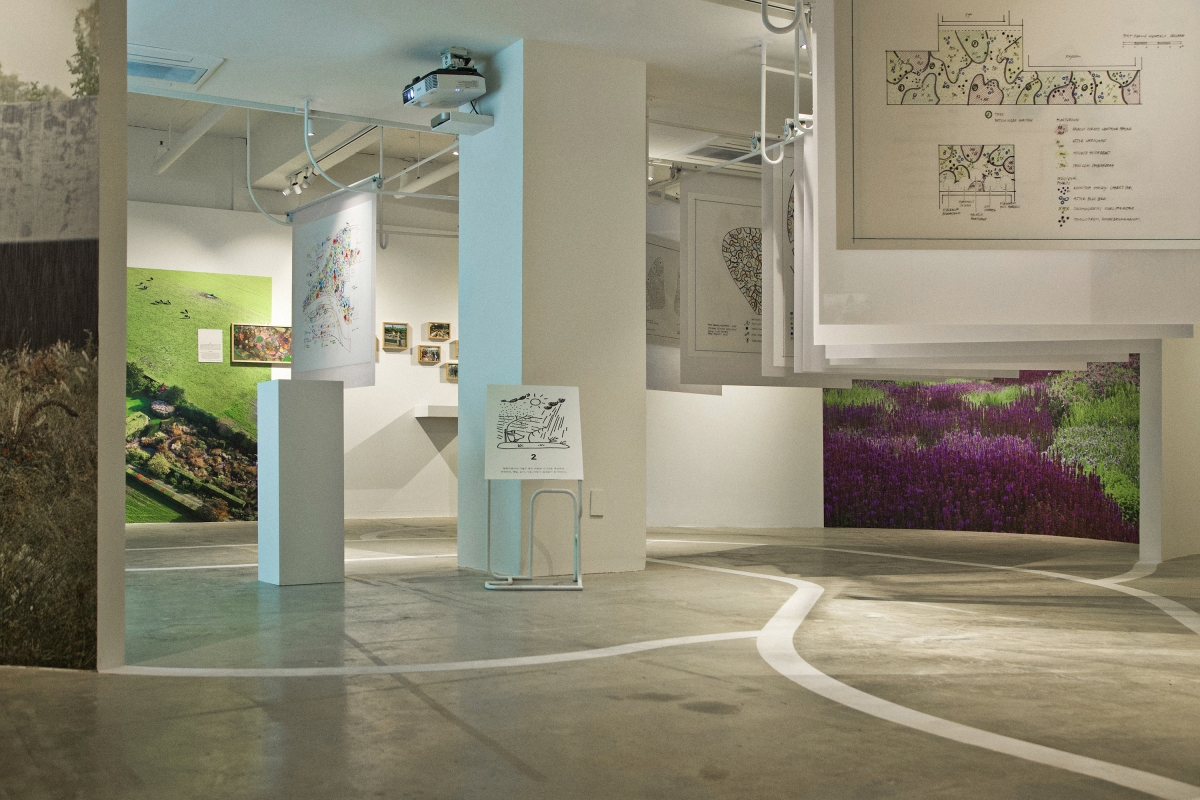 Piet Oudolf of section 'Gardners'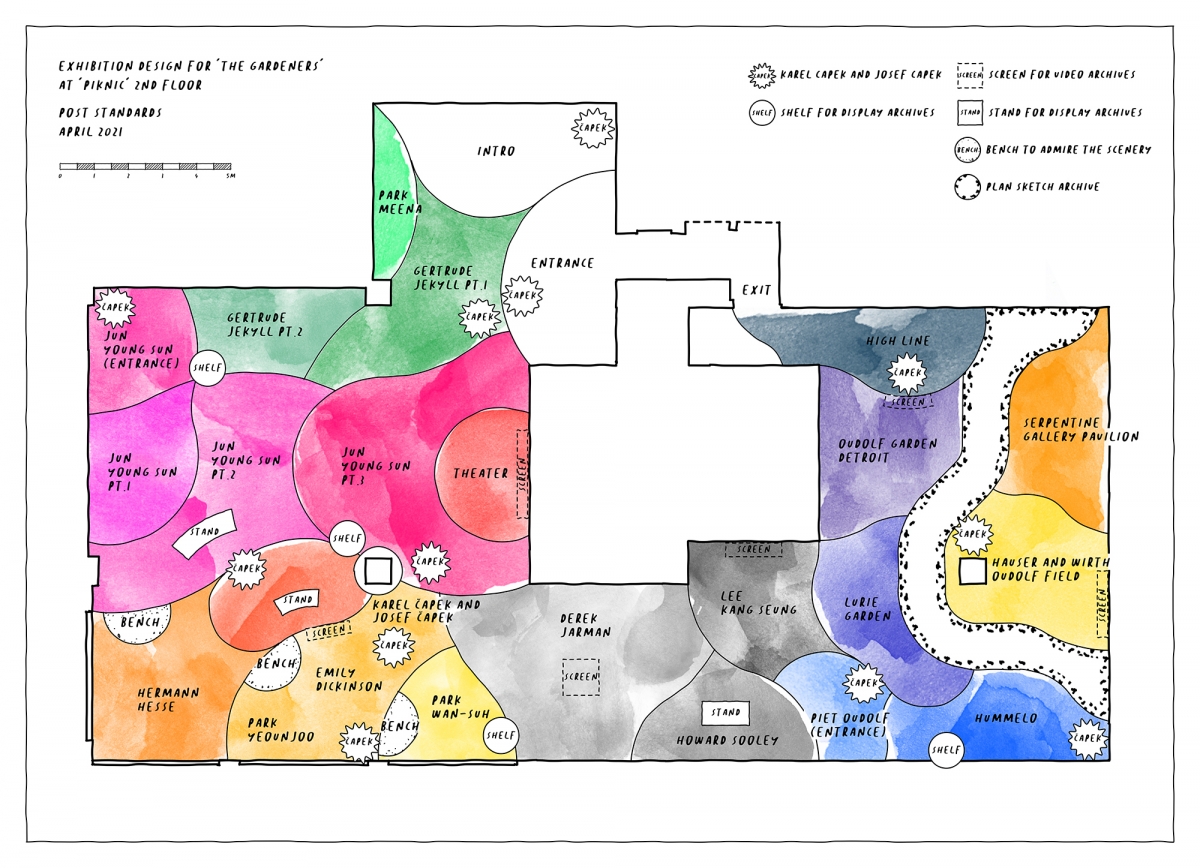 Plan of 'Gardners' section designed by Post Standards
Summer: Providing Conditions for Growing​
The season in which the 'growth' or 'nurturing' of plants – in expression – is most prominent is probably summer. Summer is the season of growth. The leaves grow, flowers bloom, and shoots sprout. When we see the green leaves and stems growing thicker every day, we are in the presence of the wonder of life. The wonderful process of natural growth seems beyond the realm of human beings, but the story becomes a little different in the garden. As people have to adjust the conditions of the environment so that plants can photosynthesise and breathe, the cultivation of the soil, the removal of weeds, and frequent and sensitive watering are in fact part of the garden. The 'Gardners' section introduces eight gardeners who undertake such physical labor.
The section 'Gardners' begins with the words of the Czech playwright and novelist Karel Čapek: 'People should have a garden at least the size of the back of their own hand. We should cultivate a small flower so that we know what it is we are treading on'. The exhibition continues with the black and white photograph of Gertrude Jekyll – landscape architect who designed more than 400 gardens in the U.K and the U.S and became a cornerstone of today's garden design theory – gardening in Munstead Wood; a view of novelist Hermann Hesse – who was greatly fond of gardens as exemplified in Stunden im Garten (1952) – squatting low and touching soil; as well as the hoe used by novelist Park Wansuh. A representative Korean landscape by Jung Youngsun is also highlighted here. Through photographs, sketches, and interviews of Olympic Park, National Museum of Korea, Seonyudo Park, Asan Medical Center Park, you can get a glimpse of her philosophy, respecting nature and pursuing artistic harmony between nature and human beings. You can also take a look at the working process of Dutch landscape architect Piet Oudolf who is referred to as a pioneer in Naturalistic Planting by proposing a sustainable garden and a garden that invites insects and birds. His major works, including Hauser & Wirth Oudolf Field, Lurie Garden, and The High Line, are all on display.
Just like strolling through a garden along a winding street and observing each plant, you can walk along the curved walls of the exhibition hall and look to each gardener. Kim Minsoo (principal, Post Standards) who designed the space in this section explained the logic behind this arrangement: 'As if the floor plan of Piet Oudolf had been expressed in the exhibition space, we substituted a curved wall'. His description, that 'I designed the floor plans and made them three-dimensional, where the three elements – the area of exhibition hall allocated to the participating artists, the well-thought-out circulation that uses the entire space, and the walls with proper form and functionality – can be in harmony', is very similar to the language of a landscape architect.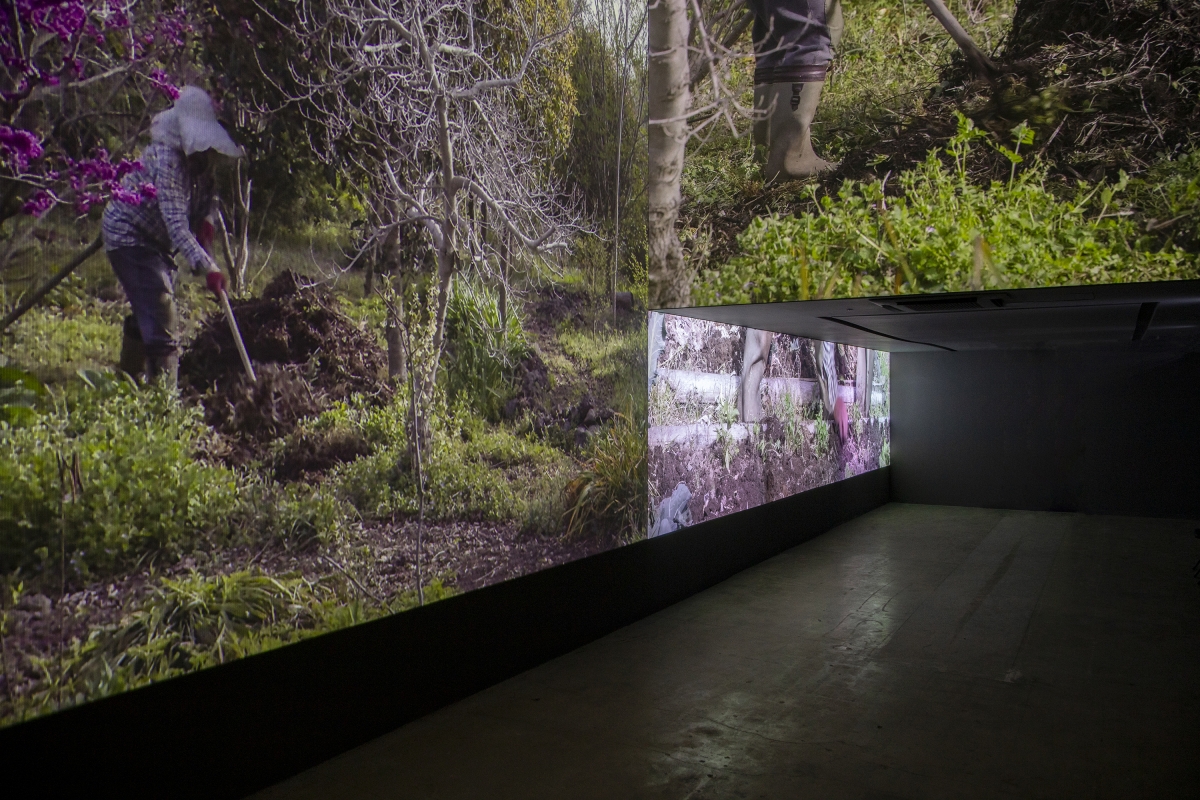 Jeong Jaeeun, Ways of Garden, 3-channel video, colour, sound, 30mins, 2021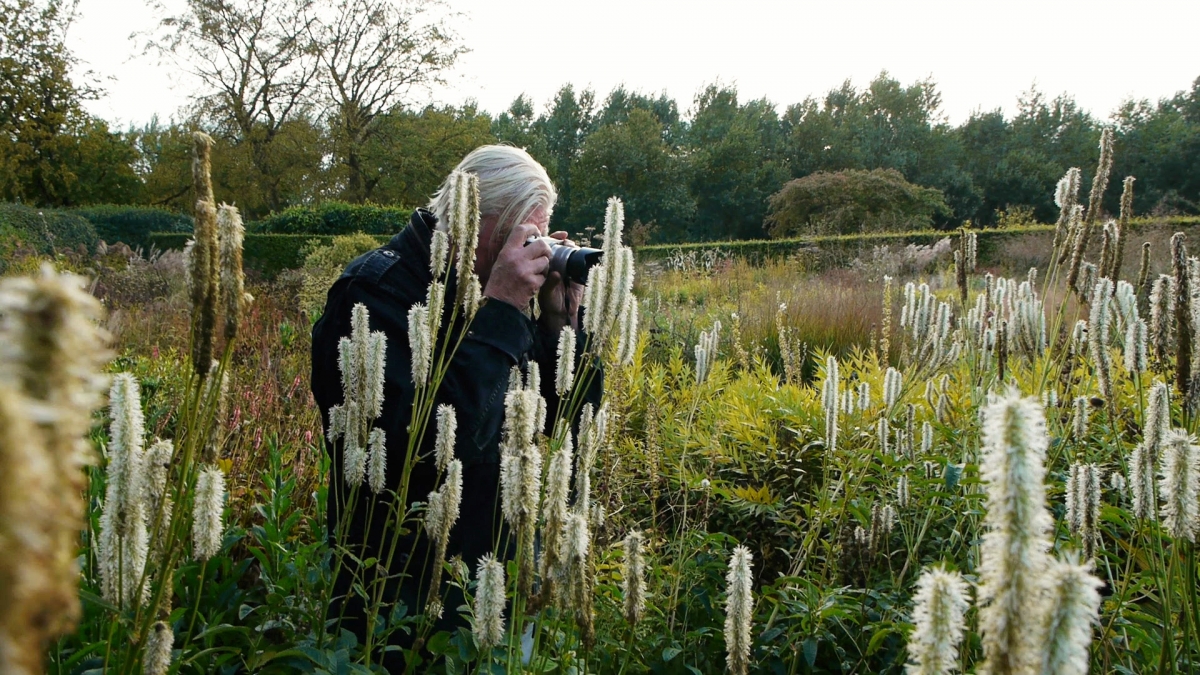 Five Seasons: The Gardens of Piet Oudolf
(2017)
Autumn and Winter: Witnessing the Scene of a Farewell
'When it comes to gardening and planting, you always encounter farewells and reunions', said Sue Stuart-Smith, author of The Well Gardened Mind (2020). Autumn and winter are the seasons in which we need courage to let go of the joy of witnessing the birth and growth of greenery. Screened as a cinema programme as part of this exhibition, Five Seasons: The Gardens of Piet Oudolf (2017) is a documentary that captures the span of time between autumn, winter, spring, summer, to autumn again. Piet Oudolf looks at scenes from his garden, lush green in spring turning brown in autumn. In winter, when all of the leaves are shed and only the bare branches remain, he admires such skeletal plants as beautiful forms only be seen at this time of the year rather than regretting the lost vitality. He does not focus only on colourful flowers but also on gray and brown clusters of seeds and branches, counting them as equally important elements of the garden. Furthermore, he notes that 'It sometimes seems as if there are too many flowers. I also miss seeing the withered forms', discussing the 'beauty of death' and the 'beauty of deterioration.'
Screened in 'The Pleasures and Sorrows of Gardening' section, Ways of Garden (2021) by Jeong Jaeeun is a video filmed in Jeju Island in late winter, at the end of February and early March. The video lasts for 30 minutes and is dimly lit and coloured. It is far removed from what one generally expects of a garden, where the sun shines and the leaves glisten. One quiet dawn, the camera follows a slow moving person, capturing him heading to the garden with work tools, cleaning the soil, and gently trimming the tree trunk. When looking at the changing scenes of the garden along with the gestures and motions of the gardener who takes care of it, it reminds us of words such as care, labour, and dedication. Jeong Jaeeun said that she wanted her work 'to feel like it was capturing the time that the gardener spends when standing in front of the mirror to adjust one's clothes and packing work tools before going out to the garden'.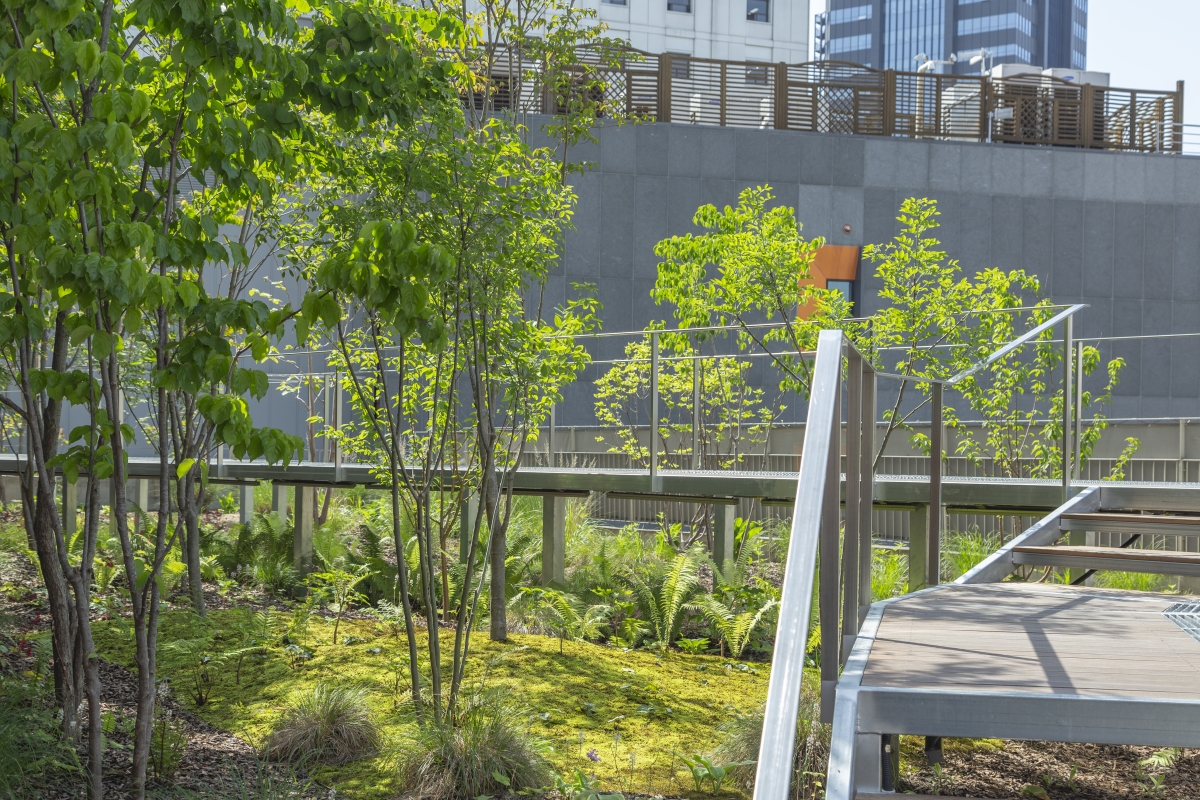 Kim Bongchan · Shin Joonho, ʻUrban Forest Garden', 2021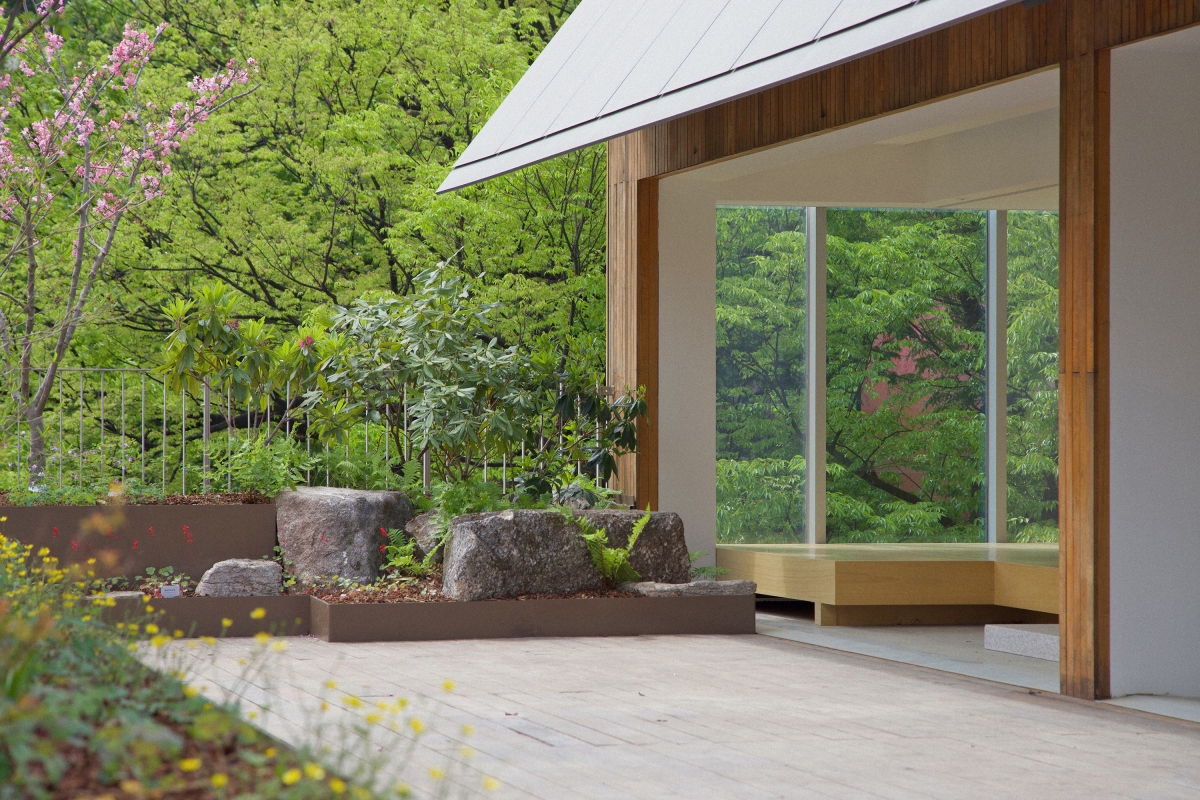 4F garden designed by Jung Youngsun
Spring: Things Begin Again
Once the colder seasons have passed, spring approaches once again as the starting point for new life to flourish. If spring is both a beginning and an end, there is land at the beginning and end of this exhibition. The 'Urban Forest Garden', created by Kim Bongchan and Shin Joonho, is on the first floor, and the garden by Jung Youngsun is on the fourth-floor rooftop. 'Urban Forest Garden' is a primeval forest garden that reflects research on botany and ecology and long-term field experience. When you walk along the steel bridge overlooking the floor, you can see a garden centered on perennials such as Dryopteris crassirhizoma, Blue Hosta, Heuchera. Kim Bongchan described this garden as planned in a way so that 'its beauty can be maintained without flowers because in Seoul, a temperate region, flowers cannot last more than 20 days'. He also said that the greenery would become richer over time, revealing a wilder sense of nature.
On the fourth floor, there is a roof garden mainly consisting of Dianthus sinensis, Paeonia lactiflora, Magnolia liliflora, and Aquilegia buergeriana. As there is a larger proportion of flowers here than on the first floor, one notes a more profound change between the seasons. Jung Youngsun tried to plant as many Korean native plants as possible on the rooftop, from which you can look up Mt. Namsan. In fact, she wanted to plant native species that would spontaneously grow in Mt. Namsan and in the mountain of Seongbuk-dong to celebrate the beauty of Korea's biodiversity. She also lowered the wall and created a garden as if connecting it to the scenery of Mt. Namsan, staging the effect of scenery borrowed from Korea.
In this way, this exhibition 'Gardening' looks at the garden as a process of change rather than a fixed object. It clarifies the fact that plants not only express the wonder of life but also convey the beauty of deterioration, introducing landscape architects – who have always been somewhat under-presented – and reaffirming our essential human nature of commitment and care. Kim Bumsang noted that 'this exhibition will have fulfilled its purpose if the audience, after seeing this exhibition, see flowers in a different light or decide to buy a flowerpot', and hoped that visitors would 'fall in love with gardening and be able to cultivate an experience that will enrich their lives'.
The gardens created at piknic will be managed by the landscape architect Lee Daegil (principal, Agnes Nursery). GLINT said that these gardens will be preserved and maintained, even after the exhibition is finished. Delightfully, spring is expected to return to piknic next year and the following years. The exhibition will be show on until the 24th of October. (written by Choi Eunhwa)
---