The flagship store 'HAUS DOSAN' where one can experience GENTLE MONSTER, tamburins, and NUDAKE, opened its doors on the 24th of February. I.I COMBINED, which manages all three brands and even designs its own spaces, here devises its vision for 'Future Retail', an aim that binds the perspectives of various brands via concepts, artworks, and products. SPACE interviewed Choi Woosuk (spatial design department head, GENTLE MONSTER), Lee Jeongyeon (branding department head, tamburins), and Ha Yezin (director, NUDAKE) to hear more about their plans and thinking behind this new type of commercial facility.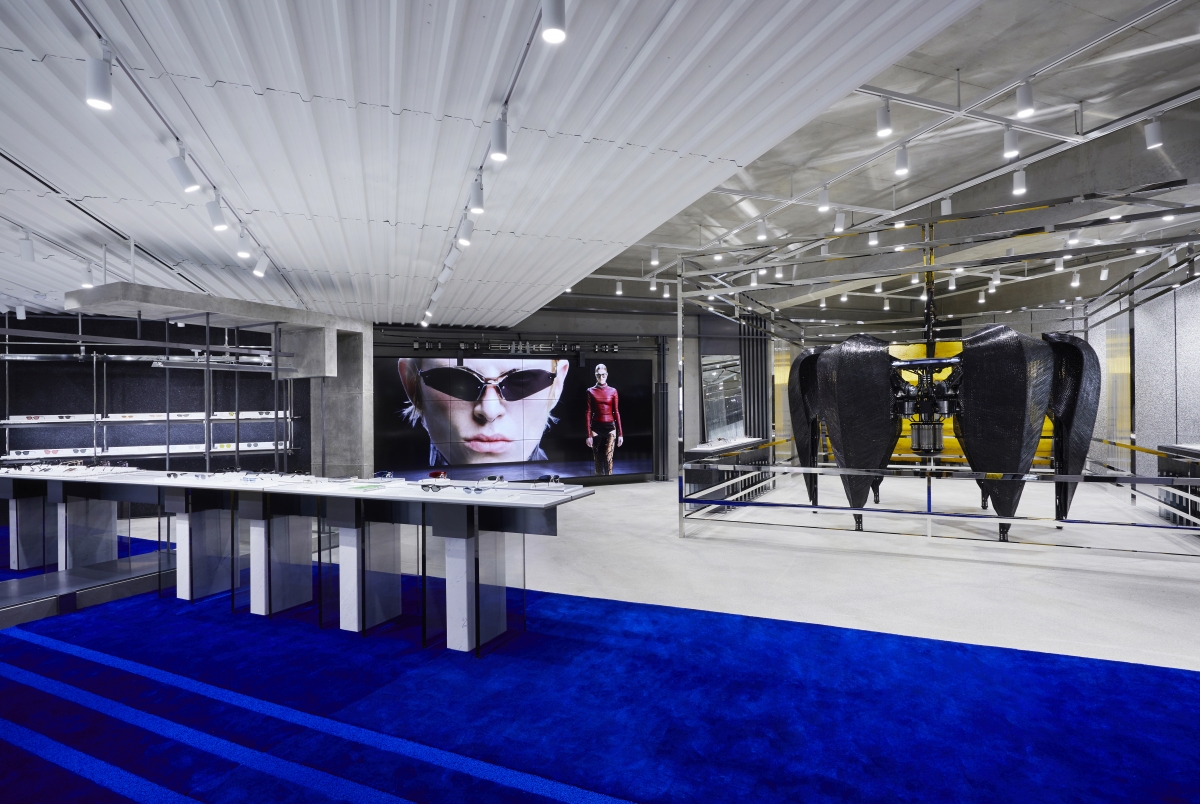 Kim Yeram (Kim): With the flagship store of 2013 at Nonhyeon-dong as a starting point, GENTLE MONSTER has long explored distinctive experiential concepts in its stores. What is the reason that you continue to design spaces through storytelling narratives?
Choi Woosuk (Choi): GENTLE MONSTER takes as its topmost priority the notion that the masses are an always-creative brand by developing unusual experiences. Looking back over the trajectories thus far followed, it is clear that we were making every effort to deliver ideas as yet unimagined by others. As we continued our attempts to discover new things and to form interesting themes, I think we naturally began to contemplate using space as our medium and the means of experience these themes.
Kim: I heard that whenever you begin work on a spatial design project, a task force (TF) is assigned. I am curious to know how I.I. COMBINED and GENTLE MONSTER created their team and develop concepts together?
Ha Yezin (Ha): In a normal studio, a concept would be developed after deciding on the appropriate number of people to be assigned to the project's TF, but instead we first consider who would need to participate in order to develop a new take on present challenges. This might sound a little abstract, but when we try to create a concept our priority is to avoid becoming repetitive, and so the path we are to take becomes more specific. Of course, we don't lay down any rules in terms of how new ideas should be conceived or how they should be executed.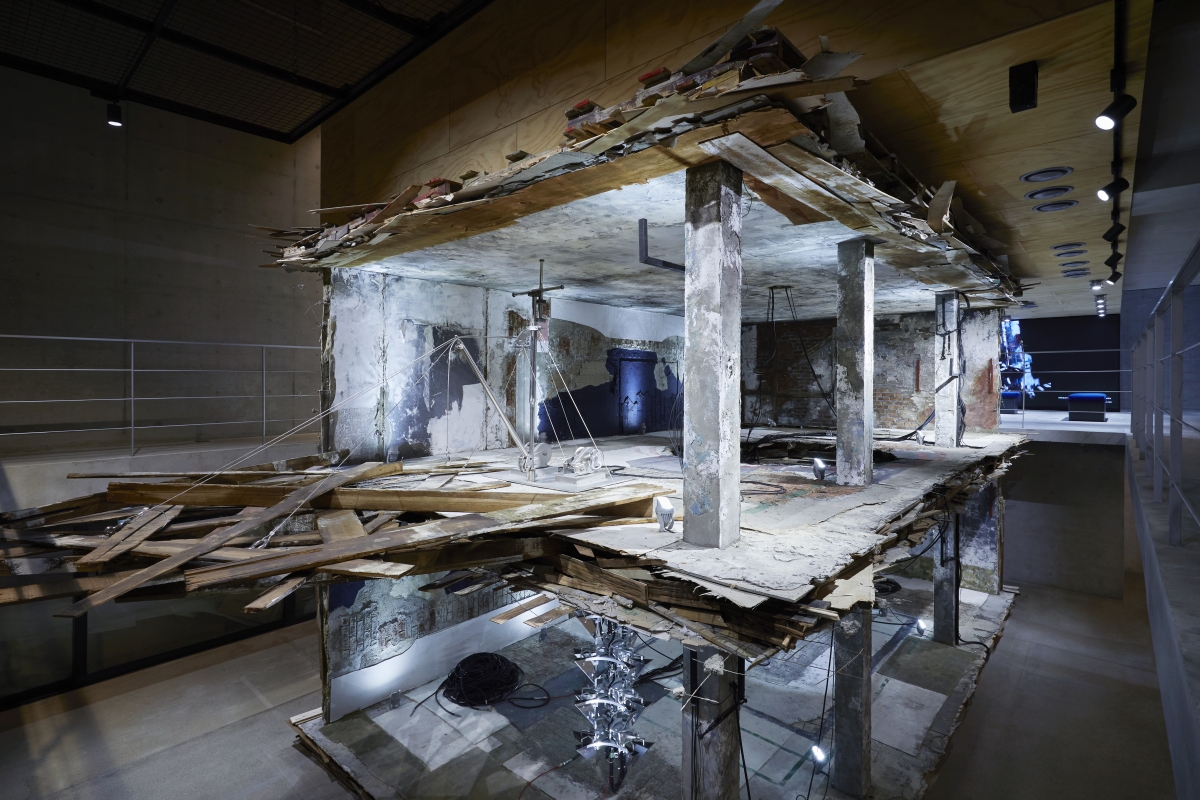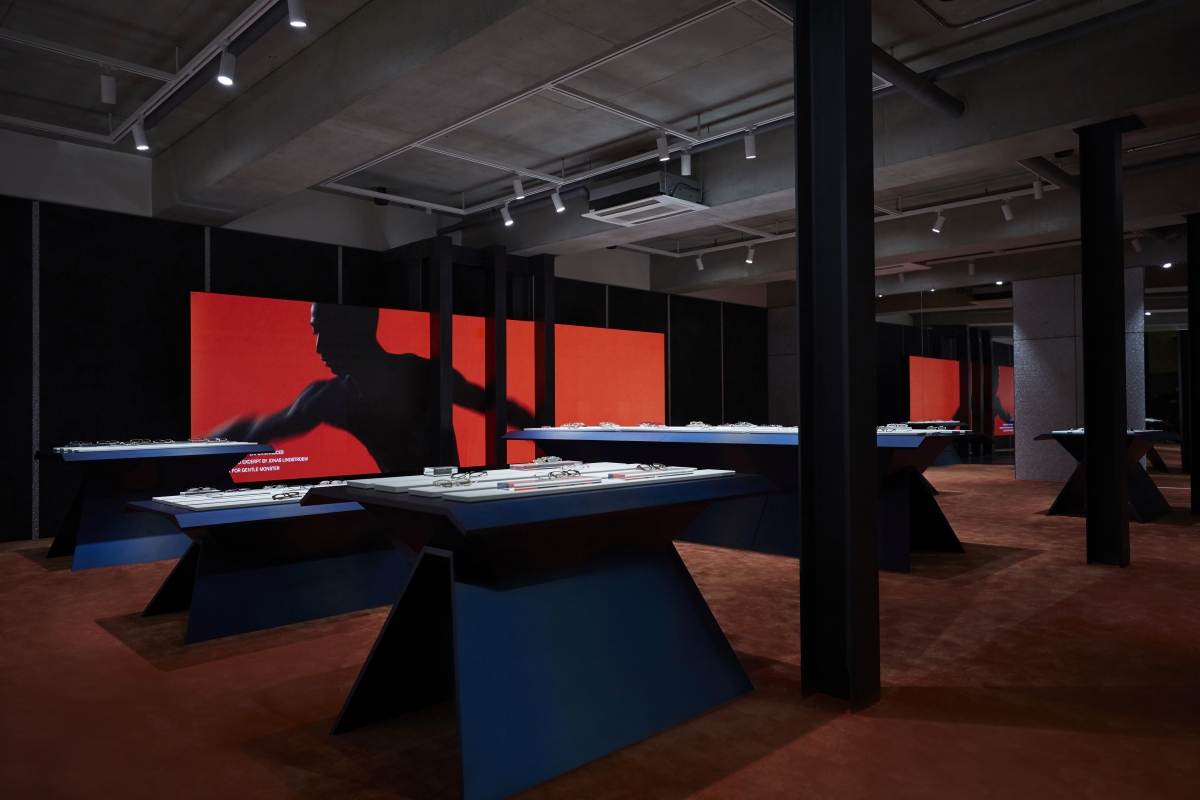 Kim: After you were placed in charge as the general art director for the department store SKP-S in Beijing, China in December 2019, you have been working on a spatial concept known as 'Future Retail'. How does Future Retail distinguish itself from the regular offline stores of today in terms of space and service?
Ha: As I was conducting the large-scale project SKP-S, our team took an approach removed from familiar concepts and properties with which retail stores are accustomed. To accomplish this, we spent a good deal of time contemplating what we might be able to propose in regards to the future direction of retail stores while still retaining its essential consumer-based property. We threw vague open-ended questions at each other like 'how should we design the entrance to a department store that no one has ever seen before', 'what is the limit to the content offline platforms can cater to' and 'what should we do to create a store that is not merely about purchasing goods but also a place to see, feel, and enjoy'. We conducted a lengthy debate amongst ourselves. We concluded that 'emotional stimulus' is the standard that distinguishes the offline stores of today with the concept of Future Retail. We need to design the consumer experience so that it becomes the act of enjoying contemporary culture and turn the space of purchasing goods into a place where one can experience something unusual. For this purpose, we pondered the spatial layout, light intensity, sound, art installation, and all other means of prompting various sense impressions.
Kim: In what way is this Future Retail applied in HAUS DOSAN?
Choi: 'HAUS' is a Future Retail location where various brands showcased by I.I COMBINED come together as one. When we were applying this concept to HAUS DOSAN, we focused on encouraging these brands to develop a united identity while continuing to possess their individualities. While ensuring the unique features of each brand was expressed by displacing them on respective floors, we bound these individual retail experiences into one integrated ambience by maintaining a similar spatial theme throughout. The building's first floor composition also has a different appearance to that of a normal commercial space. While it would be economically efficient to position various lease facilities at the easily accessible lower floors, we thought that the effect would be more pronounced if we were to deliver the brand's concept and values through artwork. As such, we positioned installation artworks on which we collaborated with media artist Frederik Heyman at HAUS DOSAN.
Kim: Here we have the eyewear brand 'GENTLE MONSTER', the skincare brand 'tamburins', and the dessert café 'NUDAKE'. As the best known brand of the three, I'm curious to know how and following what basic principle the space for GENTLE MONSTER was designed.
Choi: A vivid display of products was our focus for GENTLE MONSTER. We divided the sunglasses from the glasses by styling each space appropriately to produce a distinct atmosphere. We wanted to showcase the glasses in a minimal and restrained display and the sunglasses in an active and bold mood. If you get a chance to see 'THE PROBE' – the six-legged walking robot exhibited on the third floor – you will immediately understand the feel of the space. ​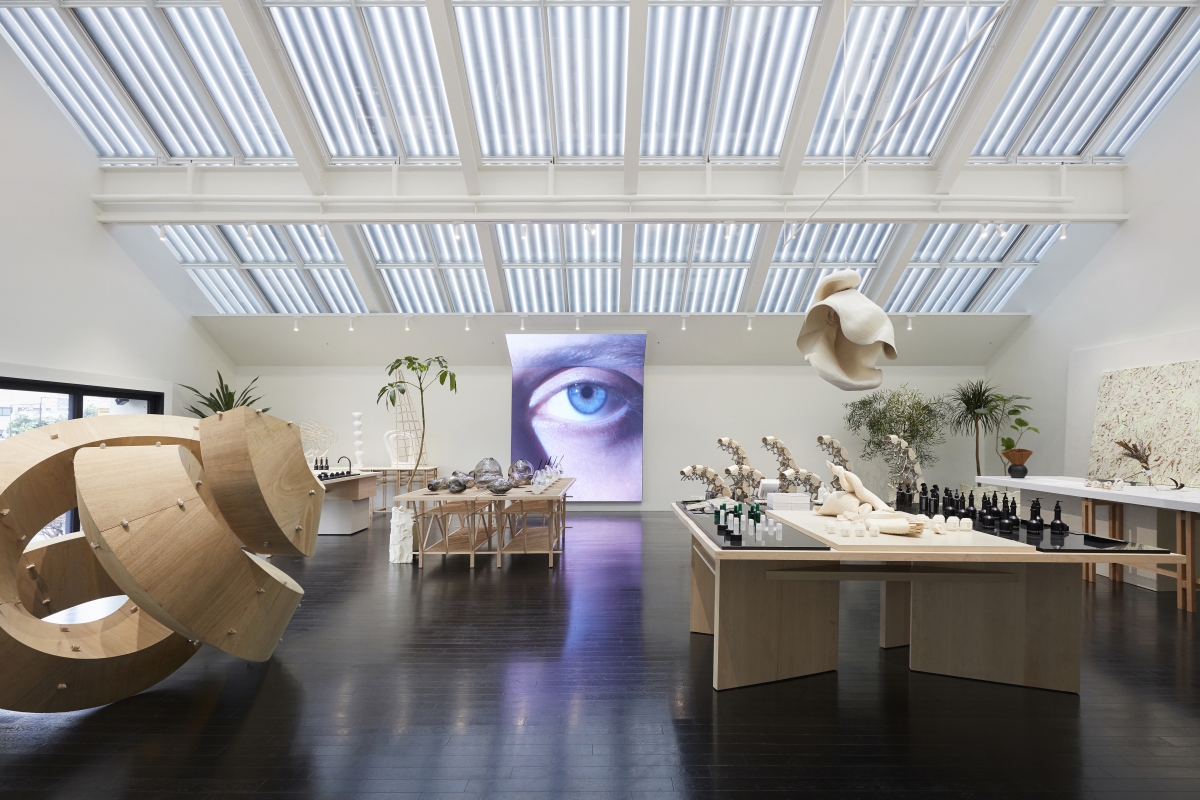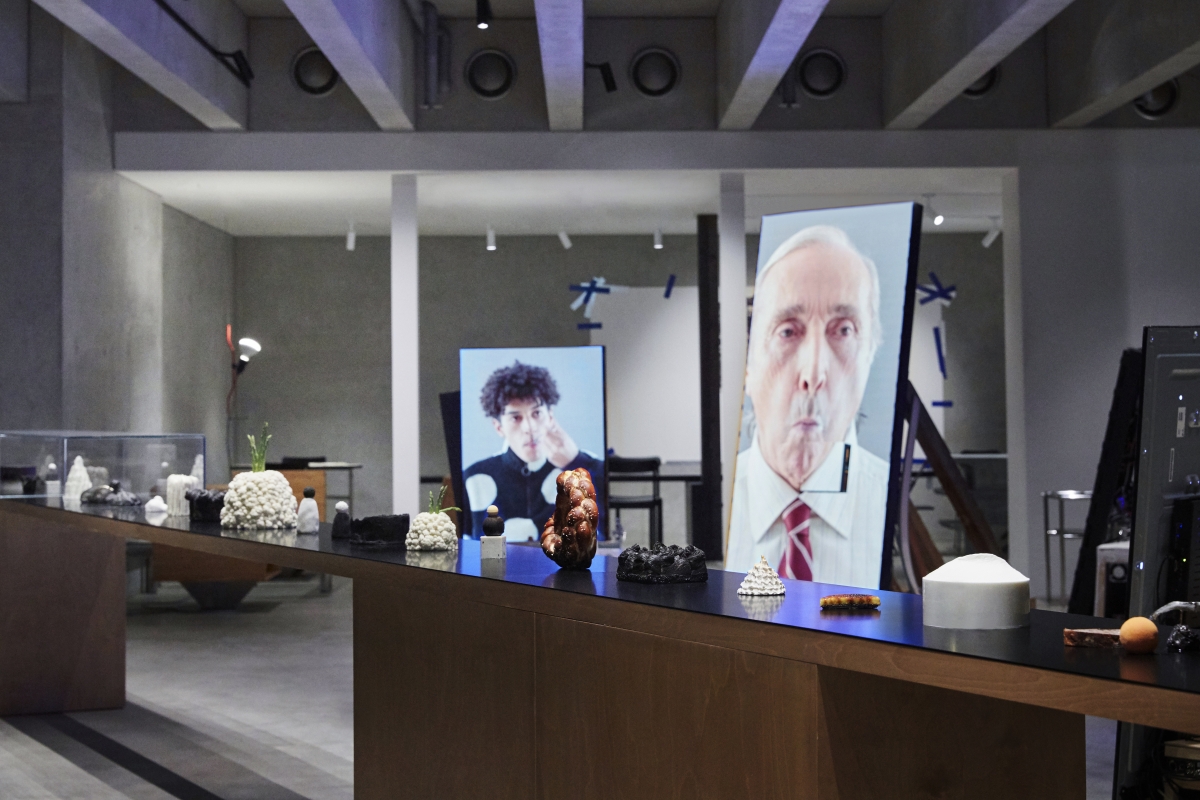 Kim: The store prepared for the skincare brand 'tamburins' on the upper floor seems to possess a relatively brighter and warmer atmosphere.
Lee Jeongyeon (Lee): In order to offer an impression of this brand's elegance, the fourth floor – where tamburins' products can be experienced – focused on reenacting the feeling of being in nature. As this floor receives a lot of sunlight compared to other floors, the spatial tone was subdued in order to be simple. So as to communicate the warm mood expressed by the brand, we adopted birch trees and beech trees in our design. Moreover, while designing this store, we purposed the horizontally long space into a contemporary gallery. To create the atmosphere of an art exhibition, we placed artworks collaborated with Kwak Chulan, Casper Kang, Mercedes Vincente, and kinetic objet by in-house designers. These artworks not only reveal tamburins' worldview but also reduce the sense of intimidation sometimes noted in commercial spaces by creating an environment unusual for skincare brand stores. If the space and the artworks do not draw attention to themselves as much as t the products, people will feel pressured to purchase something. We want our visitors to see our staff members as docents, and we wanted to create an atmosphere in which customers can comfortably inquire about the exhibited artworks while also trying out the products.
Kim: NUDAKE, which is located in the basement floor, is also a hot topic. The idea of making desserts inspired by concepts taken from GENTLE MONSTER seems unique. What is the reason for deriving the menu's motif from an eyewear brand? I'm also wondering why you composed this café to look like an exhibition hall.
Ha: We contemplated how best to expand the means of communication between GENTLE MONSTER and its consumers, drawing on content aside from its eyewear products. As we sought for an item that consumers would easily recognize as possessing the aesthetics of GENTLE MONSTER and be able to purchase it, we alighted upon the idea of making desserts. As we prepared the space for NUDAKE in HAUS DOSAN, we wanted to make it a place in which people will experience the desserts through various senses. One may observe that the café has fewer tables than other food stores: this is because instead of more seats, we focused optimal display of NUDAKE's products. This is also why we placed the long table – where we can display the pastries and cake – in the centre of its space.
Kim: I heard that the integrated retail store 'HAUS' will open this year at Gapyeong, Gyeonggi-do and Shanghai, China. I wish to know on what scale these spaces are being composed as well as concept behind their design.
Choi: 'HAUS' at Shanghai, China will open this May, and 'HAUS' at Gapyeong, Gyeonggi-do will open next year. Both places will be built at a significantly larger scale than HAUS DOSAN, and so we expect to be able to pursue an even bolder version of what we wanted to express here. As always, the concept is a secret. (laugh)​
​​
---
Choi Woosuk, Lee Jeongyeon, Ha Yezin
Choi Woosuk is the spatial design department head at GENTLE MONSTER, and he works as the spatial design director on various projects including the flagship store.
Lee Jeongyeon is the branding department head at tamburins, and as the director of its spatial and digital projects. She is producing a diverse range of content.
Ha Yezin is the project department head at GENTLE MONSTER, and as the branding general director of NUDAKE.