In August, JTBC play, a complex cultural space, opened on the opposite side of the Hongdae Playground. The client, a broadcaster, is operating the building as a goods store, as cafes, open studios, and a gallery where the younger generations, the primary audience for the channel, can easily access their content. In this report based around an interview with Han Seungjae (co-principal, FHHH FRIENDS) and Kim Sejoong and Han Joowon (co-principals, COM), SPACE heard more about the process of designing a complex cultural space and the furniture required by this broadcasting company.
Interview Han Seungjae, Kim Sejoong, Han Joowon × Kim Yeram​
Kim Yeram: JTBC has opened a space in which its young viewers can experience media contents and brand identity. Could you tell us about the moment you took over this complex cultural space project and the reasons why the client chose this space in front of Hongdae?
Kim Sejoong: The client wanted to create a complex cultural space in front of Hongdae, where those from the younger generation are particularly active. You can see an unobstructed view of the exterior landscape from here, which is said to be a big reason behind why the client opted for this building.
Han Joowon: We worked with Han Seungjae on Seongsu Yeonbang (covered in SPACE issue 618), in Daechung Park. He was a good partner to us, so we recommended him to JTBC as a co-operator.
Kim Yeram: You have remodelled a typical commercial facility that used to be an ice cream parlour and a cosmetics store. What kind of design strategy did you devise to turn the existing building into a space appropriate for a broadcasting company?
Han Seungjae: JTBC did not buy this building but rented it for five years, so it was necessary to maintain the original functions of the building. Since everything could not be made new, as in a new construction, the direction of the remodelling design was set by maintaining the volume of the building and cleaning up the exterior. Many people think of Sohn Sukhee, a former anchor and the president and CEO of the company, when they draw the image of JTBC. We wanted to make the building neater, just like one in a well-dressed suit. So, we finished the seams between the outer materials by producing a concrete panel of a calmer tone.
Kim Sejoong: While talking with Han Seungjae, I thought that it would be nice if the building offered the impression of a person in a suit and the furniture in it could act like a pretty tie or cute cufflinks. (laugh) As the building was made tidier than before, we had a task ahead of us to make it fit to JTBC. We responded by making more casual furniture in neater spaces using varied colours and logo play used by the client in their brand identity.
Kim Yeram: I heard that the client requested an open studio capable of shooting various kind of broadcasts, such as TV programmes or YouTube content. It seems that the space and furniture flexibly responds to these varied needs and situations. Please tell us how you were able to reflect these demands within the space.
Han Seungjae: The floor plan of the building is shaped like an avocado, angled alongside the site, but, personally, I wouldn't say I like this form as it doesn't take functionality into account. In order to create the broadcasting environment that clients want, this plan had to be organised into shape suitable for the new functions. While contemplating the shape of the interior space, an idea struck me: 'What if we could create an environment for individual creators to broadcast?' Personal media is the smallest unit in broadcasting content. Unlike traditional broadcast content, which requires multiple cameras and lights, these days you can create a video with only a smartphone. This change to the mode of shooting requires a triangular studio plan that will fit the angle of view, so we built diagonal walls that serve as the background to the videos. The newly inserted walls divide the interior into quarters, allowing them to film multiple scenes on a single floor.
Han Joowon: From the standpoint of making furniture, the wall was an issue throughout the design phase. This wall actually plays a fundamental role in supporting the load, and if it wasn't there the window would have to be reinforced with X-shaped steel structures. Although it was challenging to attempt this more active furniture placement, one that looks like it penetrates the wall, it eventually allowed us to pursue an interesting shape and arrangement after admitting that the wall was a hindrance to the design of the furniture. As a result, the furniture did not follow the wall but was spaced out like an intriguing feature or concentrated in the centre of the plan.
Kim Yeram: Furniture of different sizes has been stacked on the first floor with products placed upon it. It looks different from the general display method found in a goods store that is able to show a variety of products and product lines at a glance.
Han Joowon: We thought it would attract people to the building by installing furniture that would be aesthetically pleasing. The store sells over 400 items, and it was a challenge to put them all on the one floor. If all of the products were simply listed in the store, it would be like a franchise stationer. So, we received the specifications of all of the items from the client's brand design team and calculated the required display area. We designed furniture with outstanding form and function based on this calculation, and then persuaded the client that they could display enough products while also developing furniture that would be considered beautiful even with at a brief glance.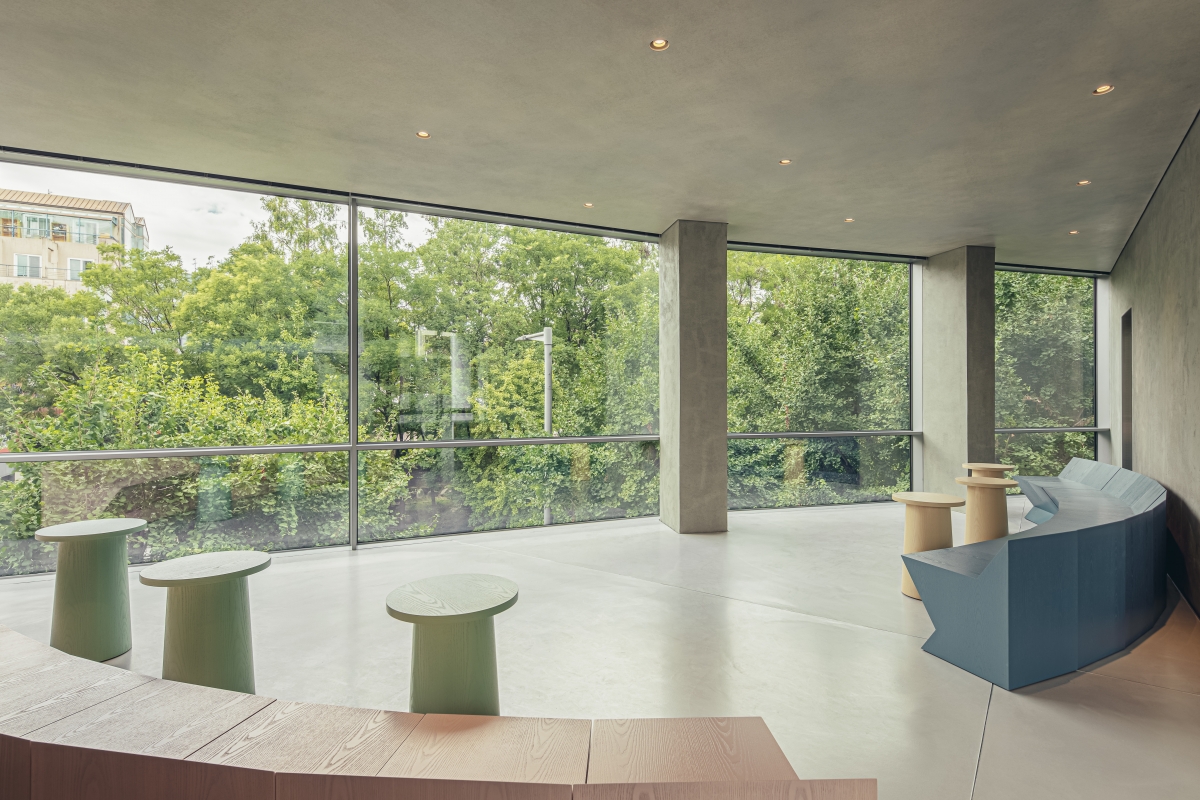 ​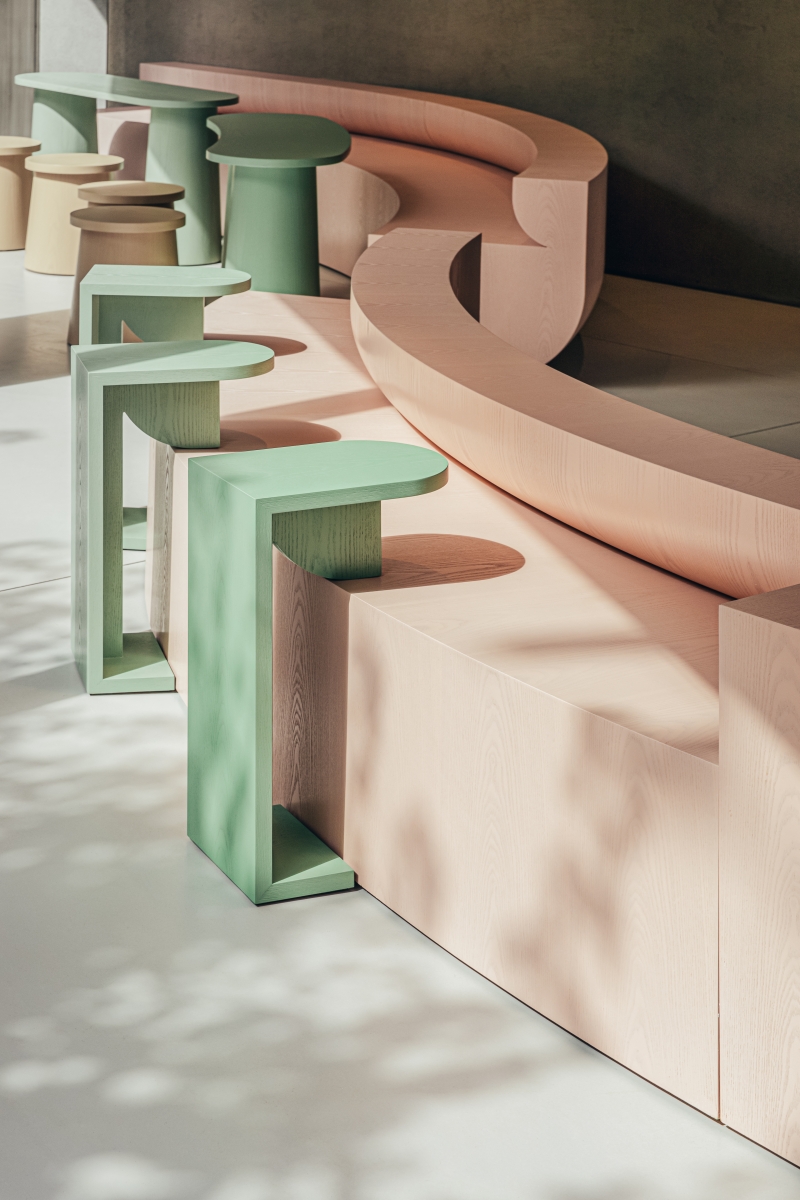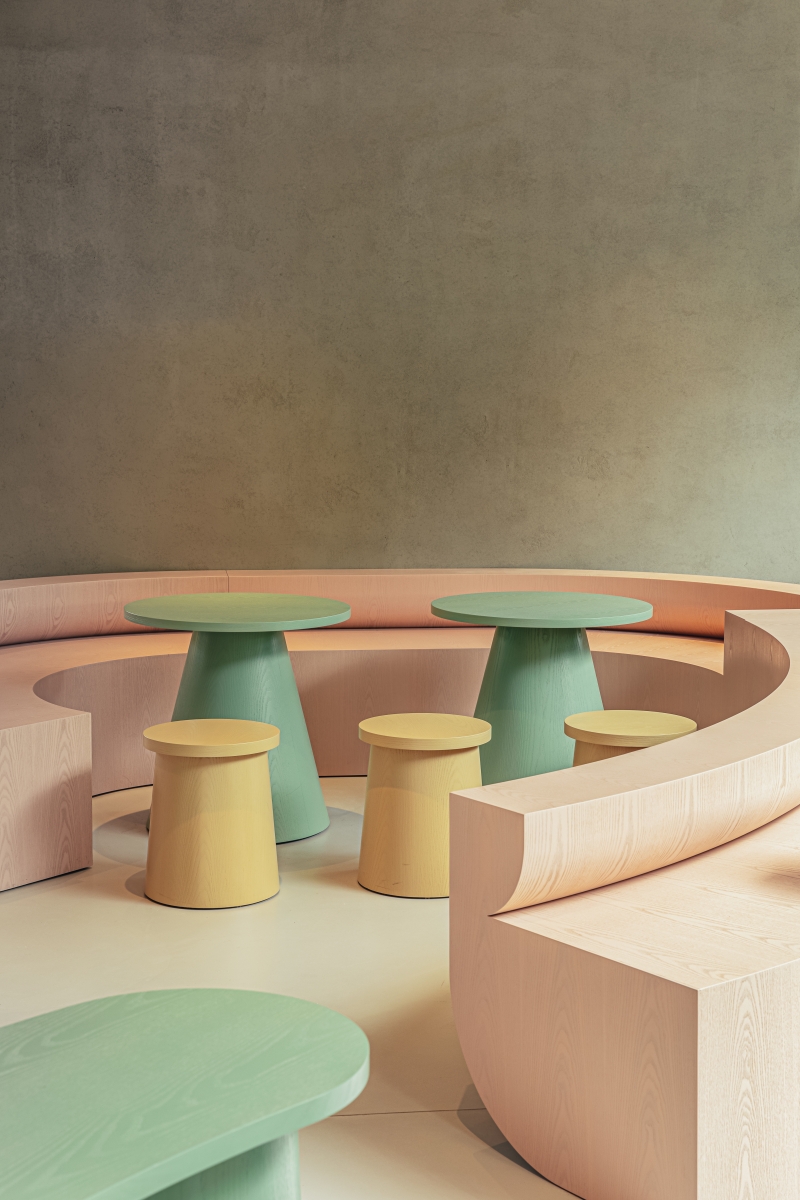 Kim Yeram: It seems that the making wouldn't be easy with CNC technology that you've been used in previous works.
Han Joowon: In the meantime, we have been making CNC data, cutting materials, and assembling them on site. We often use the extrude function in 3D programmes. We design the mass by following the line, but I think we have used it too often so far. (laugh) Since we have up until now assembled the furniture on site, we have adopted a method that considers furniture design and CNC data in tandem. In this project, we started modeling first and then thought about the production process. Furniture has been made in a way so as to transform the figures the client uses in branding. For example, a figure is recognised as a cross-section and rotated.
Kim Sejoong: With such bold use of curved surfaces, there were not many materials that would be up to the task. Initially, we tried to work with concrete, but made furniture by 3D processing the sliced veneer considering the weight of it. The furniture had to be light so that people could move it around, and I think it was the right choice in that regard.
Kim Yeram: JTBC takes a dynamic approach to colour, exemplified by the catchphrase 'Colourful Pleasure', so it seems that there were many concerns about colour when making the furniture.
Han Joowon: At the beginning of the project, we created four furniture designs using entirely different concepts. There were three plans made to enhance the basic colours of the material, and one was to highlight the shape without deciding upon the material of each piece of furniture. Later, through consultation, it was decided that we would add the brand colours to the latter. JTBC uses blue, green, orange, and pink as its main theme. Intermediate hues made by mixing these four colours were applied to the furniture. We employ hues that sit between these to amplify the texture of the materials and make the desired overall colouring. In this project, we made eight mock-ups to ease colour matching.
Kim Sejoong: The saturation of the brand colours is intense. They look pretty on a monitor, but it might look tacky when applied to furniture. Therefore, we lowered the chroma of the intermediate hues so that the furniture did not take over the space more visually than the products​.
​Kim Yeram: Various media outlets are trying to increase familiarity with their audiences by installing broadcast studios in places in which people can access easily or by creating spaces for selling goods. What should we do to enhance the quality of the interiors and the furniture in these spaces?
Han Seungjae: When it comes to corporate promotion, it is often limited to discussions on indoor life-size imaging zones with graphic work or electronic boards showing the front of buildings. There is a tendency to think that publicity is successful with short-term one-dimensional effects such as the frequency of exposure on SNS. It still remains that most social media postings pollute the media landscape. It is crucial to reach people in a slower and, more profound way. Don't be impatient and avoid the overt effects.
Han Joowon: Furniture seems to be seen as a way to show a brand's identity at a lower cost than building. When creating a space to promote a brand, I sometimes request furniture in the form of a logo, but I think it is better to construct logic rather than converting the existing advertising language into furniture. If you create your own logic in the space, people will be able to recognize brands positively and create points that separate you from other brands.​​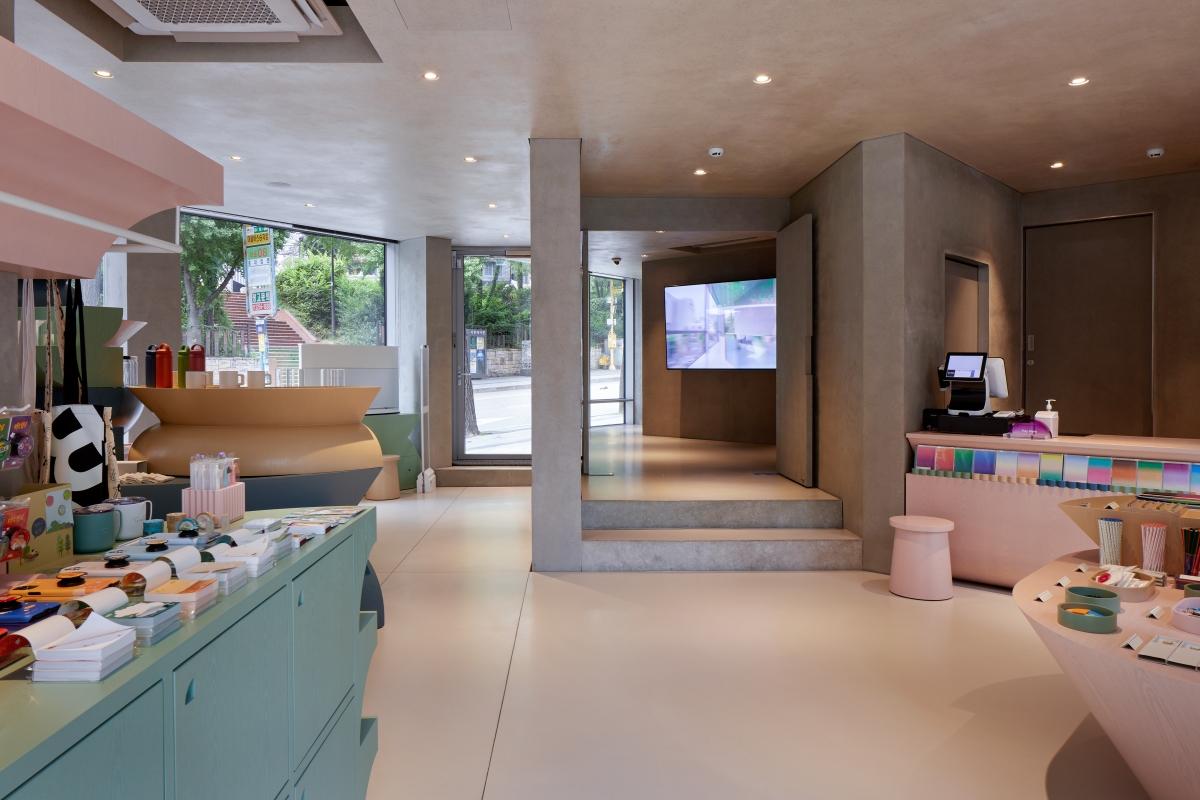 ---
Han Seungjae established FHHH FREINDS with Han Yangkyu, Yoon Hanjin in 2013. He works in a variety of ways, regardless of particular areas.
COM is a design studio co-founded by Kim Sejoong and Han Joowon in 2015. They have worked on various projects in relation to interior space.