Kwon Euyhyun refers to himself as a 'manufacturer', as a move to deliberately distance himself from the label of 'designer' or 'artist'. This is because he did not major in design, and nor is he committed to experimentation in form. His primary focus is on furniture, and primarily on its use and function. What's most apparent in his orderly creations is the principle that 'form follows function', but there are other signs of an attempt to create a unique signature style, concerns about the environment, and careful consideration of the needs of clients. SPACE met Kwon, one two chachacha (OTC).
interview Kwon Euyhyun principal, one two chachacha (OTC) × Choi Eunhwa
Choi Eunhwa (Choi): You've defined the range of your work as furniture for the home and office, and refrain from interventions in space or interior design.
Kwon Euyhyun (Kwon): In terms of space, the longevity of any project is dependent upon the continued existence of the space itself; if a space is torn down, my work would die with it. I want my designs to last longer, and that's why I deal in shelves, hangers, display cases, and office furniture such as tables and chairs. Even if people move to a new place, they can take their furniture along with them. But now, I do dabble in it occasionally. I still make an effort to keep the space minimal and focus on the furniture that fills it. For example, when I need to divide up a space, I use partitions instead of setting up fake walls.
Choi: You choose to develop designs each time, for each environment. What is the most important factor when considering each new work?
Kwon: It's always the client's needs first and foremost. I do whatever they ask of me, I'm easy. (laugh) That said, I prefer their requests to be less 'whatever you think is best' and more 'I want something that can store away this many objects'. It's better if their demands are as specific as possible. I strive to create forms as naturally as possible, in the service of specified conditions and functions.
Choi: There must be some point of commonality that exists as well as the perceived variations between projects.
Kwon: The first is in the material used. For each project, I employ wood and metal. In my early days, and as a single-person studio, I only used metal in order to reduce the time and energy invested in each work. However, the competition in metalwork intensified, with more practitioners and greater talents. I thought I better expand my horizons to maintain a competitive edge in this climate, and started to work with wood as well. (laugh) Now, I use metal at a semi-processed state, whereas I do all the woodwork by myself from start to finish. I am also trying to adopt a signature style in a thick and heavy form. With the seat of a chair or a tabletop I stick to standard measurements but adjust other elements so as to experiment with proportion. A slimmer base may appear more fashionable, but I personally prefer the thick line. Furniture shouldn't wobble!
Choi: The characteristic forms and materials of your work have indeed become distinctive. Can you name a particular project that helped you in that regard?
Kwon: My work 'Pipe Ground', a restaurant in Hannam-dong, comes to mind. It wasn't long after I opened OTC that Yoon Hanjin (co-principal, FHHH FRIENDS) reached out to me. I wasn't well-known at the time, and was surprised to be contacted by an architect. I knew it was a rare opportunity, and so I put a lot of effort into making my design stand out in a way that would scream my name. (laugh) Pipe Ground takes its name from the U-shaped slope used by skiers and snowboarders. The interior was set to be comprised of arches and bolts, and this became the motif for the rounded designs of my tables, chairs and countertops. I wanted to vary the design by interspersing rectangles and squares between circles. The primary material employed was metal, though some of the chairs were made entirely of wood.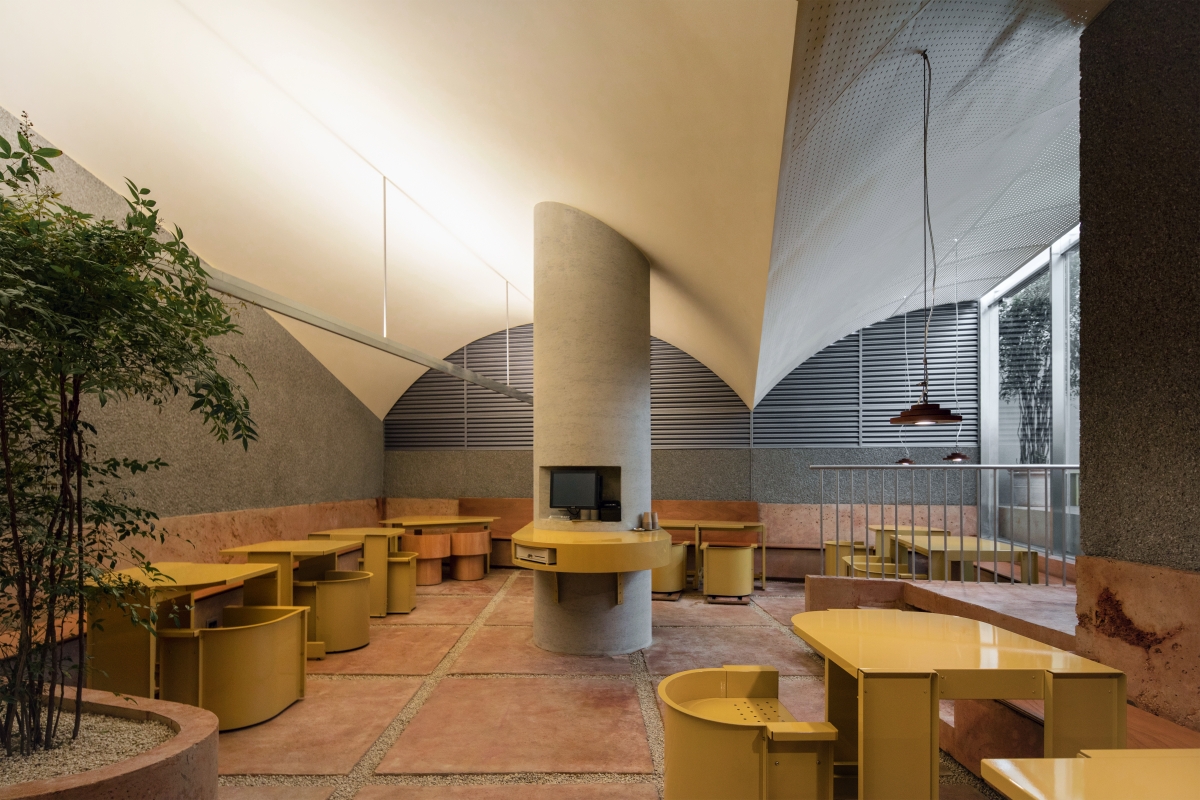 Pipe Ground (ⓒtexture on texture)​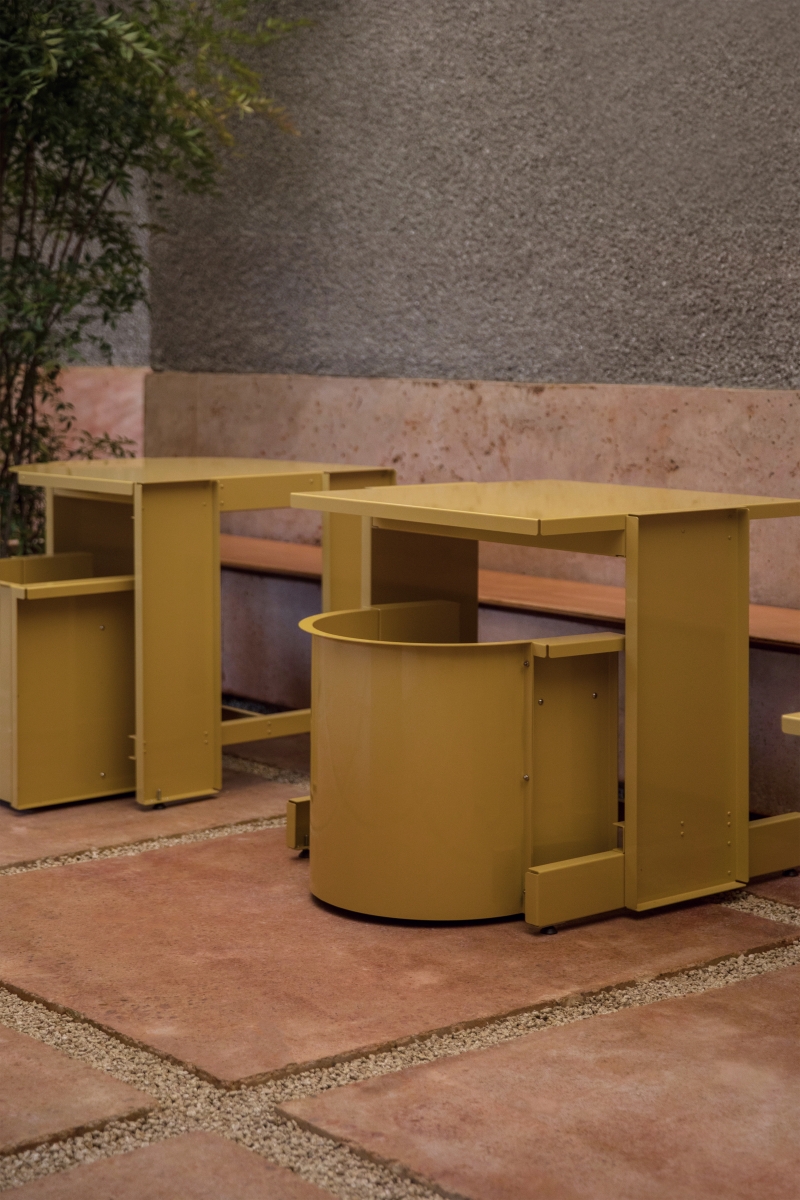 Pipe Ground (ⓒtexture on texture)​​
Choi: What was this collaborative process like for you, working with an architect?
Kwon: Yoon asked to attach wheels to chairs. Given the circumstances, wheels were not the most optimal design choice, because the ground was uneven and bumpy. However the floors were already nearing completion. Eventually, Yoon took care of this problem by building rails to support the movement of the chairs' wheels.
Choi: You also worked with Han Seungjae (co-principal, FHHH FRIENDS) on the 'Natural High'. How was this different from your experience with Pipe Ground?
Kwon: Yoon never specified any demands with regard to the design and form of my work. He gave me free rein, even with table spacing, as long as I spoke to the client first. Han, on the other hand, was much more detail-oriented. He had specific design principles in mind, and asked that I stick to his guidelines on horizontal lines and joints. They weren't hard rules about how the furniture should look, but overall, he expected a sense of coherence and harmony between the furniture and overall space. I've heard he was also deeply engaged in discussion with the client in determining other smaller details such as the selection of plates or door knobs. He was a true art director.
Choi: With Natural High, you had a hand in designing not only the tables and chairs, but the wine racks, grills, kitchen sink and even the smoker. Was that level of involvement necessary?
Kwon: Han mentioned in passing that seeing as kitchen appliances were often made of metal, we might as well just go the whole nine yards and do all of the work ourselves, and I said yes. It took a lot longer to produce everything than we expected. This was the first time I worked on kitchen appliances, and even though I did my homework, there was a lot of inevitable trial and error. For example, I researched details such as how smoke would flow inside smokers, or how to make a grill that could be moved vertically. This then determined the most appropriate materials, and their relative size and location. So when I set to producing these objects, I thought I had accounted for all the possible errors, but in practice, and when these things were used for cooking, things don't always play out as planned. I thought I knew the mechanics, but I didn't understand their function. That took a while to recover from—I literally gave it my all when fixing the designs and coming up with improved versions. I'm happy that they all turned out so well in the end.
Choi: Tell me more about your recent work with the café 'Perlen'. The way that the different materials used in the project come together really stands out.
Kwon: I began by designing an interior that would be only minimally finished with concrete. I separated the roasting room from the café using a freestanding wall, and then installed by myself the electrical wiring for power and lighting. To one side of the wall is a partitioned storage space that doubles as a coat rack, which is made of a modular design that allows for easy installation and dismantling. I of course designed all the furniture and various fixtures. The bar stools, in particular, were designed as a series along with the ones I made for Natural High. I tried to create my own signature style through this chair. It's a simple enough structure, made of a bent piece of zinc sheet that's assembled using nuts and bolts. As it is made of metal, however, it can feel a little cold to sit on, and so I topped the seats with leather so that they would feel suitably cosy enough for coffee and drinks. Lately, I've been trying to steer away from using paint layers, and I chose leather as a material that looks best in its natural form. The door handle had to be carved, so it was best to craft it in aluminum, while the covers for faucets needed to be rustresistant, and so were made of stainless steel.
Choi: Perlen's lighting is very popular. Your focus is primarily on working with clients for now, but do you see the future potential to sell your individual creations?
Kwon: I'm preparing to launch a platform with a few designers, including Jeon San (covered in SPACE Feb. 2020), Zero-lab, Marcsosa, TIEL, Studio COM, and others. We don't want to be exclusively signed to any seller, but would rather voluntarily host occasional markets and exhibitions. The plan is to showcase at least one or two additional projects, whether that be individual works or creations commissioned for clients.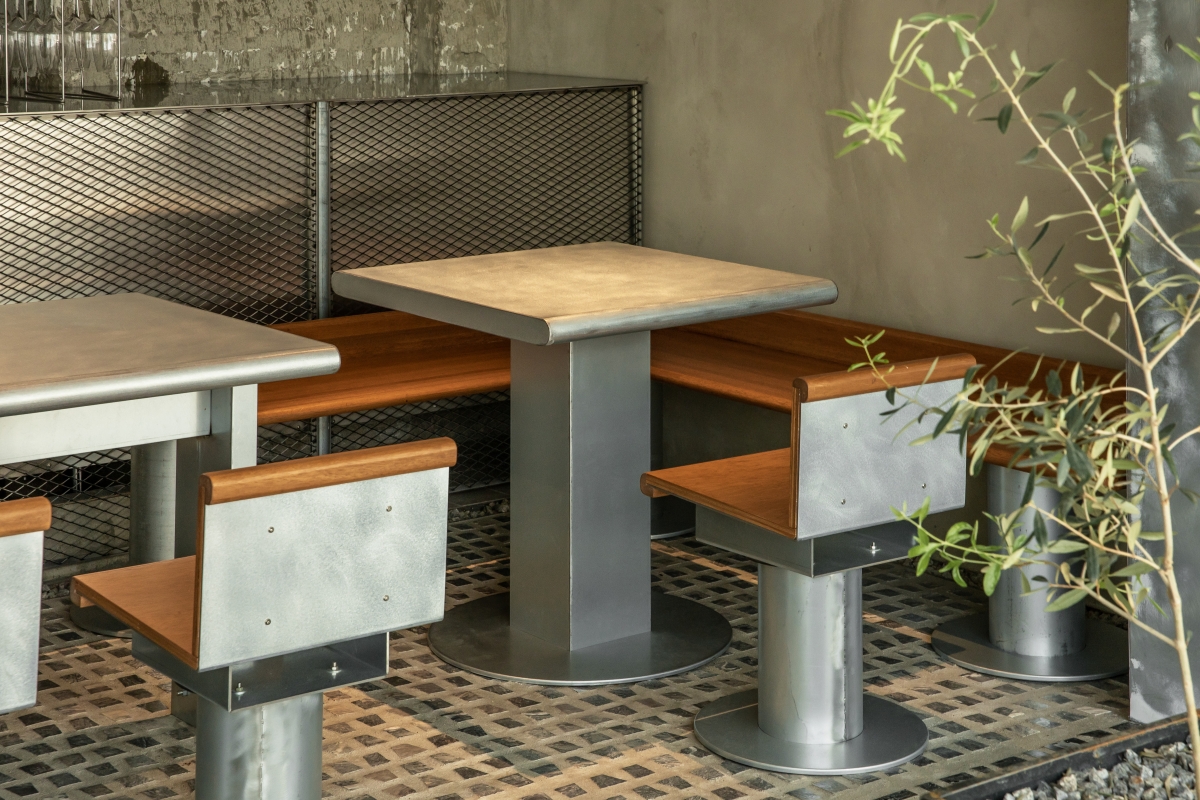 Natural High (ⓒtexture on texture)​​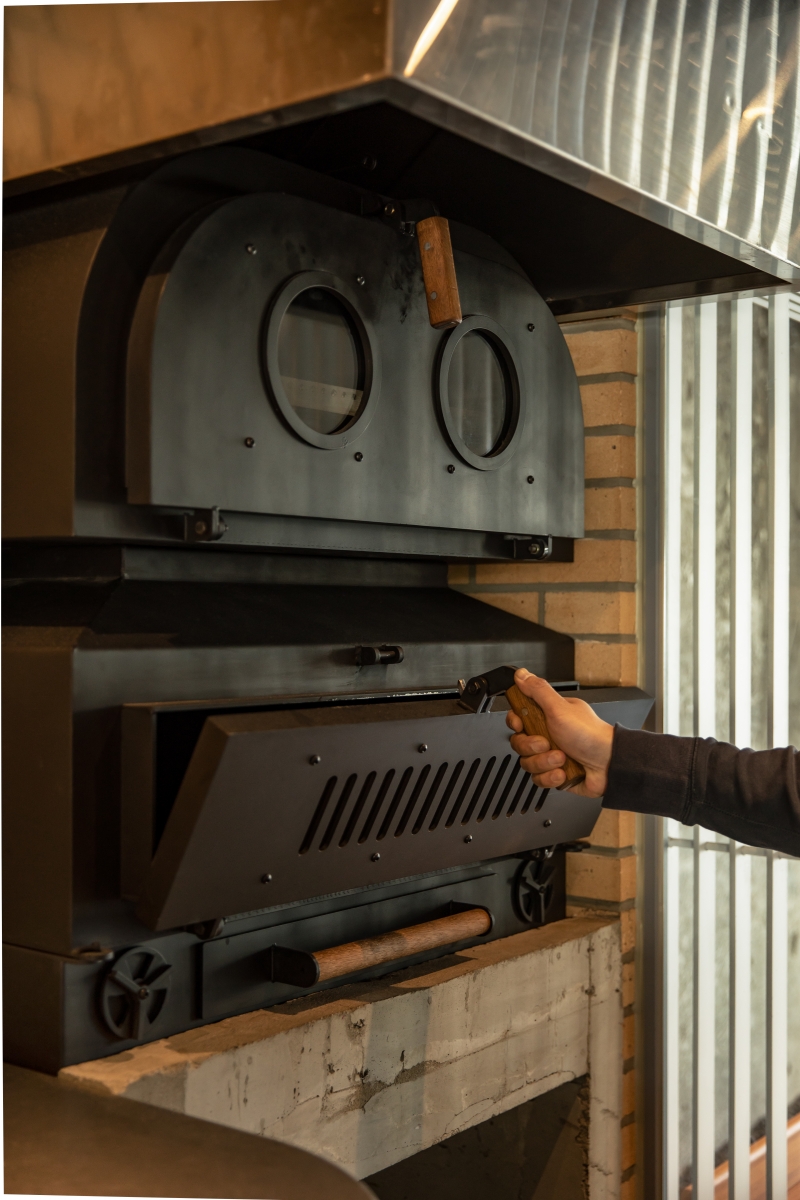 Natural High (ⓒtexture on texture)​​ ​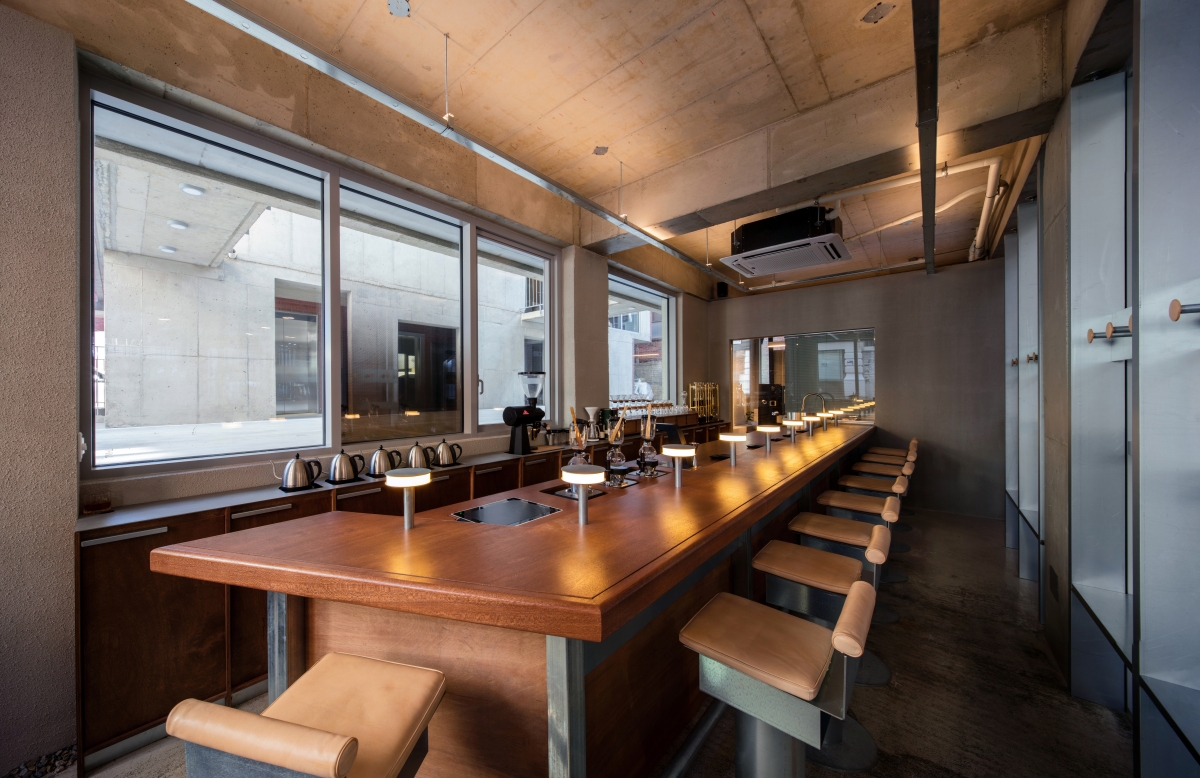 Perlen (ⓒPerlen)​​ ​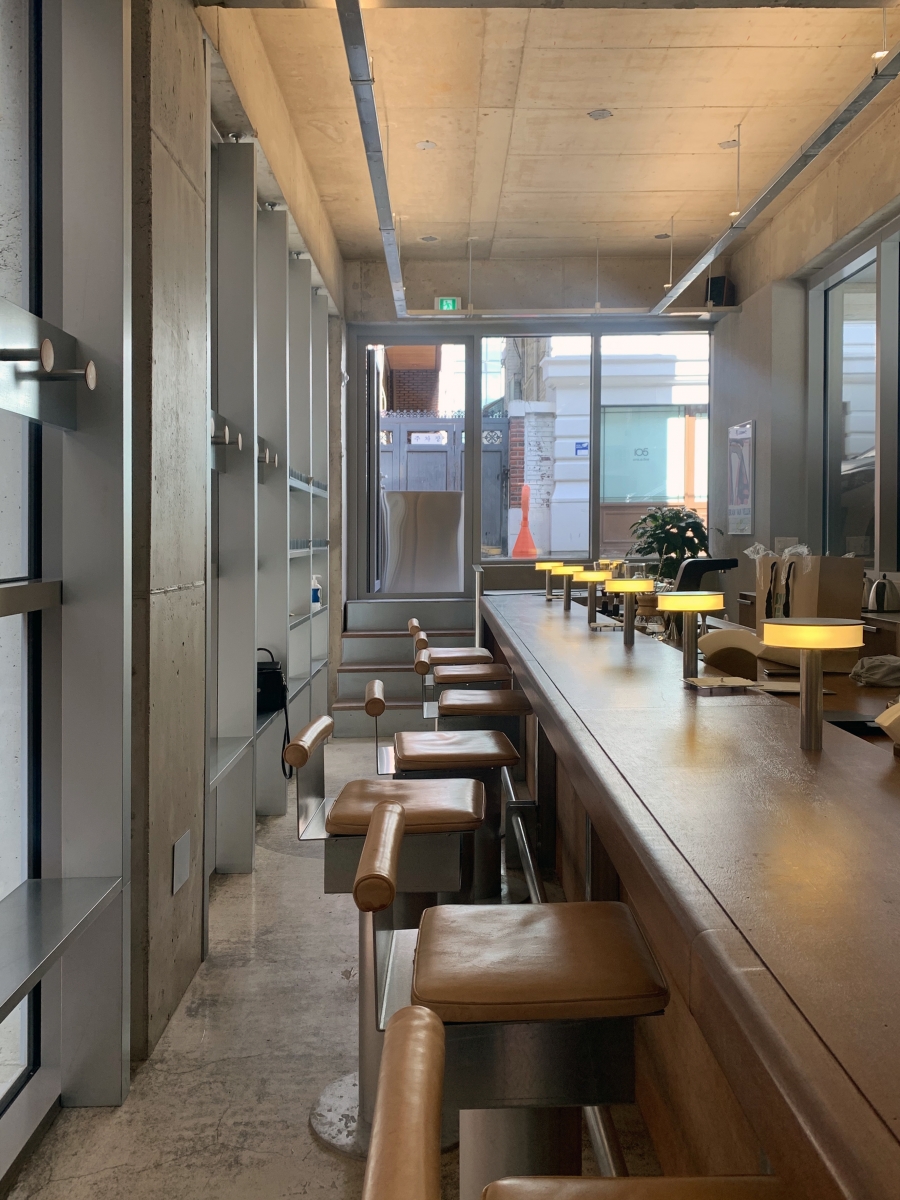 Perlen (ⓒChoi Eunhwa)​​ ​​
---
Kwon Euyhyun is a furniture designer and manufacturer. Kwon works under the name one two chachacha (OTC) making and producing function-oriented furniture using steel and wood.