Kwak Chulan has created biomorphic furniture and sculpture by bending and knotting wood and metal. Pursuing experiment-centred works on form, he considers himself a form-giver rather than a furniture designer.
interview Kwak Chulan × Choi Eunhwa
Choi Eunhwa (Choi): You have presented a series of works under the titles 'Cursive Structure' and 'Cuboid Stroke'. Re-interpreting the design principles of calligraphy, you have created chairs and tables. What prompted you to start these works?
Kwak Chulan (Kwak): It is difficult to cite calligraphy as the starting point, as a combination of several factors have influenced on my works. By referring to my college days, I learned to carve forms from a lump of stacked wood. It was not an efficient method, and I found the overall mindset toward woodwork to be rather violent. While pondering this problem, I found a break-through; bending plywood. The material is good for making curved surfaces, and it can be easily bent by hand. Meanwhile, with relatively good computer skills, I applied a 3D modelling programme to creating virtual volumes; first unroll a virtual mass into planar surfaces and print them, and assemble them using paper or flat materials in the real world. They all fitted perfectly in only one try. I came up with the idea in a moment.
Choi: So, how do you connect the practice of calligraphy to your work?
Kwak: It's a kind of analogy (laugh); it's useful for explaining my work. While calligraphy is an activity that takes place in a three-dimensional world, what is left behind after a brush touches paper is on two-dimensional plane. I found that this process shares many common features with my own work. Nowadays, I pick up ideas from calligraphy, and I sometimes study, interpret and apply its practices and expression for use in my own work.
Choi: Smoothly curved shapes are impressive.
Kwak: I like to imagine them with my eyes closed. When a vague image comes to mind, I sketch it immediately or make a computer model. After that, I keep modifying both in 2D and 3D. I write calligraphy and draw pictures on paper, and implement them on computer, examining the results again in reality, and run the programme again. I like to realise my thoughts as forms, and I am fond of talking through forms.
Choi: I can sense your affection for the form itself. However, your works have such a strong form that some people may not even recognise your works as furniture. I'm curious to hear your thoughts about the functions of furniture.
Kwak: I don't think furniture actually has any function. It just plays the role of leveling space, but that leaves room for artistic experiments or specific techniques. Just like a sheet of drawing paper, it can embrace multiple attempts. However, I make sure that the minimum conditions of furniture are maintained. I create a structure supported by three or more points on the floor, check if it is stable when loaded, and finish with wood if possible, thinking about whether it features seating or is used by occupants of the space.
Choi: How do you make your forms manifest?
Kwak: With planar figures drawn on CAD, I cut bending plywood with a CNC machine and assemble individual members, and that's it. It is quite simple labour. Practically, it doesn't take very long to make a form; plywood is a material that can be bent only in one direction, but in my works, strokes can be bent in several directions and some of them can be twisted. So, in light of bending the direction of plywood, I choose to divide one large volume into several parts and I use computer for this process. Then I unroll all of those small volumes into planar surfaces, and cut and assemble them using real materials. When individual volumes are put together at cross-sections, the whole computer-generated volume takes a real form. In the past, it took longer to correct errors but now it is more precise than before. Sometimes I get surprised at the creatures that arrive in my studio. How do they emerge all at once! (laugh)
Choi: Your method looks very different from that of the traditional woodcraft.
Kwak: If members were to be made by stacking and bending, the work would be extremely difficult. Wood tends to return to its original shape when it is bent so wood members must be stacked thickly to resist elasticity. Making correct shapes may require formwork, but I don't need them for my work. Members can play the role of formwork for each other. When the edges mesh correctly, I can create an accurate three-dimensional shape. I also use metal such as iron and stainless steel for the work. In fact, this is not a new technique in metalwork, and I tend to use welding. I also use materials with a uniform width from the beginning to the end in my work. I don't experiment with techniques that change the width. Maybe that's why my work offers a new kind of expression.
Choi: You suggested that this series has 'a lot of scalability'.
Kwak: My working scope includes not only furniture but sculpture, which presents significant issues but also profitable challenges for me. Creating sculpture means performing refined artistic work, while I bring some objects with a function into that field. Nowadays, I work more on sculptural forms than furniture.
Choi: You are also a Professor at Sangmyung University. I think the creation of your own work may be different from the teaching of your students.
Kwak: There is a very distinct difference. I deal with only formal art in my work, but I don't discuss this at all in my students' work. I think form is a matter of taste, and professors should not force students to adopt any specific taste. It is an abuse of power. What I emphasise to students is vision and concept; I ask them what they want to say. My role is just to guide them when their concepts are out of date, illogical, or employ sophistry. For example, some students often say that they want to make a chair that one can't even sit on in order to think about the meaning and value of a chair. I understand that such theoretical approaches are attractive to students, in terms of a philosophy and concept, but this should be corrected because it is choplogic—it does not match the dictionary definition of a chair. In this way, I place greater emphasis on narratives and logical structures in my classes. Design can be modified at the final stages.
Choi: I would like to hear your opinions of contemporary Korean furniture design from the viewpoint of a practitioner, teacher and researcher. What do you consider to be the prevailing trends in present day Korea?
Kwak: There are many works that focus on geometric form and colour. The trend of using an elementary language, circle, triangle, and square, helps to lower the barriers to acceptance into the design field, but at the same time it causes a lack of variety. It has been a natural change that occurs as people have come to prefer flat rather than solid forms. I don't mean to criticise the change itself, but I think we should think about how to interpret this preference for flat composition, and the preference for images and graphics. Do all of us have to follow the same style and approach when the shadow of iPhone icons is gone? ​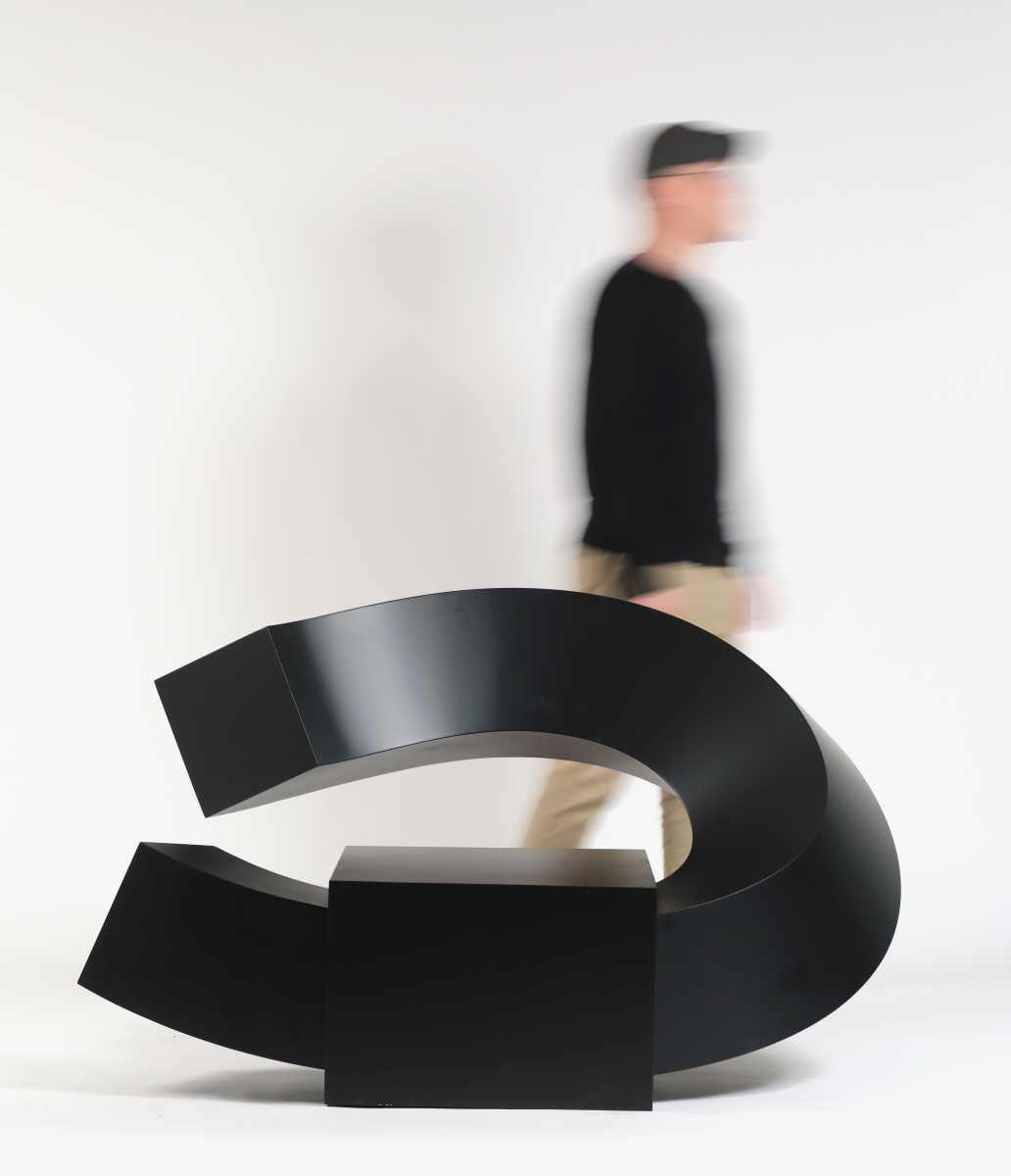 Kwak Chulan, Wide chair (Cursive Structure), Powder coated stainless steel, 1300×1100×800mm, 2018 (Image courtesy of Kwak Chulan)​​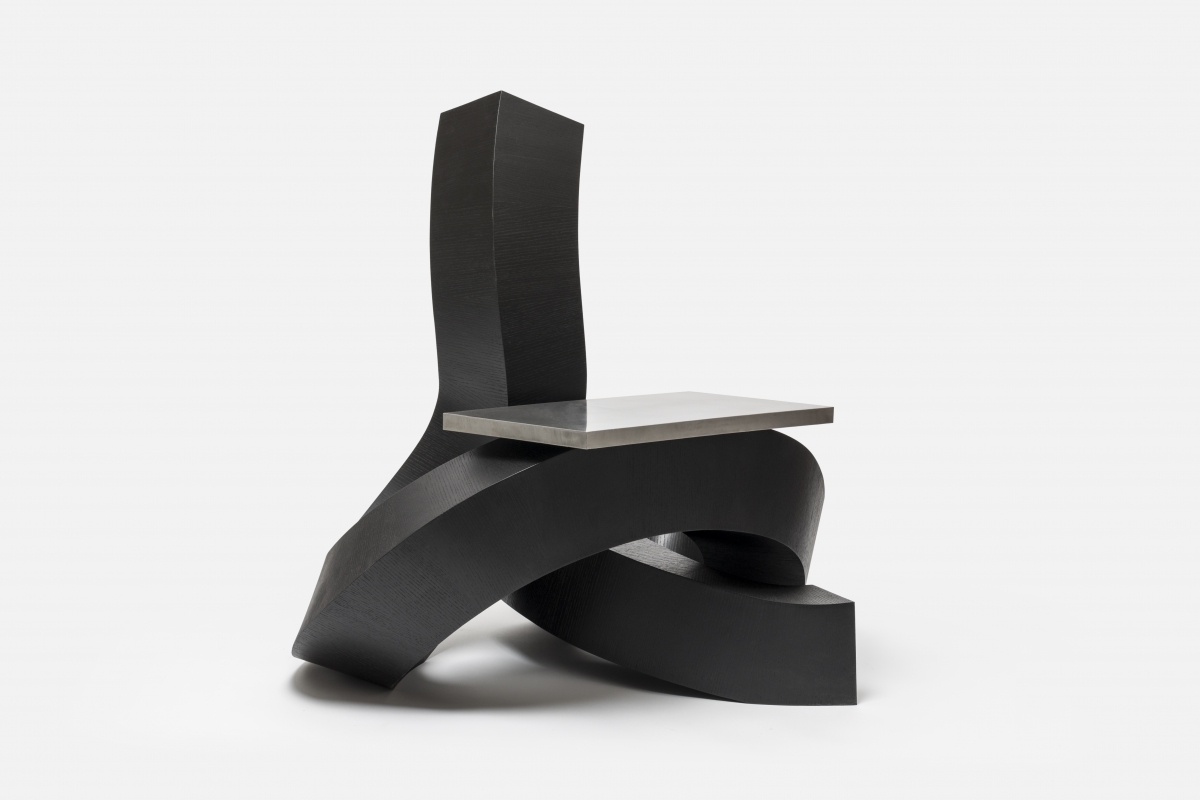 Kwak Chulan, Dragon chair (Cursive Structure), Black ink on wood, stainless steel, 1100×900×850mm, 2018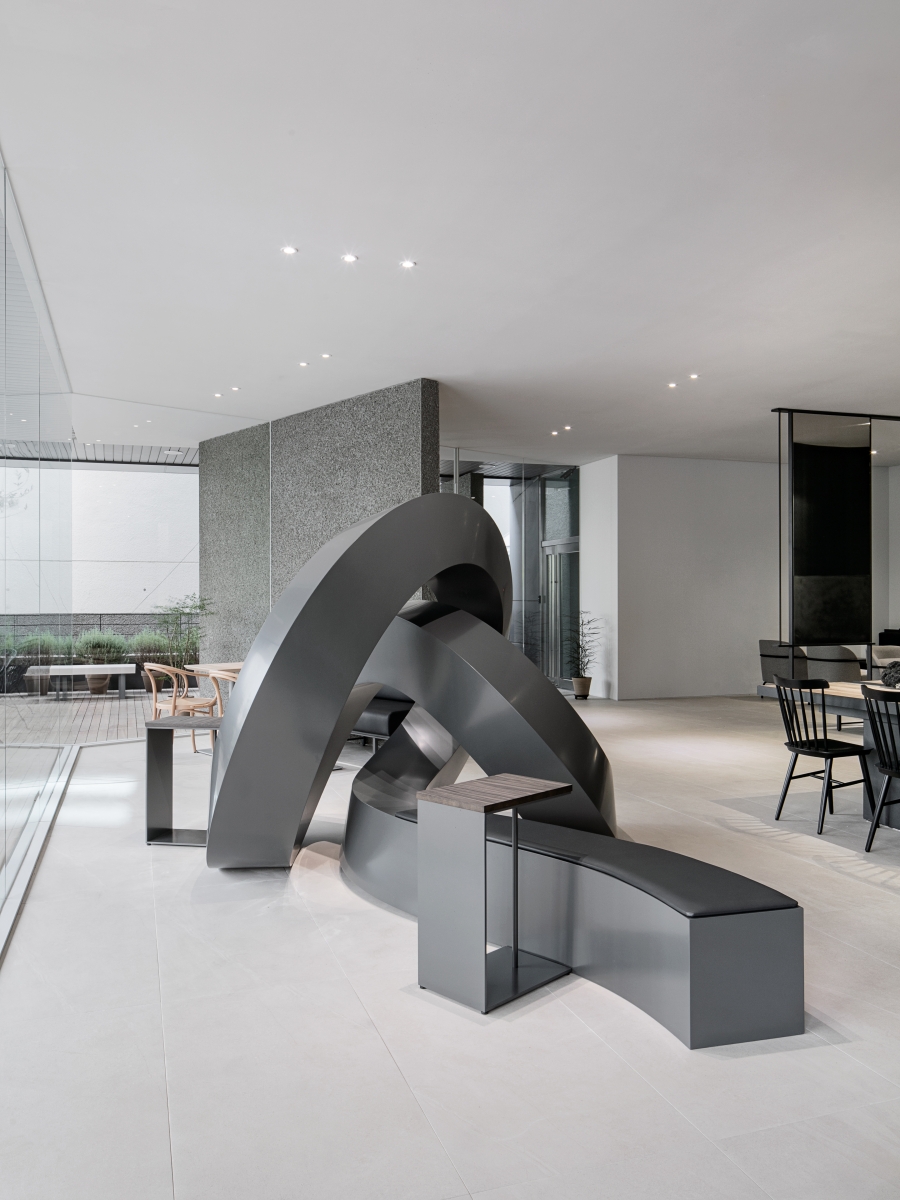 Kwak Chulan, Bench (Cuboid Stroke), Powder coated iron, 3500×1900×1800mm, 2019 (©WGNB)​​
---
Kwak Chulan studied Woodworking and Furniture Design at Hongik University and Contextual Design at Design Academy Eindhoven. He is a Professor at Sangmyung University. His works are in the collection at the National Museum of Modern and Contemporary Art and he was named as one of the Hyundai brilliant 30 in 2015 and Korea Tomorrow in 2014.